Our Week Renovating a Sri Lankan Monastery
A challenging yet rewarding week completing a renovation project at a buddhist monastery in Sri Lanka. Together with my girlfriend, we were able to help contribute to a more sustainable future for the monks through construction and renovation work. Volunteering abroad and helping build a more sustainable future for communities less fortunate than ourselves has always been a dream of my girlfriend and I. Months ago that we were going to come to Sri Lanka to do this program. Although participating in this kind of work has been on our agenda for a while, it was only until I came across this particular opportunity did I actually get the ball rolling.
The Experience of a Lifetime
What appealed to me most about this program was the care and attention giving to volunteers; we were provided with travel and visa information, hotel transfers, great accommodation and a few initial days of "immersion". I have a friend who did the same one last year and she told me so many good things about it. From the moment I heard about her experiences in Sri Lanka, I knew it was something I wanted to eventually do too and I made it a goal of mine to go to Sri Lanka.
This month I finally got to achieve that goal and me and my girlfriend hopped on a plane to Sri Lanka for what was undoubtedly the most exhilarating week of our lives. Having never been to Sri Lanka, we were. Little apprehensive however having each other eased our nerves significantly. We loved Sri Lanka and the vibrant culture. Although based at a monastery, the weekend left us time to explore this magical country. We met so many new friends through our accommodation.
We experienced a variety of interesting activities during the introduction week. My favourite was the Buddhist festival that we were lucky enough to see and I also really enjoyed the Batik lesson. Our program coordinators went above and beyond to ensure we became fully immersed in Sri Lankan culture and they showed us the best hangouts for traditional Sri Lankan food…delicious!
During our week with the monks, we got to know 7 or 8 boys quite well and they were all so kind and so thoughtful. They seemed to really appreciate our lessons and they showed us that by giving us little gifts and showing us how to play their games. They were so much fun to be around and leaving them at the end of the week was tough.
The temple renovation was hard work but it went by quickly and it felt incredibly rewarding seeing how much we accomplished at the end of the week. We were filled with an enormous sense of pride as the monk's expressed their gratitude for our hard labour. Throughout the project, we were joined by a local builder who was able to teach us and observe our progress. I have gained new found skills from the project and challenged myself to achieve something I never thought would be possible.
The project was an opportunity to explore a beautiful country, learn of a culture so different from our own, meet new friends and contribute to society. All in all, we had a great time and would love to return again one day.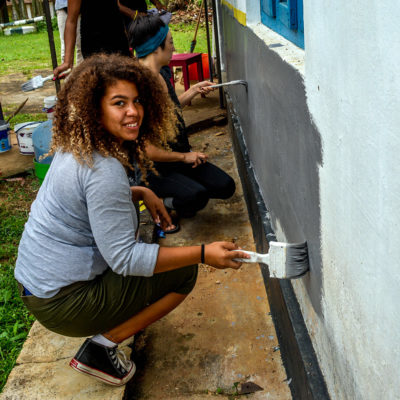 durations start from
7 days