South Africa | all-inclusive, eco-friendly, exclusive-luxury, honeymoon, lgbt, safari, sustainable, tailor-made | safari-lodge | mountain, private, reserve | luxury
Carved into the rocky mountainside, andBeyond Phinda Rock Lodge sits in sheer seclusion, suspended over the magnificent valley below. Six stone and adobe suites burrow into the heart of the cliffside, with solid wooden shutters and doors opening out onto a private viewing deck and plunge pool balanced on the very edge of a breathtaking precipice. Boasting spacious ensuite bathrooms, the suites also feature outdoor showers, providing some of the most scenic al fresco bathing on the African continent. The lodge's comfortable sitting areas offer the perfect vantage point for viewing the abundant birdlife in the surrounding trees and the wildlife roaming the bush below.
andBeyond Phinda Rock Lodge, KwaZulu Natal, South Africa
&Beyond Phinda Private Game Reserve encompasses an impressive 28 555 hectares (70 560 acres) of protected wildlife land in KwaZulu-Natal, South Africa. Phinda Private Game Reserve is situated in the lush Zululand, intimately wedged between Mkuze Game Reserve and the iSimangaliso Wetland Park (previously St Lucia Wetland Park), a World Heritage Site. The reserve is also situated in very close proximity to the unspoiled beaches and spectacular coral reefs of the Indian Ocean, offering an unmatched combination of bush and beach adventures at nearby Sodwana Bay.
Dramatic views across the valley
Secluded and romantic location
Seven habitats allow for much greater diversity in species and landscapes
Wildlife includes cheetah, black rhino and nyala
Variety of adventures available
28 555 hectare (70 560 acre) private game reserve with limited number of vehicles
Dramatically set into a cliff face overlooking spectacular Leopard Rock, &Beyond Phinda Rock Lodge is an architectural delight, combining Malian influences with pueblo panache. Its six suites are seemingly suspended over the deep valley below, providing breath-taking views. Each romantic suite, constructed from contoured stone and adobe, boasts an earthy, soft grey palette and solid wooden shutters and doors, which open onto a private plunge pool and viewing deck. Featuring spacious ensuite bathrooms, the suites also offer outdoor showers, providing some of the most scenic al fresco bathing on the African continent. Decorated in hues of oatmeal, grey and stone, the lodge's intimate and glamorous guest areas offer the perfect vantage point for viewing the reserve's abundant birdlife in the surrounding trees, and the wildlife roaming the bush below. Immense French doors open onto an extended outdoor veranda, the perfect setting for al fresco meals, while a rooftop terrace provides a romantic venue for dining beneath the stars. Striking, fiery sunsets set the scene for bush banquets in bush clearings.
Weather – Subtropical climate with hot, humid and wet summers from September to April and warm to cool and dry winters from May to August
Rainfall averages 1 000mm / 39" per annum. Much of the rainfall comes in the form of short, intense afternoon thundershowers. Rain can be expected throughout the year
Temperature – Summer: daytime temperatures above 35˚C / 95˚F  and Winter: night-time temperature rarely drops below 10˚C / 50˚F
Best time to travel – All year round; best game viewing from March to end of September
Malaria – The reserve is situated in a low risk region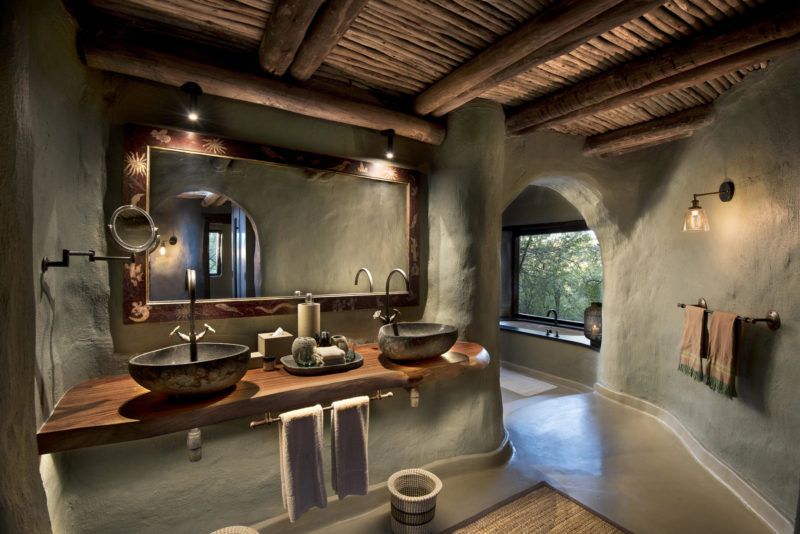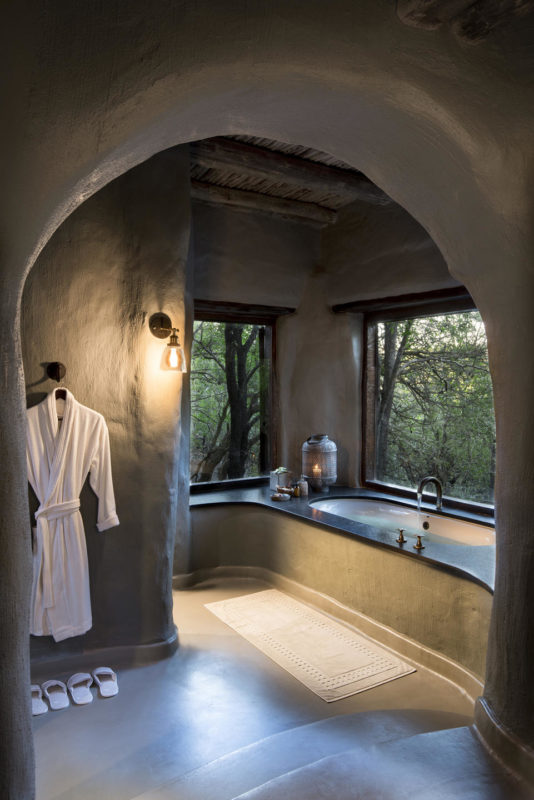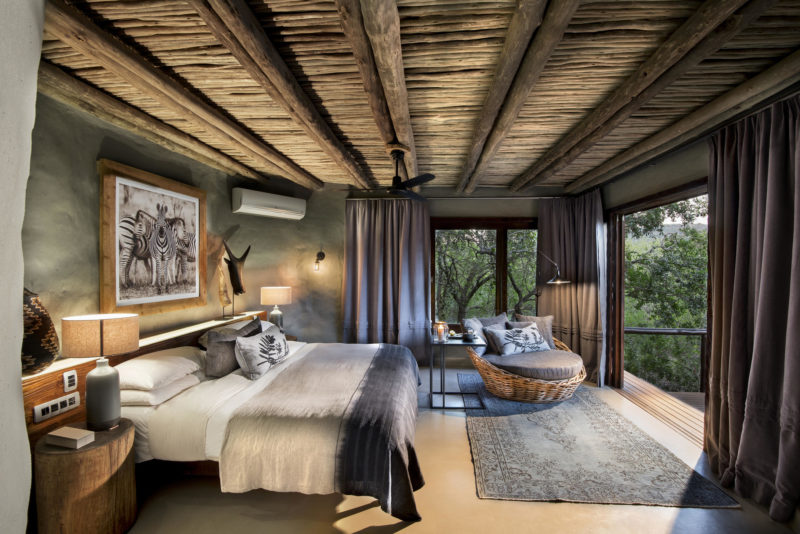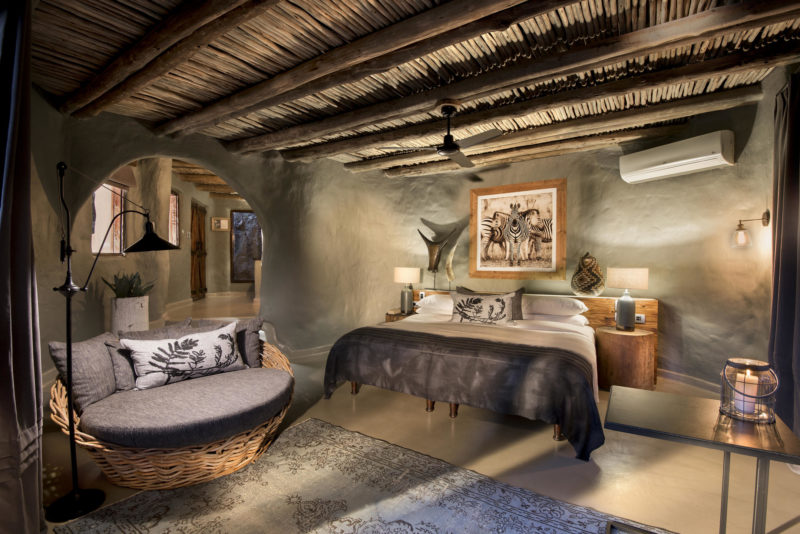 Suites
Exceptional suites perched on the side of a rocky cliff. Each has a spacious bedroom with bath, shower, twin hand basins and separate wc. All suites have their own private plunge pool and deck offering unrivalled views of spectacular Leopard Rock and the valley below.
6 air-conditioned suites
Private rim-flow plunge pools
Roaring fireplace in the guest area
Outdoor showers and fooftop dining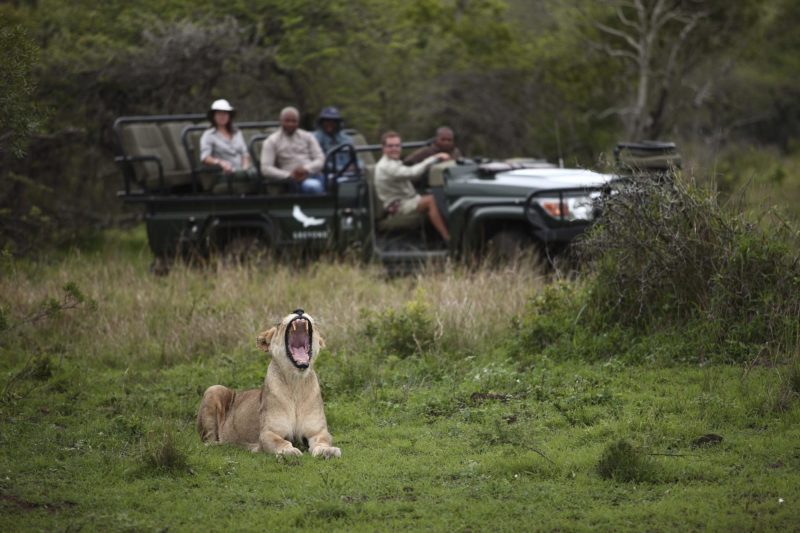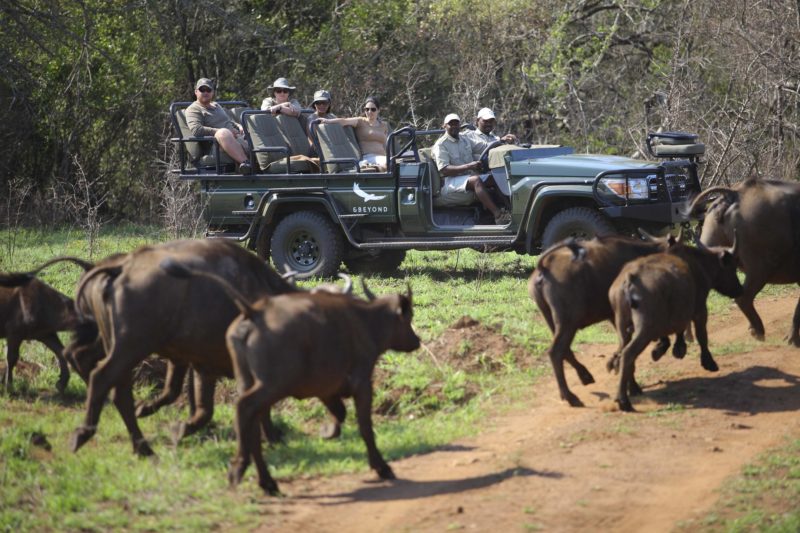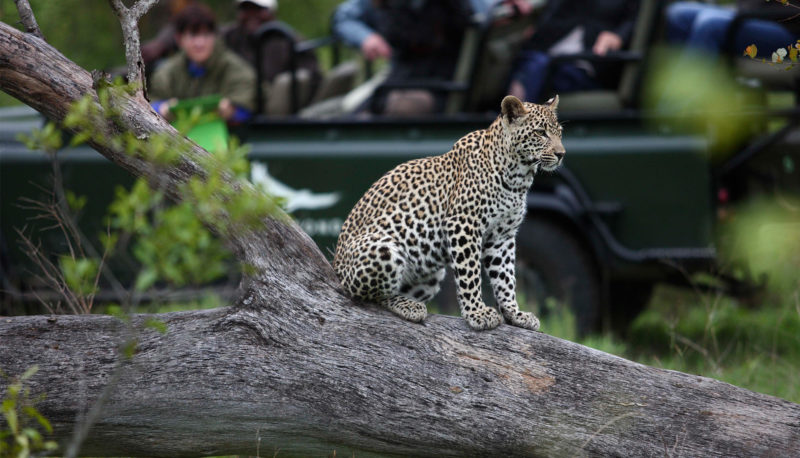 Safari Game Drives
Enjoy early morning and late afternoon game drives that continue after nightfall. &Beyond's professionally trained guides will ask you about your favourite wildlife and will do their best to ensure that your preferences are met, whether it is tracking a particular species or spending more time enjoying each sighting and getting to know the habits of the animals. They will also tell you about the vegetation of the region and will explain the behaviour of the animals that you come across. In some cases, the guides will be able to identify individual animals and let you know about their history and habits. andBeyond Phinda Private Game Reserve is renowned for its exceptional sightings of the elusive cheetah and the rare black rhino, as well as the Big Five. There is also a number of resident lion prides and rangers will do their best to provide you with an exceptional sighting of all of these animals.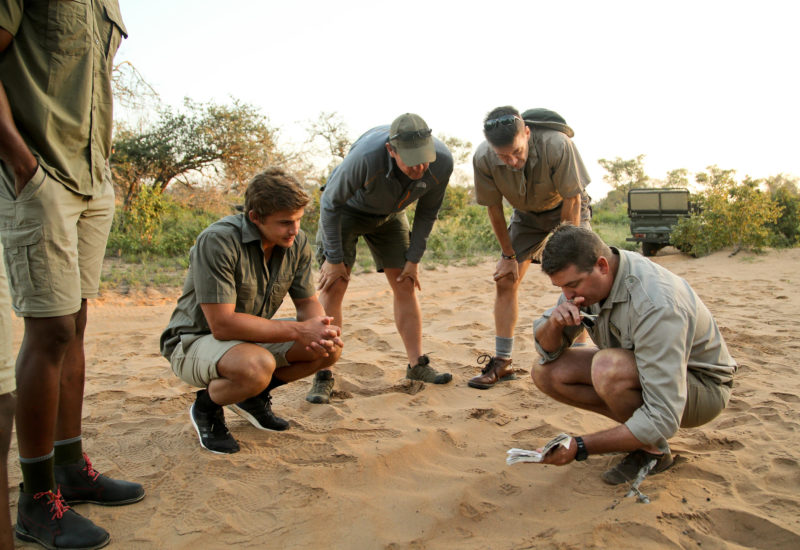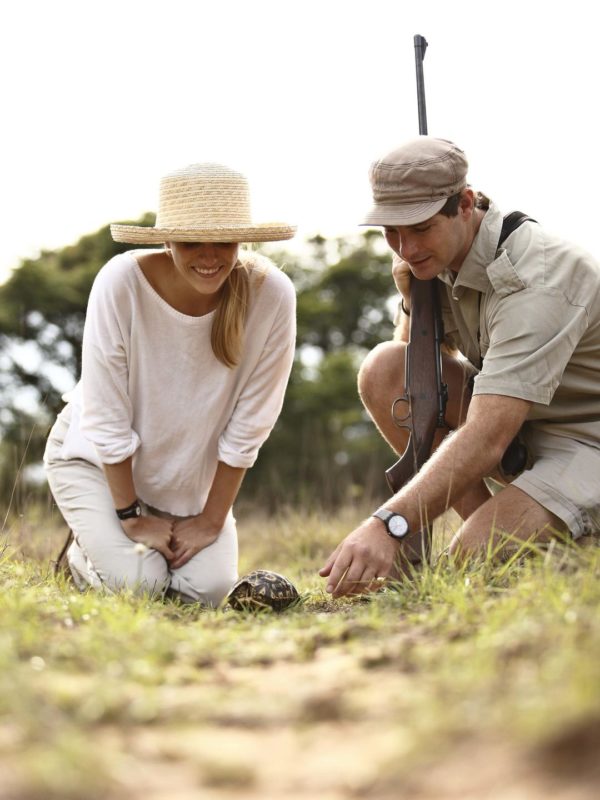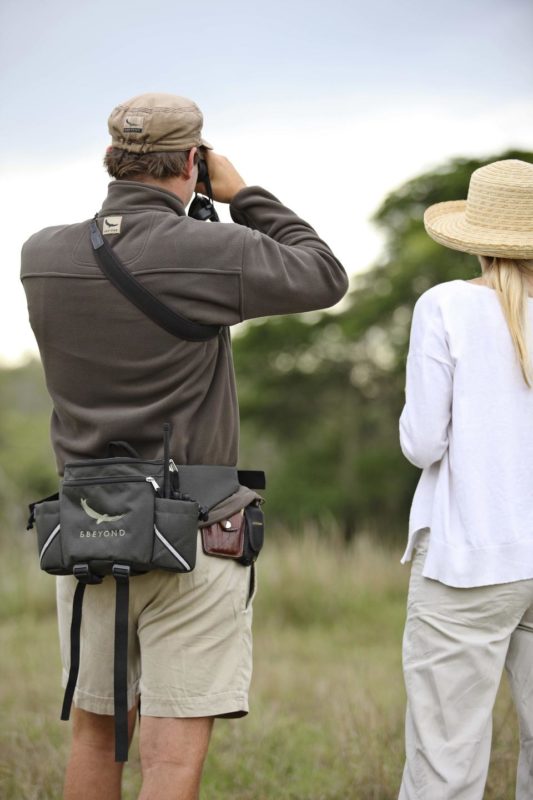 Nature Walks & Big Game Viewing
Accompanied by your ranger, enjoy an interpretive nature walk, around the lodge, where you learn more about the intricacies of the African bush, from discovering fascinating flora and reading animal tracks with your guide to meeting smaller wildlife up-close.
This adventure makes full use of all your senses, allowing you a deeper connection with the African bush. Strap on your boots and feel the wild grasses crush beneath your boots as you follow your expert guide into the pristine, untamed landscapes of the region. Be mesmerised by the morning sunlight as it dances in dewdrops delicately sprinkled on flourishing vegetation. Smell nature in its purest form and be enchanted by the chorus of wildlife surrounding you.
Nothing quite encapsulates the feeling of viewing wildlife on foot.  Encounter a variety of plains game from a safe distance and be enchanted by the reserve's smaller inhabitants. This activity is also fantastic for keen birders and photographic enthusiasts. Your guides have a wealth of experience under their belts and will not only introduce you to the region's fantastic fauna but its kaleidoscopic array of flora too. For any safari addict, this is definitely a bucket list adventure that will keep you coming back for more!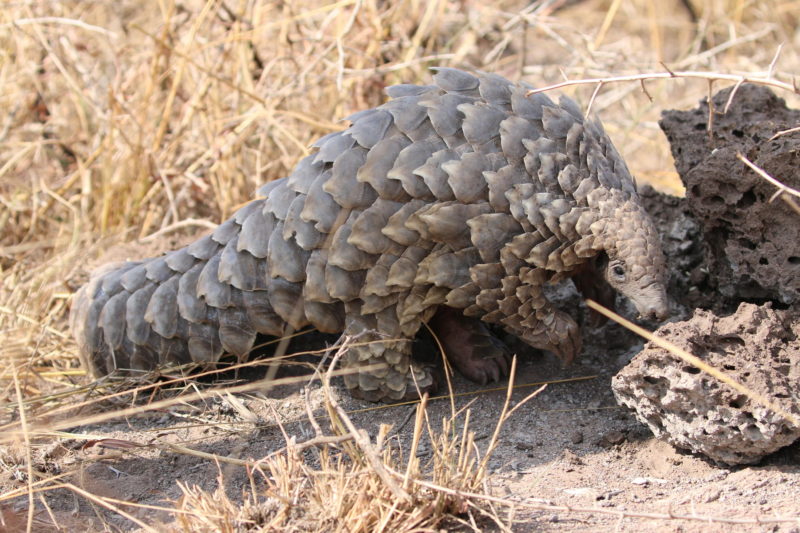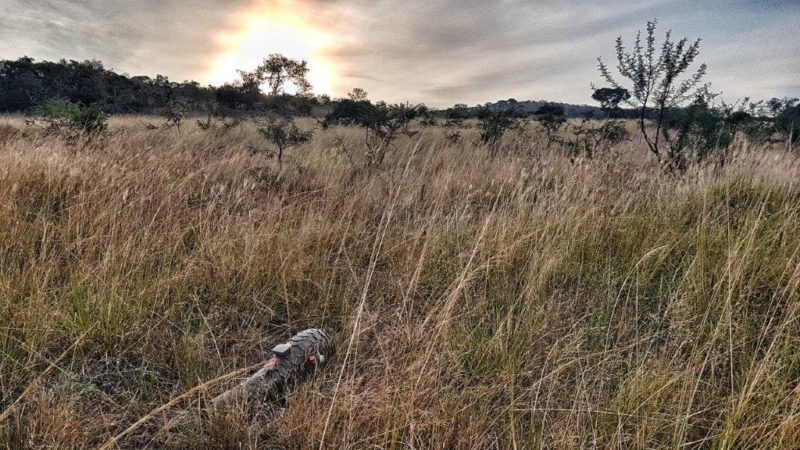 Pangolin Conservation Experience
Guests have the option at an additional cost to do a Pangolin Conservation Experience. Pangolins are the most poached mammal on the planet. They are animals in the shadowlands of extinction. Participate in our one-of-its-kind Pangolin conservation experience, and support us in this groundbreaking initiative to re-establish Temminck's [ground] pangolin in a region where they have gone locally extinct. Intensive monitoring, using VHF and GSM/UHF tracking tags, is a core element of this project. Travel with our specialist conservation team as they locate the animal, replace the GSM/UHF tag, do general health checks, and gather crucial data.
Your Experience:
Participate in this privately guided pangolin research and monitoring experience at &Beyond Phinda Private Game Reserve, and you'll be supporting the conservation of the world's most trafficked mammal. In this interpretive and exclusive activity, guests will join a researcher as he (or she) locates one of the pangolins that has been reintroduced to the reserve. They will have the rare opportunity to observe the unique features and remarkable adaptations of these gentle creatures first hand as our researcher does a general health check, and downloads critical research data from the UHF tag attached to each pangolin.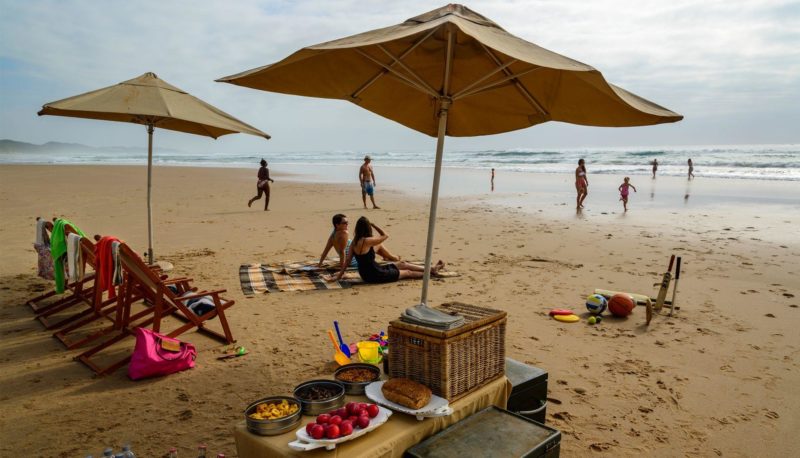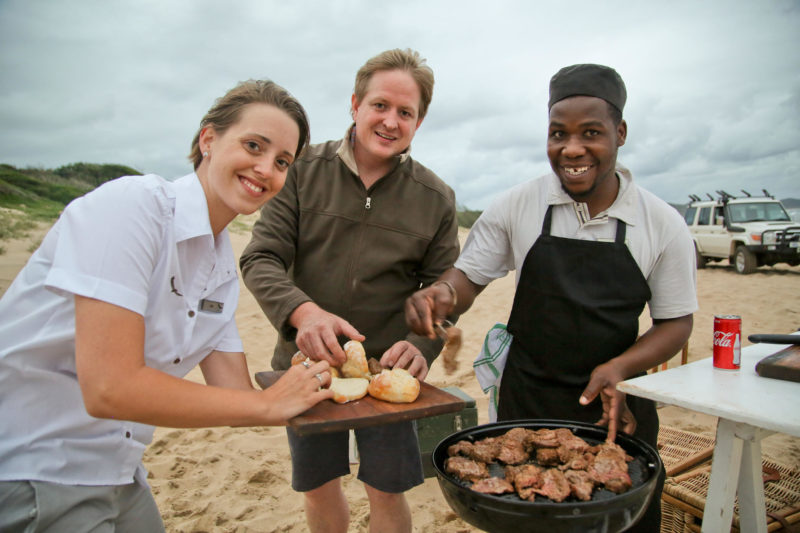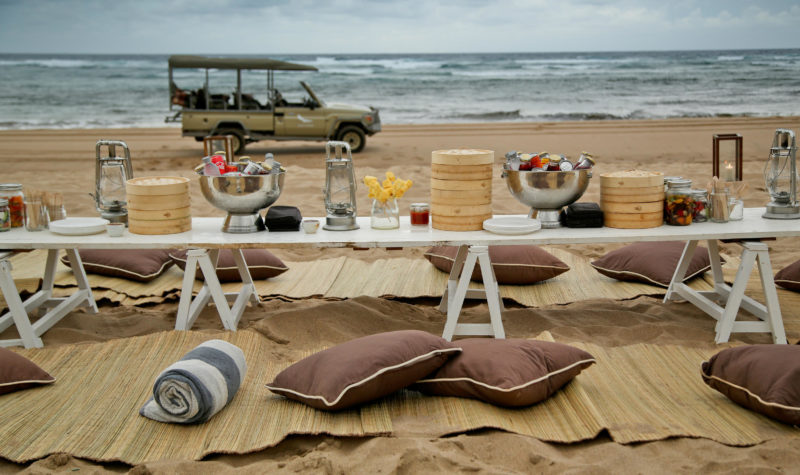 Maputaland Beach Adventure
Guests have the option at an additional cost to do a Maputaland Beach Adventure. The vast sandy beaches of the Maputaland coastline provide a beautiful setting for a half-day beach outing. Soak up the sun, splash in the warm waters of the Indian Ocean, relax with a good book, play beach games, take leisurely walks along the shoreline or snorkel alongside Jesser Point, a protected marine reserve.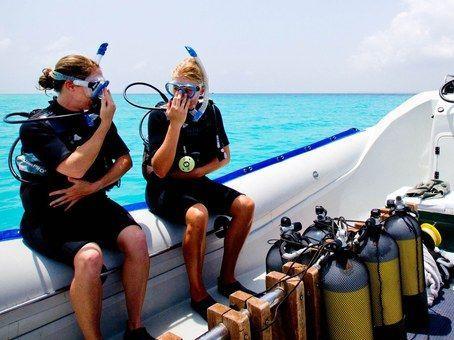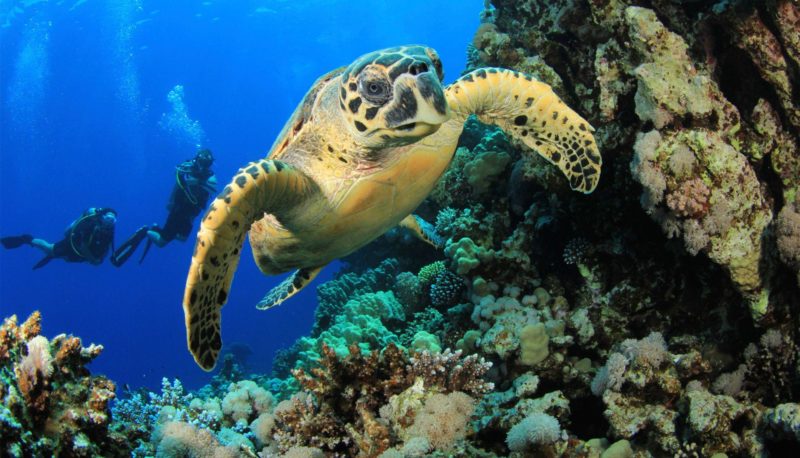 Indian Ocean Scuba Safari
At an additional cost guest can go on a Indian Ocean Scuba Safari.  Diving the reefs off South Africa's east coast at Sodwana Bay allows you to experience a portrait of marine diversity, with over 1 200 species of fish and spectacular coral formations set in warm and clear tropical waters. Ideal for divers of all abilities, dives can be tailored for all guests who hold an Open Water 1 NAUI or PADI dive qualification have dived in the last six months. The tropical waters of Sodwana Bay are home to an abundance of marine life, boasting more than 80% of all the world's marine classes. Swim past lemony yellow butterflyfish, powder blue triggerfish and citron-spotted whale sharks.
Renowned as one of the top five diving destinations in the world, dives at Sodwana Bay reveal just a taste of the wide-ranging biodiversity found here. With the aquamarine water as the perfect canvas, watch in awe as variety of rainbow-coloured fish dart in and around healthy coral reefs, creating a vivid visual masterpiece. The Maputaland coast is unique in that it is the only site in the world that attracts prevalent South African, tropical Indo-Pacific, Southern Ocean, circum-global, deep-sea, and European fish, which filter down along the west coast of Africa coast. This vast range of species includes predators like the ragged-tooth shark and the silvery dolphins, as well as easy-going turtles and streamlined rays.
Open Water 1 NAUI or PADI qualification required. Must have dived in the last 6 months. Refresher course (pool session) is available – at an additional cost – for guests who wish to scuba dive, but who have not dived in the last 6 months or dived in the open ocean before. 12 years and older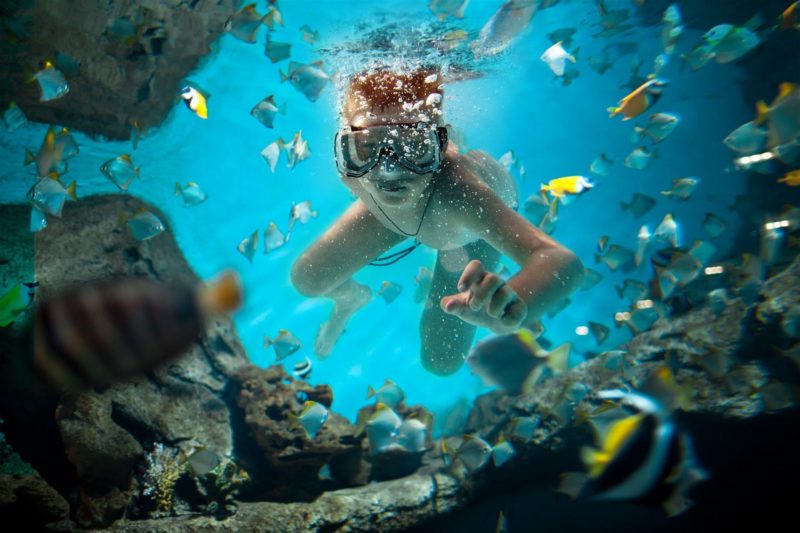 Ocean safari
At an additional cost guests can go on a Ocean Safari that offers the opportunity to encounter some of South Africa's most beautiful marine life? Set off on board a semi-rigid inflatable boat in the company of a certified Dive Master and enjoy the prospect of encountering and swimming with sleek, silvery dolphins. Snorkel amongst some of South Africa most magnificent coral reef, viewing a bevvy of iridescent tropical fish. Marvel at the colossal forms of humpback and southern right whales. The temperate waters are awash with a plethora of diverse aquatic life, including the ancient walnut-hued leatherback and the white-bellied loggerhead turtles, the slow-moving, yellow-spotted whale shark, a variety of shy eels and hundreds of minute, kaleidoscopic fish that flit in and around the corals.
Marvel at the iridescent colours of a variety of tropical fish as they streak through the aquamarine waters, from the bright yellow of the butterflyfish to the topaz triggerfish and the distinct shapes and vivid colours of a variety of wrasse. Marvel at the medley of colours of the flourishing marine species beneath the calm, azure surface as you swim amidst the infinite hues of blue that stipple the sky and sea.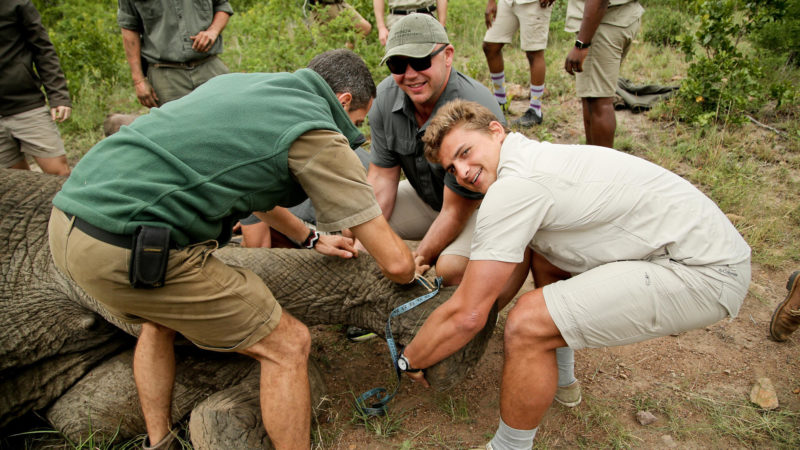 Elephant Conservation Experience
At an additional cost guests can join a Elephant Conservation Experience. Be among four groups, of up to eight guests each, who will have the once in a lifetime opportunity to participate in Beyond Phinda Private Game Reserve's elephant conservation project. Here, you will have the opportunity to witness an elephant darting, and assist in the changing of the sleeping pachyderm's radio collar. Four of the elephant collars utilised in Phinda's research programme are in need of replacing and guests are being invited to participate in this extraordinary experience. Guests will be required to spend a minimum of three nights at &Beyond Phinda Private Game Reserve and the exact dates during your stay will be dependent on the availability of the veterinarian and helicopter pilot.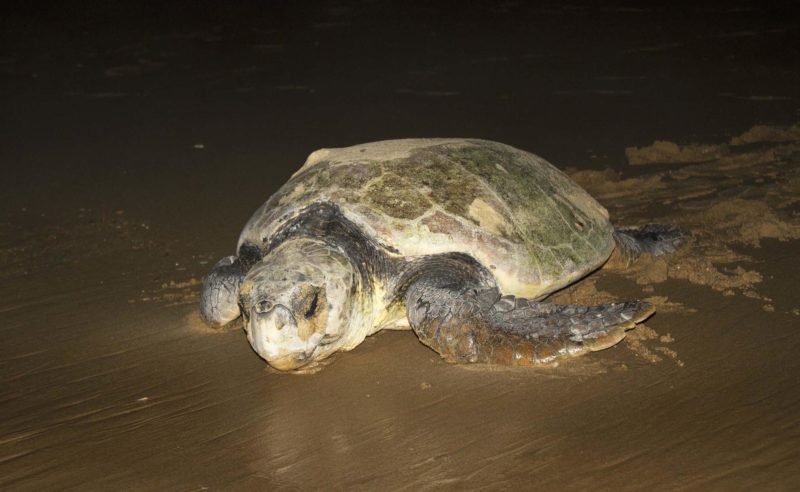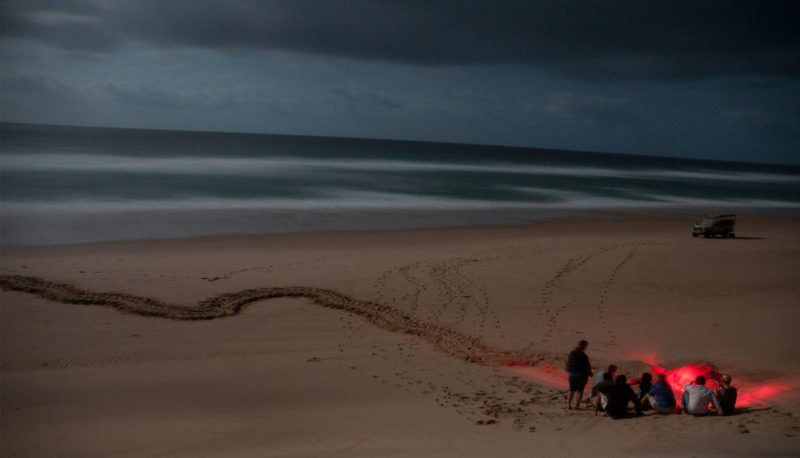 Turtle Nesting Adventure
At an additional cost guests can go on a Turtle Nesting Adventure. Each year, during the southern hemisphere summer, between November and January, enormous leatherback and loggerhead turtles emerge from the Indian Ocean at Sodwana Bay to lay their precious eggs in the sun-warmed sand, as they have done for hundreds of millions of years. Set out on a thrilling night-time adventure along a stretch of 16 kilometres of tranquil beach, set to the background of the harmonic sounds of foamy waves rushing in to shore. With only the beam of your flashlight, the cold light of the moon flitting between wispy clouds and the distant flash of the lighthouse to guide you, search for these gentle animals as they ride the waves to shore to dig their nests at one of Africa's last key nesting sites.
Dig your bare feet into the cool, velvet sand and hold your breath as you wait for a ritual as old as time to once again take place. Watch in wonder as two of the ocean's largest turtles – the walnut-hued leatherback ringing in at 700 kilograms and the white-bellied loggerhead touching 160 kilograms – breach the quiet shore, leaving behind a deep trail in the soft sand. Marvel at the silent concentration of the mother as she squats above a deep hole in the sand, laying scores of smooth, oval eggs, which she carefully covers with warm, loose sand before disappearing back into the inky waves.
Nesting season is Nov – Feb annually. Not available to book on 25 – 26 Dec & 31 Dec. Including transfers. Subject to tides, so please do enquire before making a booking.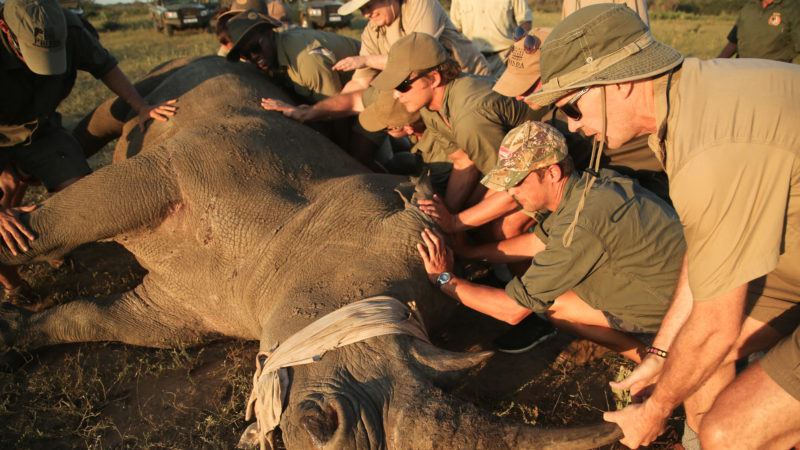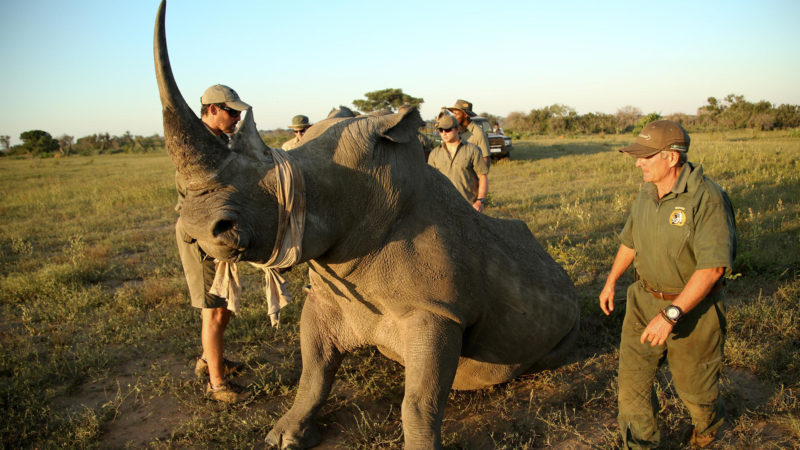 Rhino Conservation Experience
At an additional cost guests can get involved with Rhino conservation efforts. Depending on which research activity is available at the time, you will have the opportunity to assist in either a rhino notching or a rhino de-horning. These rhino are of great conservation significance, and we need to ensure the longevity of this wild animal, and that this healthy population does not diminish.
Rhino notching
Witness the darting of a rhino, and assist the veterinary team in notching the sleeping rhino's ear for research and security monitoring, before releasing it back into the wild. Phinda is committed to ensuring the survival of Africa's rhinos and, as such, we implement best practice research and management practices. Ear notches enable researchers to correctly identify different individuals on the Reserve. Each rhino is given a unique ear notch number, and microchips are placed in the horn and body for identification and security purposes. Measurements, horn shavings and skin samples are also taken for DNA analysis.
Many of Phinda's rhinos are in need of ear notches and we are inviting groups of up to eight guests each (sharing one vehicle) to participate in this extraordinary experience. Guests will play an active role in the day's adventure. As the veterinary team flies overhead in a helicopter in search of the rhino, guests will follow in hot pursuit with an expert ranger in an open 4×4 safari vehicle. Once the animal is located and darted, the helicopter will land, and guests will have the never-to-be-repeated opportunity to touch the anaesthetized rhino during the notching procedure.
Get up close and personal with these highly endangered giants of the African bush on this once in a lifetime opportunity to assist in the conservation of rhinos at &BEYOND Phinda (all funds raised go directly towards the costs of running Phinda's rhino conservation and management project).
De-horning a rhino
Enjoy a once-in-a-lifetime, rare opportunity to get up close and personal with rhino at &BEYOND Phinda Private Game Reserve, while assisting in the conservation of this endangered species. Phinda is committed to ensuring the survival of Africa's giants of the bush and, as such, we implement best practice research and management practices. This thrilling experience allows guests to witness the capture and darting of either a black or a white rhino.
A wildlife vet will locate and dart the rhino from the vantage point of a helicopter, while the guests and ground crew will follow in open 4×4 safari vehicles. Once darted, the veterinary team will remove both horns from the sleeping animal for research and security monitoring. These horns are safely removed by our conservation team and will be transported off the reserve to a safe storage site, at an undisclosed location. Cherish this memorable opportunity to assist in the conservation of rhinos at &BEYOND Phinda, where all funds raised go directly towards the costs of running Phinda's rhino conservation and management project.
Available at an additional cost (excluding accommodation), and subject to the availability of the wildlife veterinarian and helicopter pilot. If less than 6 guests, a private vehicle will need to be booked. Minimum stay of 3 nights' stay required in order to guarantee favourable conditions for darting.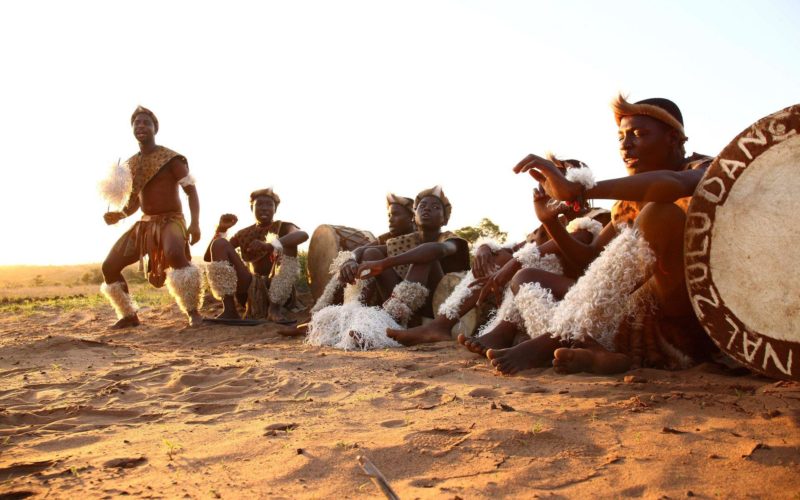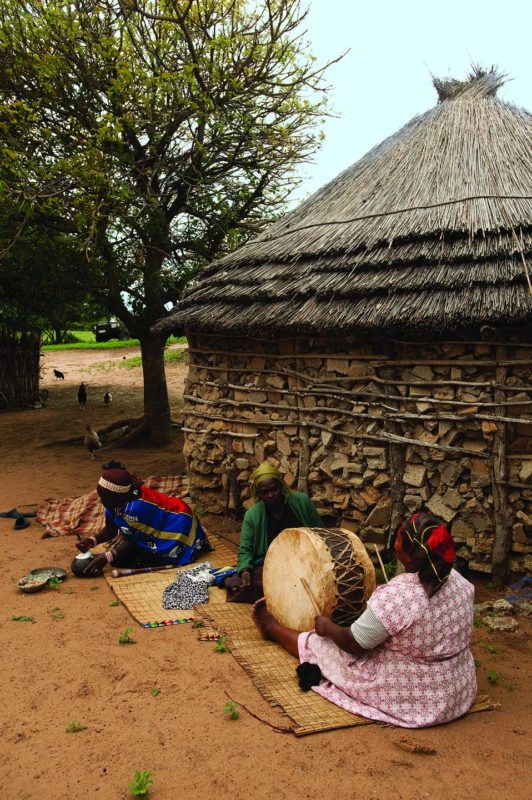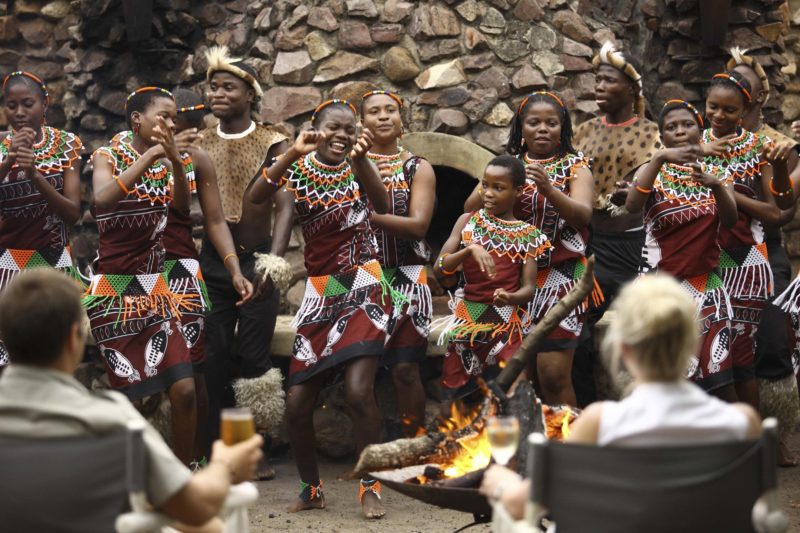 Cultural Experience.
At an additional cost guests can go on a Cultural Experience. For &Beyond, our involvement with Africa Foundation and the people in our local communities represents our core tenet of Care of the People. Through our close consultation with them, &Beyond Phinda Private Game Reserve facilitates insightful community visits and excursions for our guests that help you to not only experience and see firsthand the various projects that are being run by the Africa Foundation and &Beyond Phinda, but also for you to see how you can get involved and make a difference. In addition to these community visits, local Zulu villagers offer guests the opportunity to experience their daily lives and routines, and to gain a sneak peek into some of their traditional rituals and customs.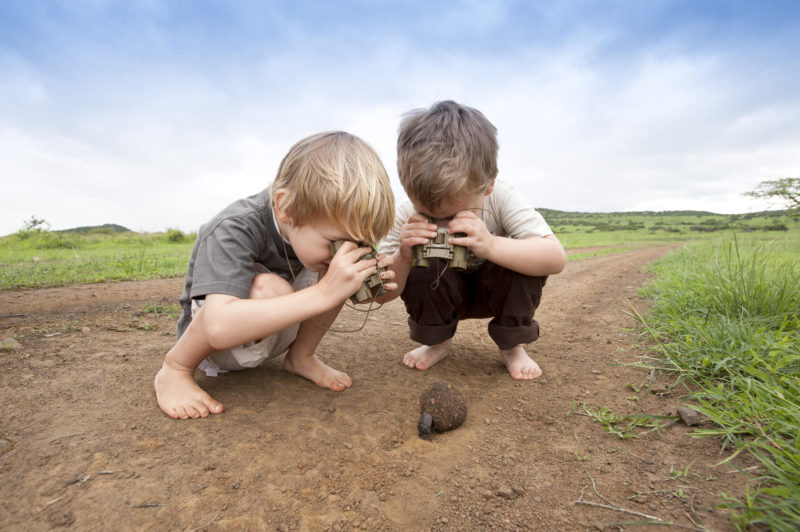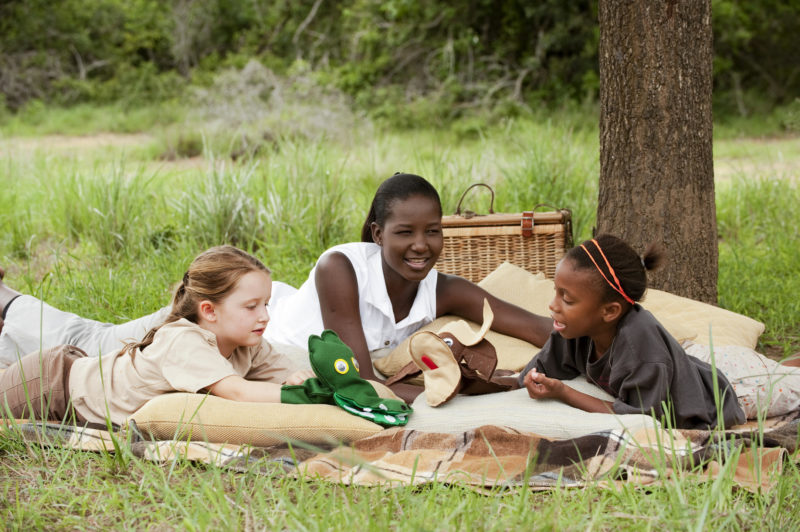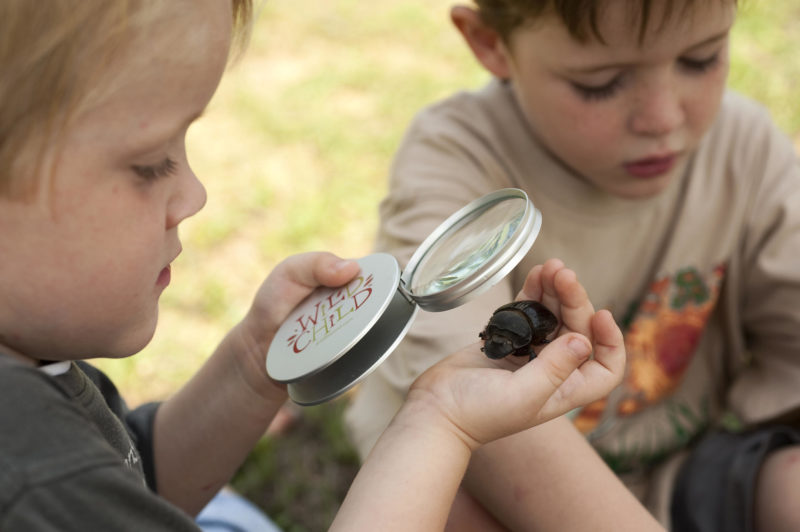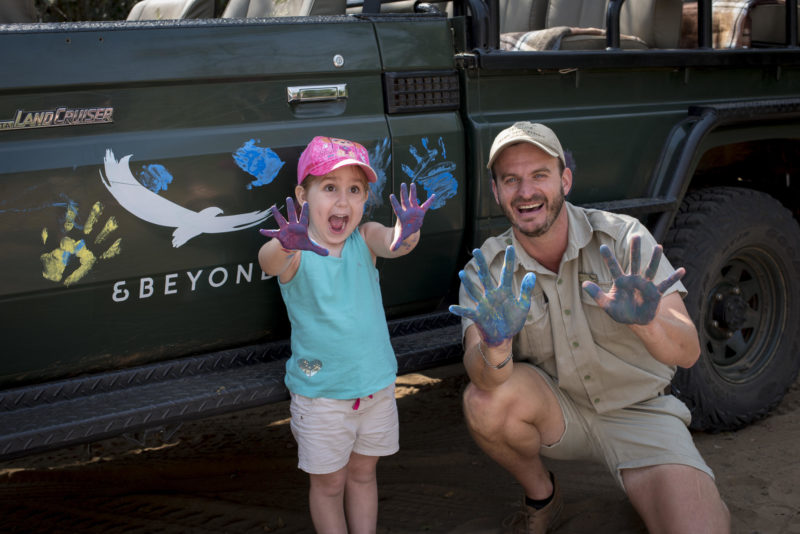 Wild Child Programme
andBeyond's WILDchild programme, designed especially for children visiting safari lodges and camps in Africa, is filled with fun, interactive activities that offer opportunities to learn and discover new experiences and cultures. Deeply rooted in the love for the African bush, it not only creates a series of unforgettable moments for the whole family but forges strong bonds between our young guests, our planet and its people.
Africa Foundation & Community Collaboration
It was at Phinda that &BEYOND'S Care of the Land, Wildlife and People impact vision was tested and shaped. At Phinda 28 622 hectares of farming land was reclaimed for wildlife, including 790 hectares of critically endangered ancient sand forest. Cheetah, rhino and pangolin are actively protected, with more than 30 years of pioneering wildlife victories behind us. Along with Africa Foundation, the reserve works closely with neighbouring communities, employing locally and investing in community education and welfare. Sustainability practices are a daily priority and include the elimination of plastic bottles and a focus on energy-saving initiatives.
Neighbouring Zulu communities were – and continue to be – consulted in all aspects of development, ensuring that their expectations and aspirations could be met in a sustainable way. Not only was the wildlife returned to the land but a significant portion of the land has since been returned to its ancestral owners in a ground-breaking agreement between &BEYOND and the Makhasa and Mnqobokazi communities, making a marked difference in the lives of local communities. This partnership has been so successful that, as additional pieces of land have been handed back to the communities, they have requested that this land be included in &BEYOND Phinda Private Game Reserve, believing that their best financial return would be gained through the use of the land for conservation tourism.
Community Leaders Education Fund (CLEF)
The CLEF programme provides promising young leaders from rural communities bordering our operations with the opportunity of a tertiary education that would otherwise be inaccessible to them. The compounded impact of this successful programme – which has a first-time pass rate of 96% – extends beyond the students. Tertiary education unlocks the door to increased job opportunities and earning potential. Consequently, unemployment levels are reduced, family household incomes are supplemented and communities are uplifted.
CLEF's impact from 1996 to date includes:
814 Bursaries awarded
532 CLEF students
506 CLEF graduates
62 Rural communities in Africa
30% CLEF graduates with more than one degree
96% first-time pass rate
9 PhD holders
The career paths of these 532 CLEF students include:
32 Engineers
188 Educators
18 Medical Doctors
26 Accountants
13 Environmentalists
31 Lawyers
18 Medical health
Rebirth of a Conservation Wilderness
&BEYOND was launched with the creation of Phinda Private Game Reserve in 1991, on a model that is widely regarded as one of the most ambitious and successful blueprints for international ecotourism. Overgrazed agricultural land was purchased and rehabilitated before the reintroduction of all the large mammal species that originally inhabited the region. The land selected for &BEYOND's first game reserve was identified as key conservation land. At the time it consisted of cattle, pineapple, sisal and game farms. Most importantly, it was considered as significant because it formed a link between the Mkuze Game Reserve and, what was then known, as the Greater St Lucia Wetland Park. It was also home to a small area of the critically endangered sand forest, as well as a number of other threatened or endangered species. Today, the reserve neighbours the iSimangaliso Wetland Park, one of South Africa's first World Heritage Sites, and the vision of dropping fences to preserve links between wildlife areas remains alive. Equally significant, &BEYOND Phinda was the first Big Five private game reserve to be established in the province of KwaZulu-Natal, successfully demonstrating that dedicating land to wildlife had the potential to produce better returns than cattle farming in marginal rainfall areas. Phinda's name, which means 'the return', has been prophetic in more than one way.
Conservation & Protection of Endangered Species
Beginning with our ground-breaking conservation achievements during the original restocking of the reserve. &Beyond has continued to take part in a number of conservation successes. Our approach to the creation of this reserve, from the underlying conservation issues to its interaction with the community, has proven to be the foundation on which all our subsequent projects were to be built. Since then we have embarked on a variety of pioneering conservation initiatives, both in Africa and beyond. &Beyond's conservation engine is driven by one thing only and that is creating extraordinary experiences for our guests. Without our guests, we simply cannot be successful in extending and sustaining green frontiers. To fund many of the projects that help us to continue our conservation of Phinda's endangered species, guests are invited to join us in the routine monitoring or research projects that are essential to the survival of the reserves' species'. Active Conservation and Preservation projects are:
Rhino Conservation
Pangolin Conservation
Elephant Conservation
Children over the age of 12 are welcome; no children under 16 on Walking Safaris.
Room Facilities
Free WiFi, Air conditioning, Fan, Bath or Shower, Outdoor Bath/Shower, Toilet, Ensuite, Safety deposit box, Sofa / Lounge Area, Telephone, Free Tea & Coffee / Maker, Mini Fridge / Mini Bar, Decking / Veranda, Balcony, Plunge Pool, Jacuzzi
General Facilities
Non-smoking rooms, Indoor restaurant, Outdoor restaurant, Free parking, Indoor bar, Outside swimming pool, 24 hour security, Laundry service
Board Basis
Fully Inclusive = Bed, All Meals, Snacks, Drinks and Activities
Featured in...