Mauritius | beach, eco-friendly, family, group, honeymoon, lgbt, sustainable, tailor-made | resort | beach | luxury
LUX* Grand Gaube is located near a quiet fishing village on the north coast of Mauritius. The hotel is set amongst lush tropical gardens and coves, with spectacular views of the Indian Ocean. Accommodation is available in generously proportioned rooms which feature balconies or terraces. Guests are spoilt for choice with many different restaurants available, each with a selection of international cuisine. Guests can visit the famous Cafe LUX* as well as many different bars for relaxation!
Grand Gaube, 230 Grand Gaube, Mauritius
Located in Grande Gaube, LUX* Hotel is a 20-minute drive from Grand Baie. It offers 24-hour front desk service and free on-site private parking. Situated on a beach in northern Mauritius, LUX* Grand Gaube is a luxury resort featuring a swimming pool overlooking the Indian Ocean. It offers complementary rides in a glass-bottom boat and elegant accommodation.
Complementary glass-bottom boat ride
On-site cinema
Eclectic retro chic design by Kelly Hoppen
Choice of 6 restaurants and 7 bars
Café LUX* & ICI Ice Cream Parlour
2 beaches and calm lagoon
2 swimming pools (one heated during winter months and one reserved for adults)
Lush tropical gardens with a stunning view over the Northern Coast islets
LUX* Me Spa and wellness centre including a world class gym and tennis academy
Murdock Barber Shop
Banyan – an adult only zone
Helipad
Golf driving range and preferential agreement with Mont Choisy golf course
Complimentary high speed Wi-Fi access throughout the resort
24-hour in room dining
All rooms are sea facing
4 Tennis Courts and 1 Padel Tennis Court
LUX* Grand Gaube takes on the spirit of a retro-chic tropical retreat as imagined by interior designer Kelly Hoppen. Think hanging plants, rattan lamps, intricately-painted tiles, collected furnishings and beautiful homeware. The meticulously-curated bright and airy spaces are punctuated with pops of Camille Walala colour. As you wander, keep your eyes open for graffiti by the street artist Jace. Air-conditioned rooms at the LUX* Grand Gaube Hotel feature furnished balconies with panoramic views. The spacious rooms offer free WiFi and an LED Interactive TV. Some villas come equipped with a kitchenette and a private pool. The hotel also features a spa, fitness centre, tennis academy, golf and water sports. The resort offers a variety of dining options. INTI is a Peruvian restaurant with an open-air deck and and a Pisco bar, while Beach Rouge is a Mediterranean restaurant and lounge set on the beach.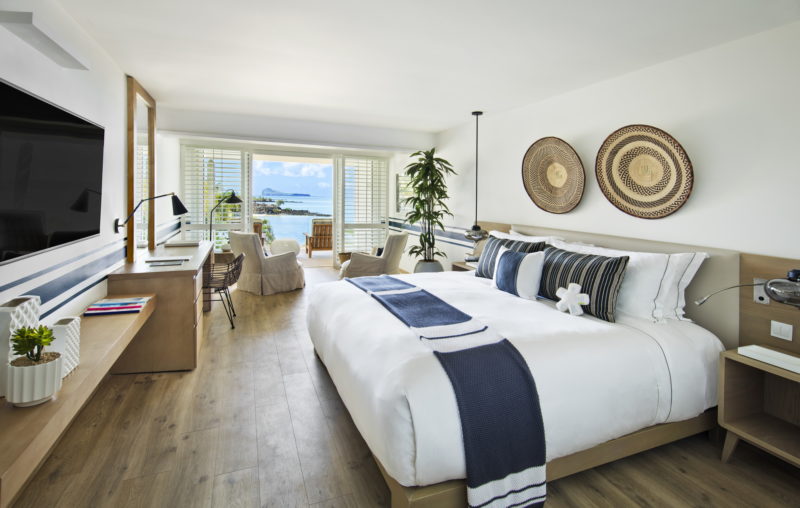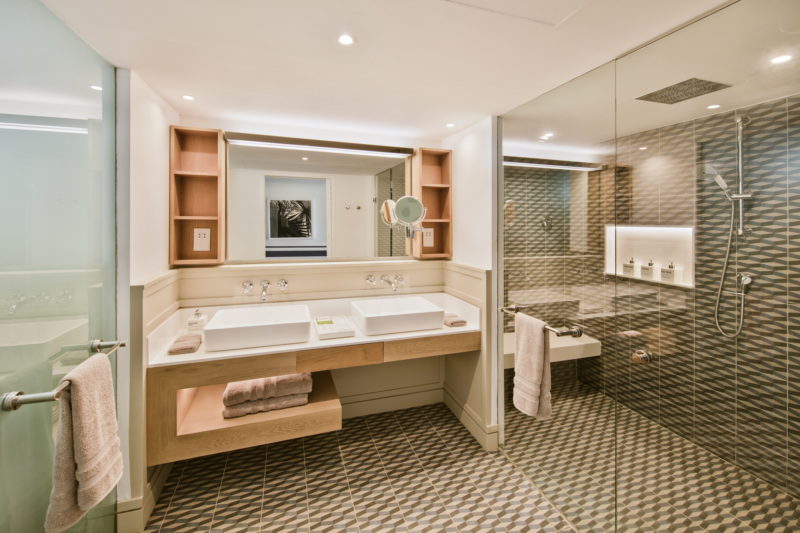 Superior Room
Comfortable, elegant and equipped with a large rainfall shower (no bathtub).
69 Superior Rooms (51 m2)
3 Adults or 2 Adults + 1 Teen or 1 Child or 1 Infant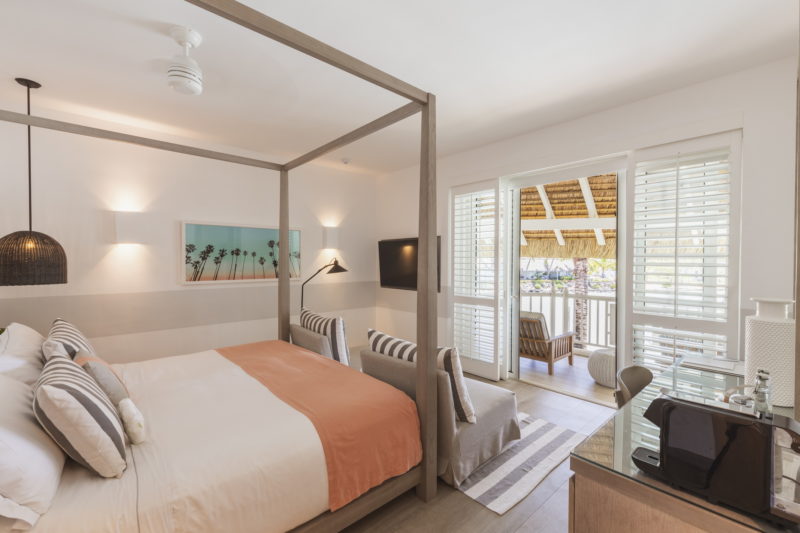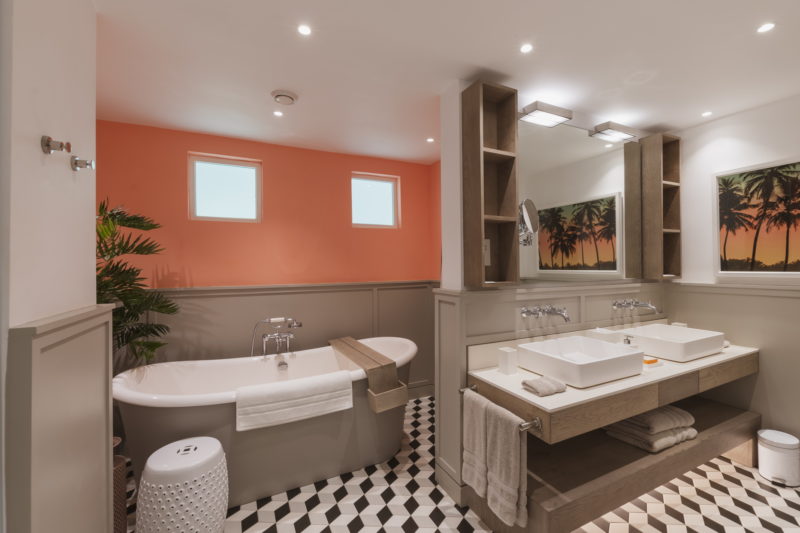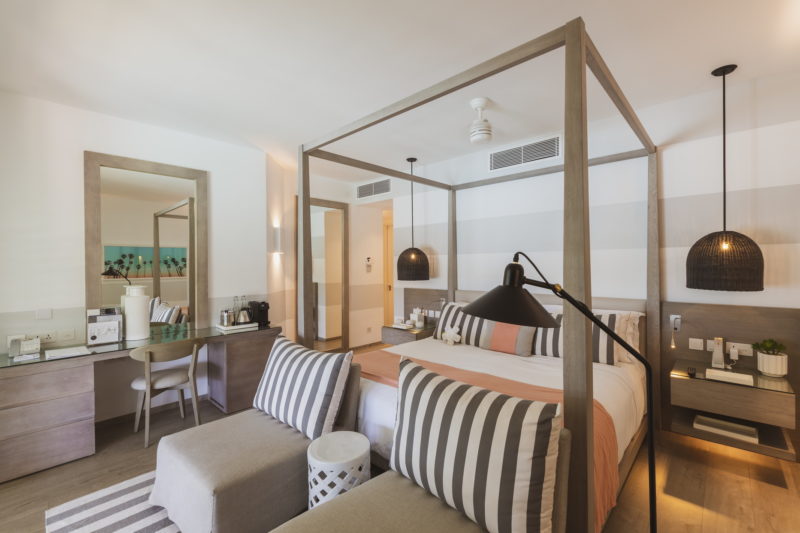 Deluxe Rooms
Clustered around a secluded bay, rooms are located on the ground & first floor providing peace and privacy.
46 Deluxe Rooms (51 m²)
Adults only section – 2 Adults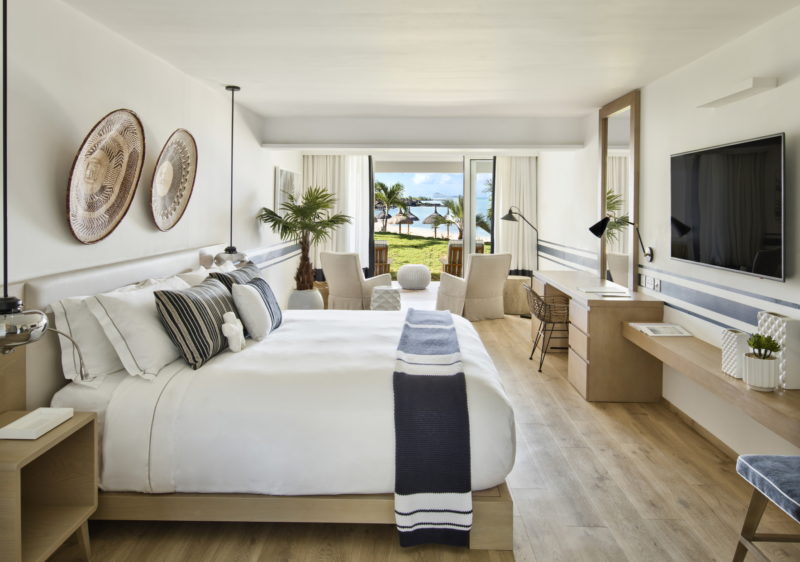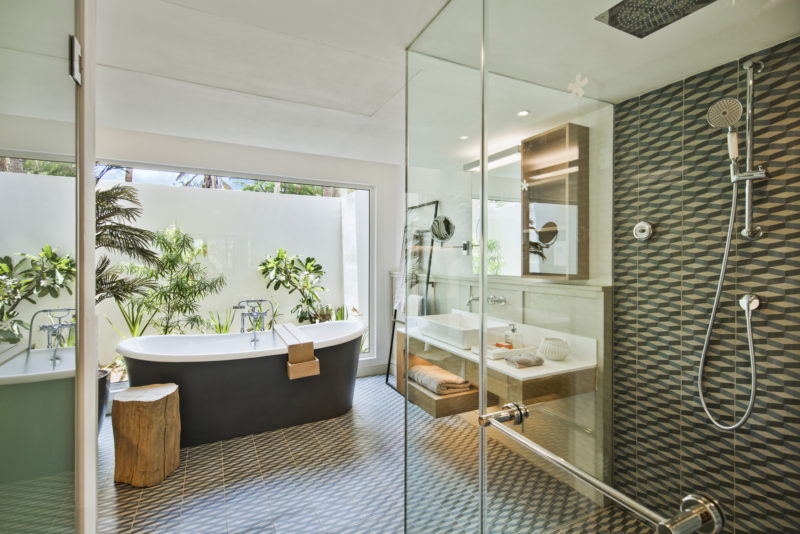 Junior Suites & Ocean Junior Suites
Spacious Junior suite with a secluded decked terrace exclusively located on the ground floor with direct access to the beach.
34 Junior Suites (56 m²)
3 Adults or 2 Adults + 1 Teen or 1 Child or 1 Infant
Ocean Junior suites are designed for couples; these suites are located on the second floor with a spacious balcony featuring chill out loungers and an outdoor bathtub just for two.
21 Ocean Junior Suites (70 m²)
2 Adults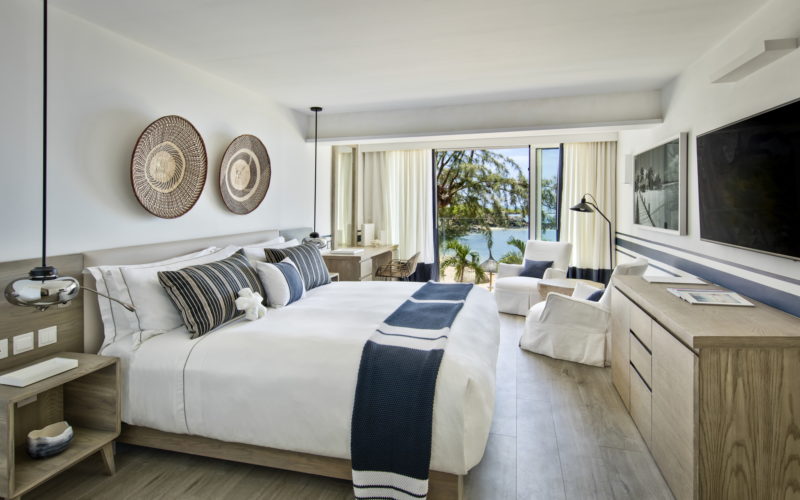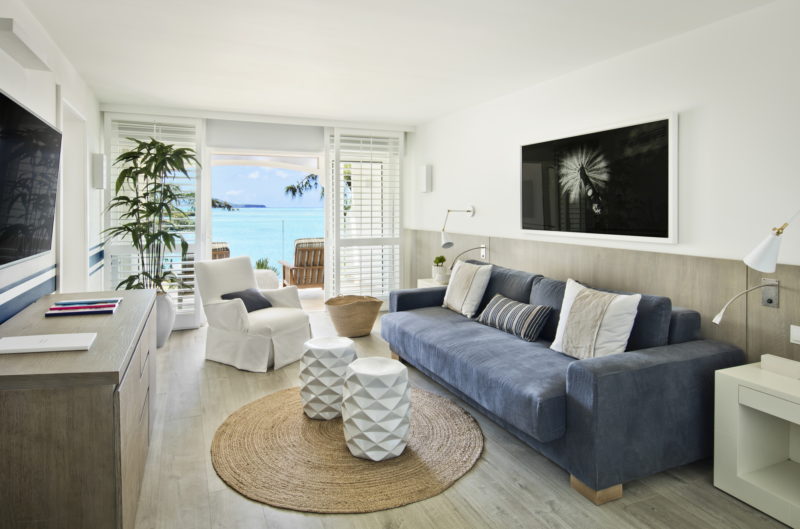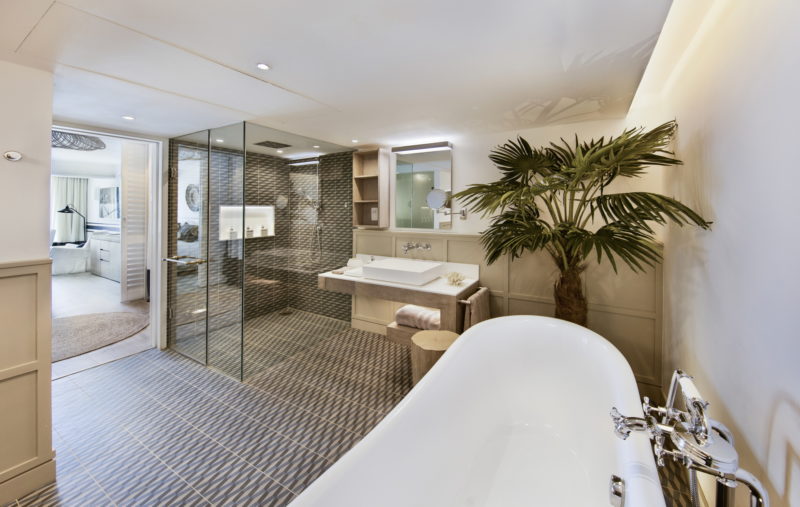 Family Suites
With king-sized bed and large double sofa beds for children, these suites are expansive and flexible. This suite boasts two spacious bathroom and walk-in dressing room, perfectly suited to a family beach holiday.
6 Family Suites (85 m²)
4 Adults or 3 Adults + 1 Teen or 2 Children or 2 Adults + 2 Teens or 3 Children or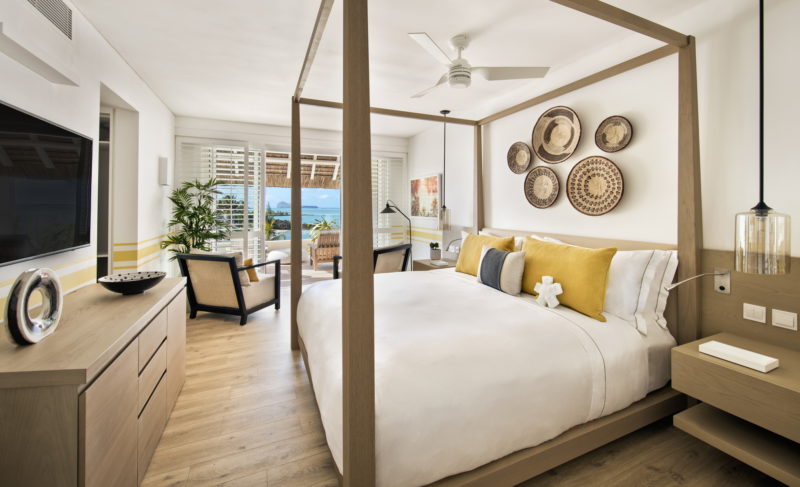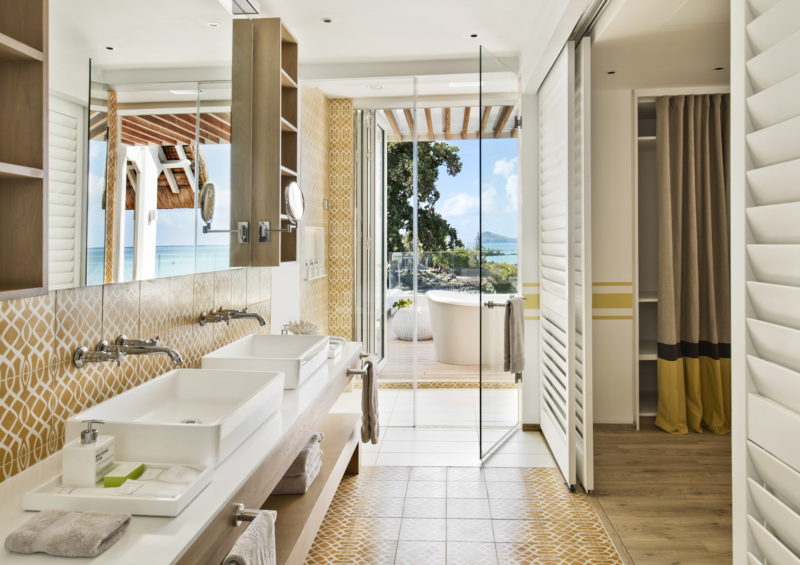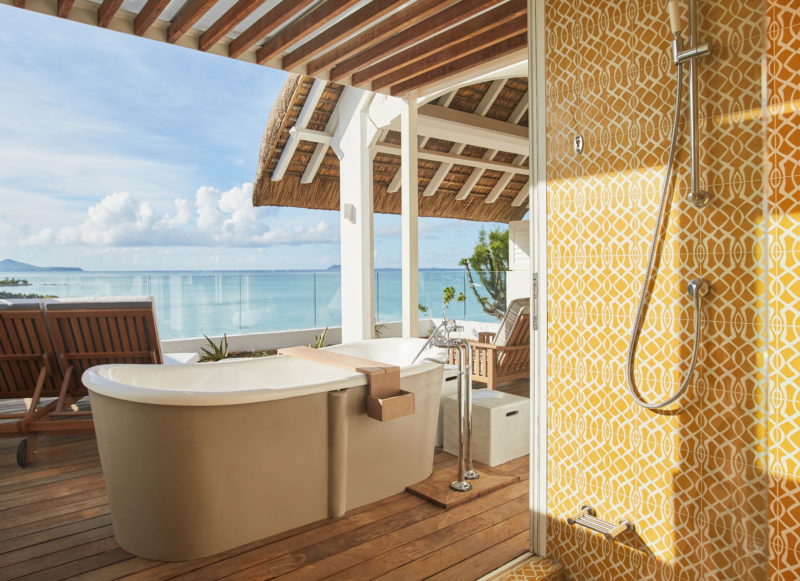 LUX* Suites
For those craving for extra space, this suite boasts a generously proportioned lounge, walk in dressing room, a sleek oversized bathroom featuring a deep soaking tub and walk-in shower.
5 LUX* Suites (85m2)
3 Adults or 2 Adults + 1 Teen or 1 Child or 1 Infant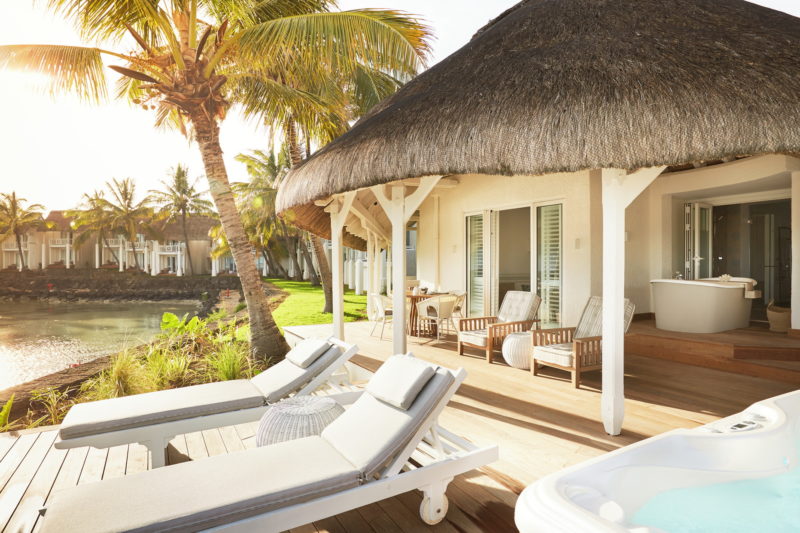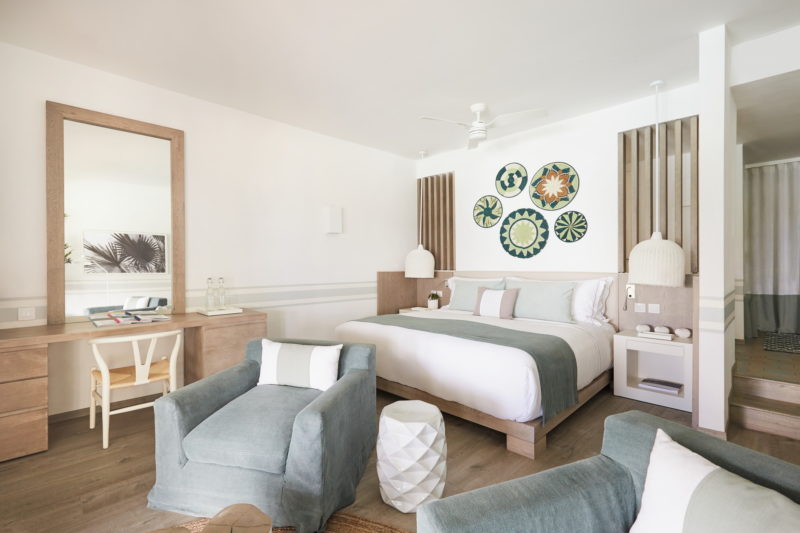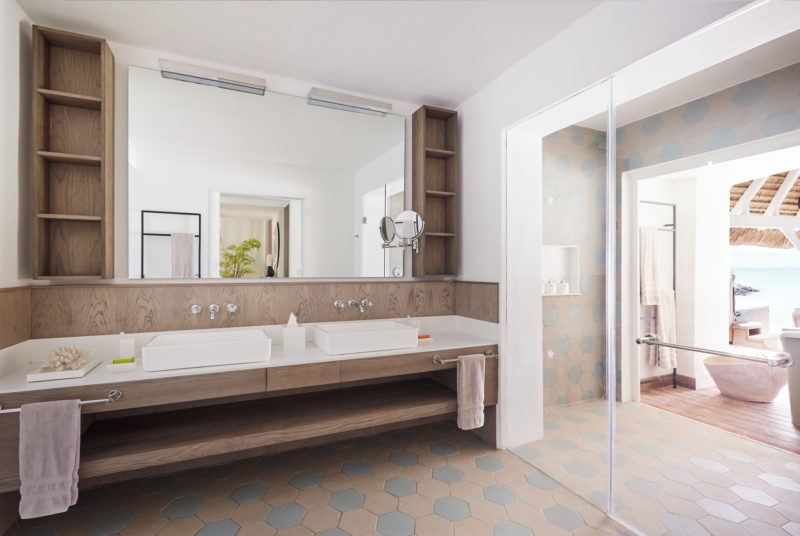 Prestige Junior Suites
Set by a secluded bay and situated on the ground floor, these luxury suites feature an expansive terrace with a sun-drenched lounge, dining area and indulgent private whirlpool bathtub.
2 Prestige Junior Suites (75 m²)
2 Adults + 1 Teen ( be 16 years minimum)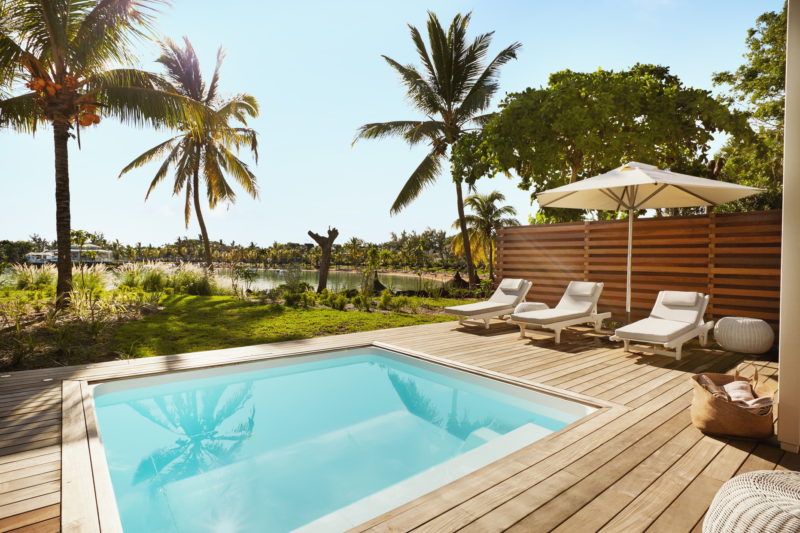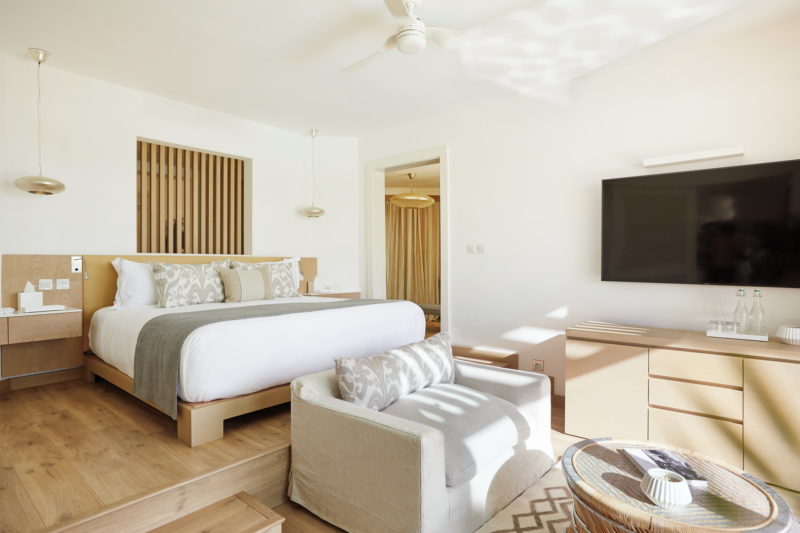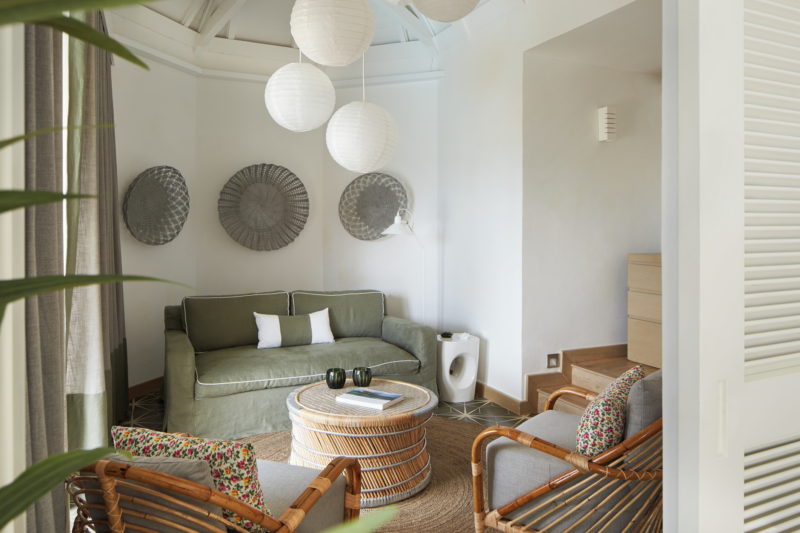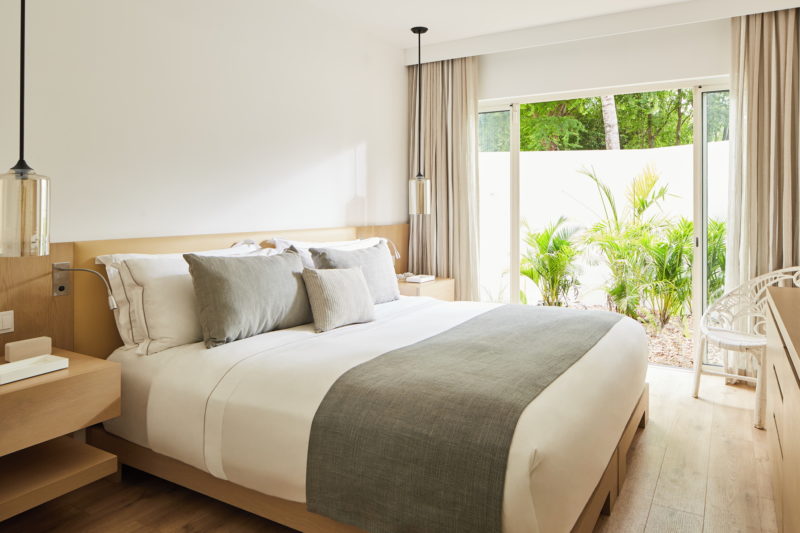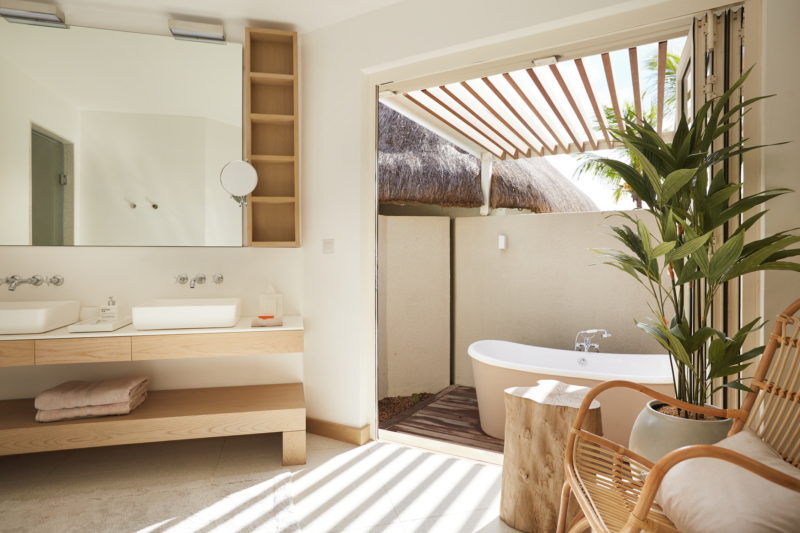 Ocean Villas
Two bedroom villa set in it's own private landscaped gardens with a private pool, outdoor lounge and dining area offering 24-hour butler service for the ultimate luxury, privacy and comfort.
2 Ocean Villas (100 m²)
4 Adults + 1 Teen or 2 Children or 1 Infant
3 Adults + 2 Teens or 3 Children or 2 Infants
2 Adults + 3 Teens or 4 Children or 3 Infants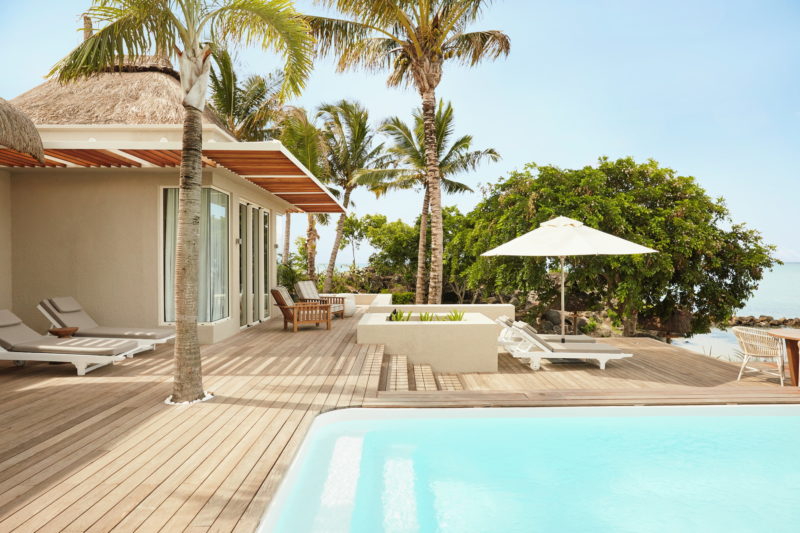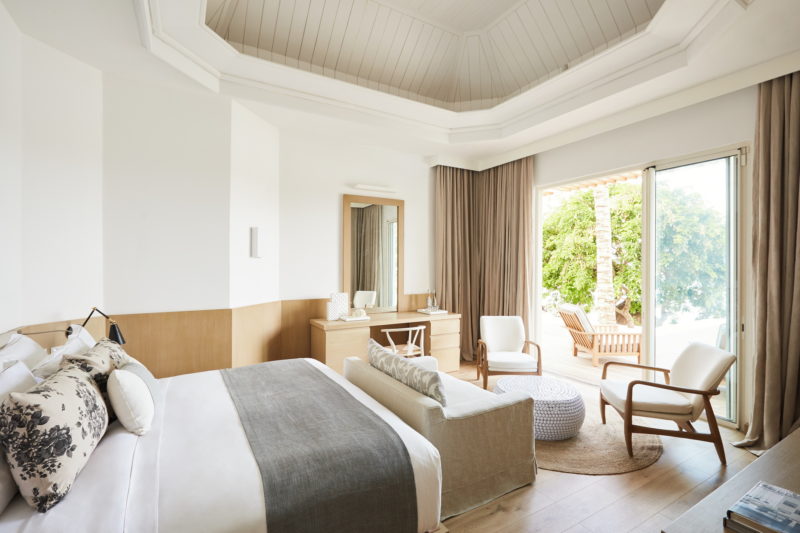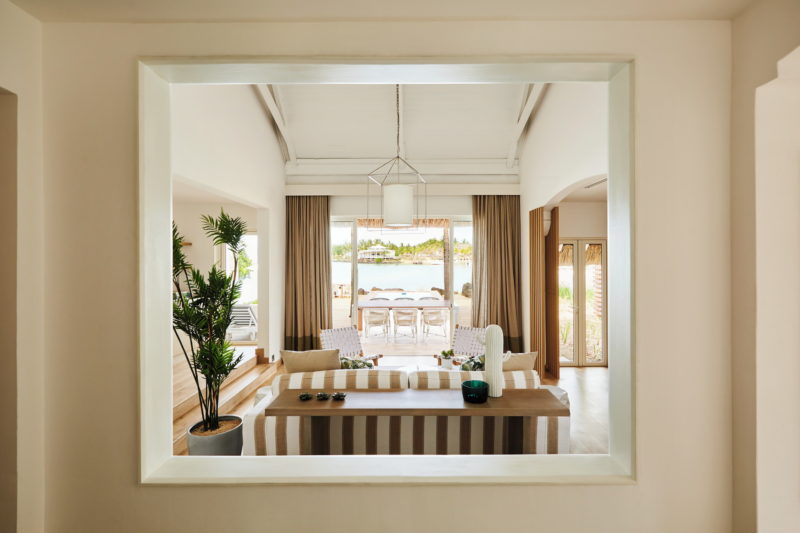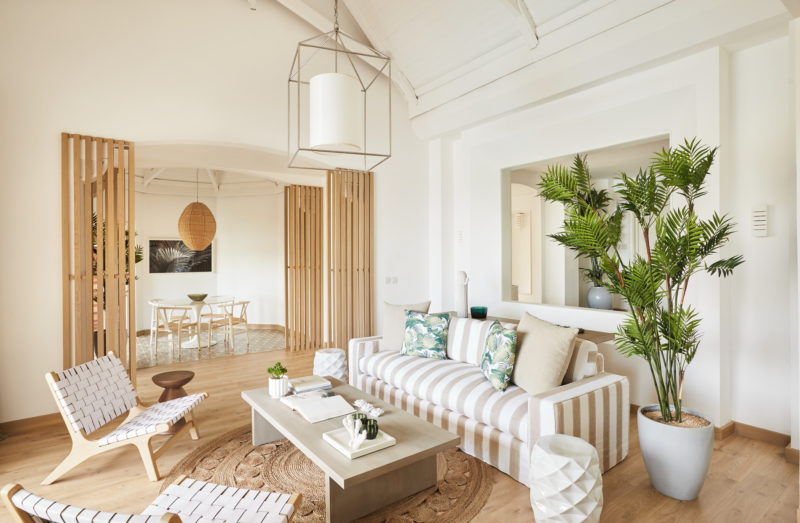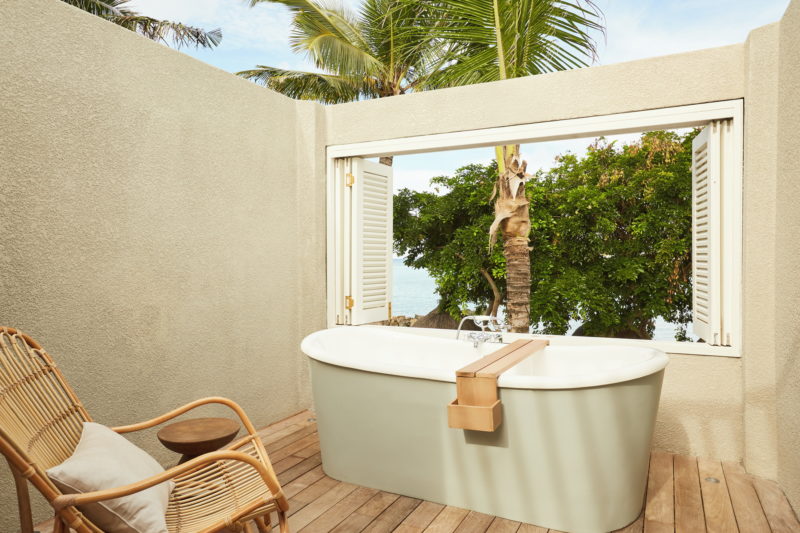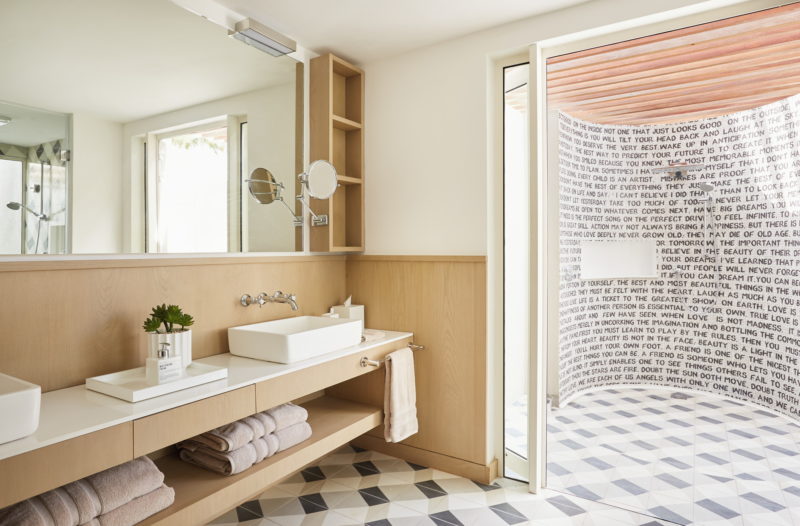 LUX* Villa
Two bedroom villa designed for the highest level of privacy with an outdoor lounge and relaxation deck, private swimming pool, gazebo, and 24-hour butler service set on a private peninsula with its own beach access.
1 LUX* Villa (300 m²)
6 Adults
4 Adults + 2 Teens or 2 Children or 2 Infants
3 Adults + 3 Teens or 3 Children or 2 Infants
2 Adults + 4 Teens or 4 Children or 2 Infants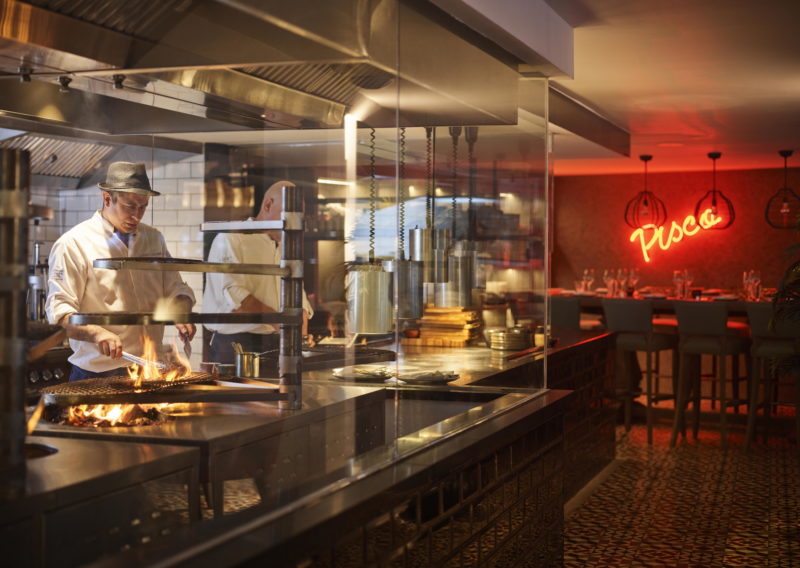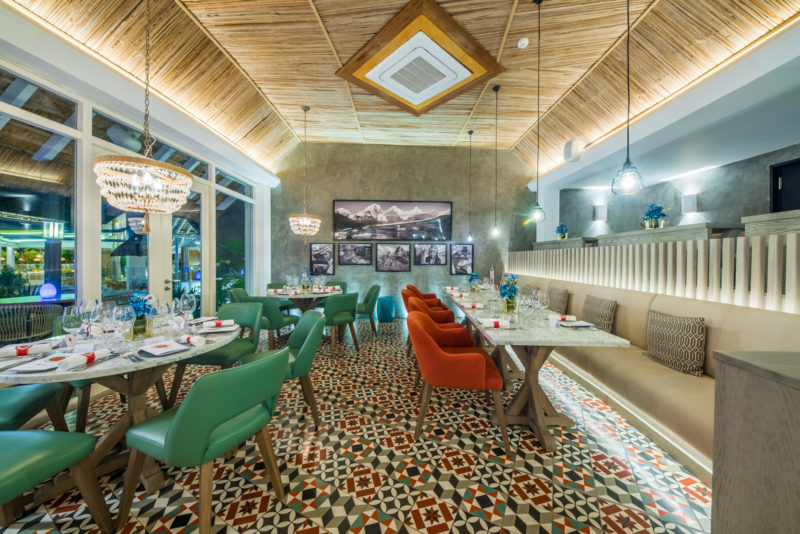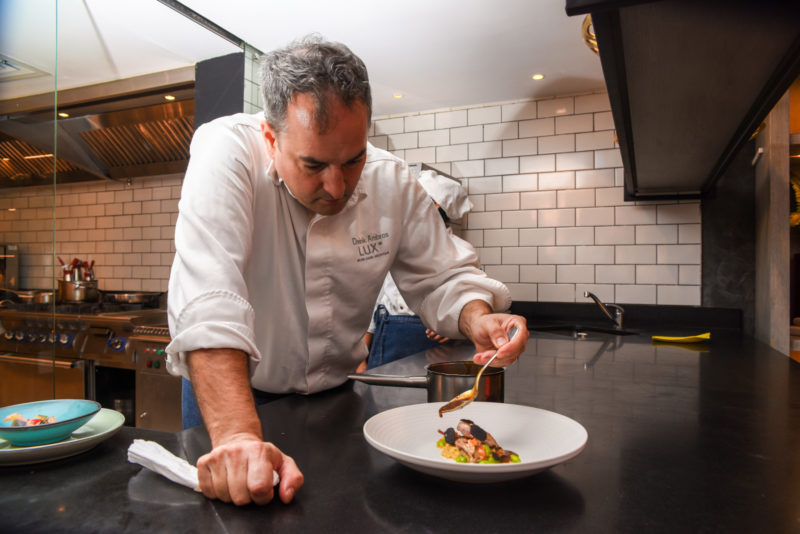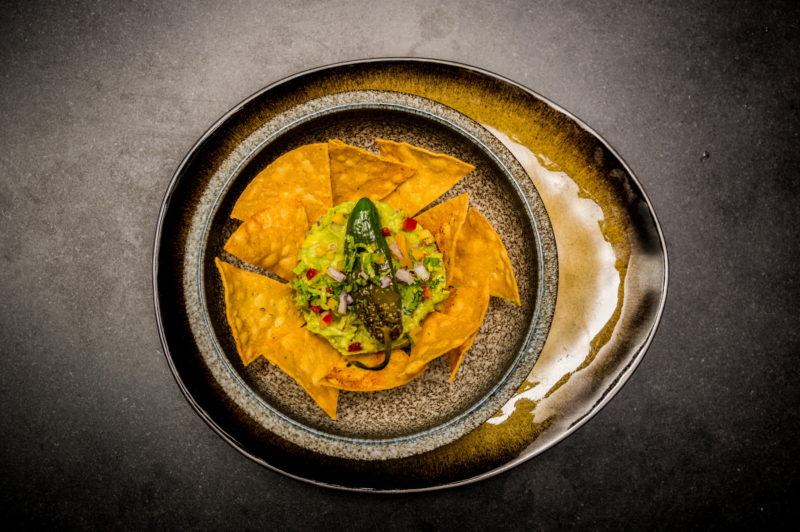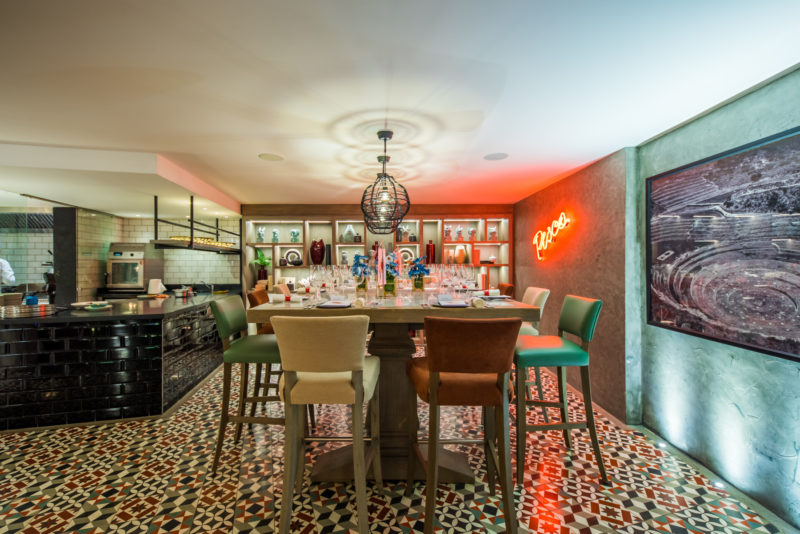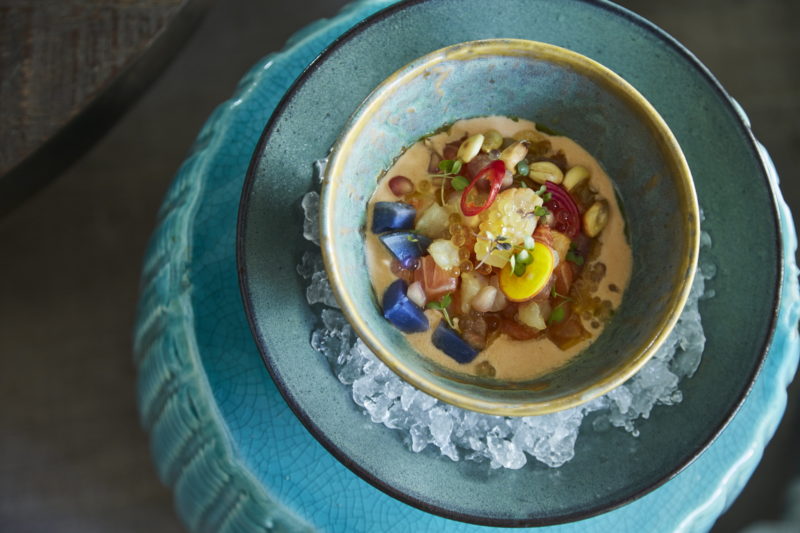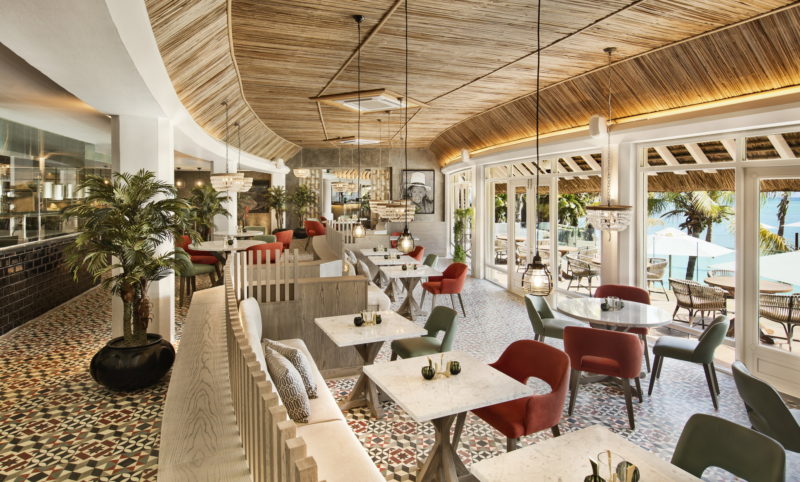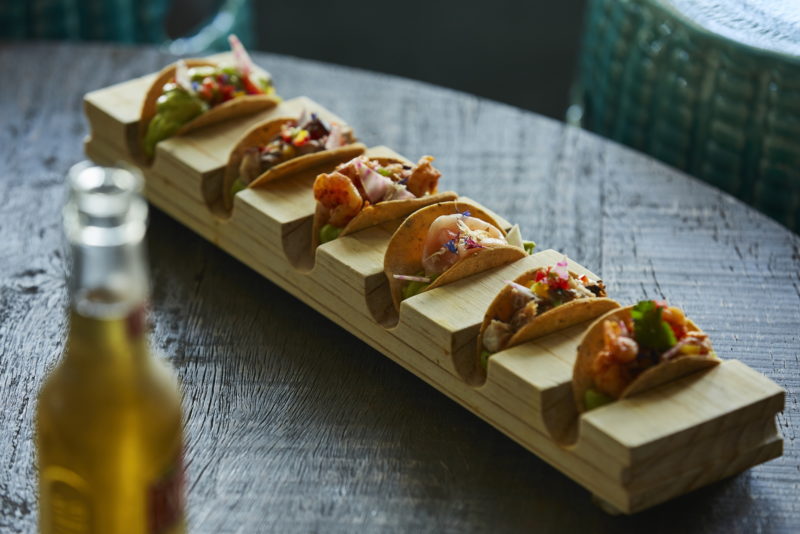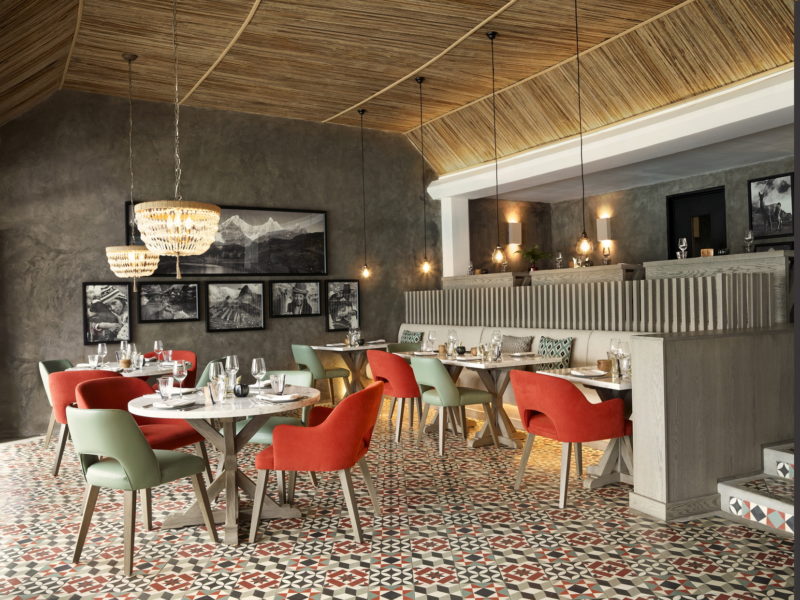 Inti Restaurant
Meaning the God of Sun, this Peruvian-Argentinian restaurant is a first for the Indian Ocean and the island of Mauritius. Expect Latin American passion with refined Nikkei flair and a seriously exciting bar and grill kitchen resplendent in colourful Mexican ceramic tiles. Here, you can watch ceviche expertly made to order, the cuisine is infused with the essence of Peru, Argentina, Japan, Equador and Mexico and is presented in an intimate and exclusive setting, making INTI our signature dining experience. The Pastry Bar serves outlandishly addictive sweet and savoury churros and the ringside seats of the communal table are ideal for pastry-tasting or private dining. For an aperitivo or a nightcap in the lagoonside topical garden, the DJ-soundtracked Ceviche and Pisco Bar is a dream.
Restaurant – Open for dinner only A la Carte: 74 seats
Open 19:00 – 22:30
*Please note that INTI is excluded from all meal plans. A discount on the food invoice is given to guests on Half Board/Full Board/All Inclusive meal plans.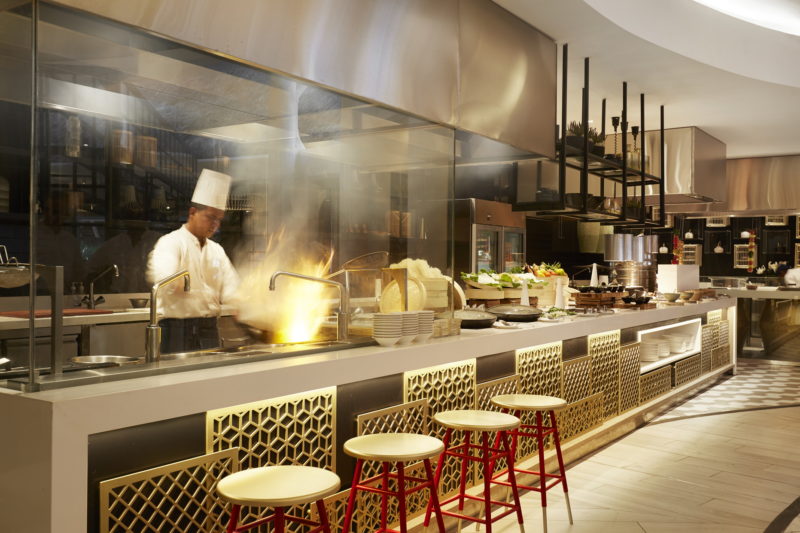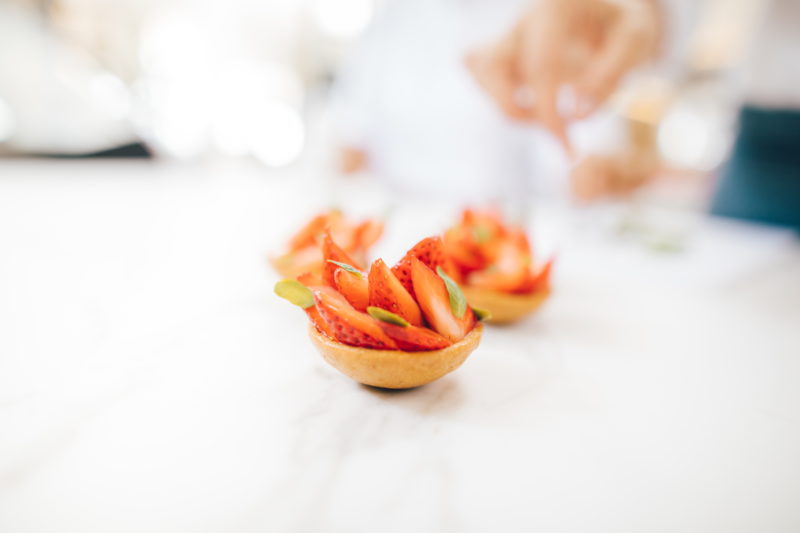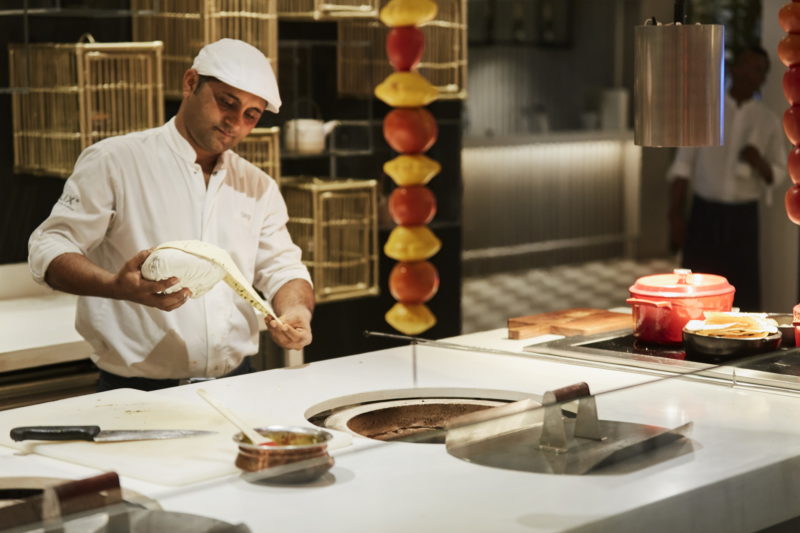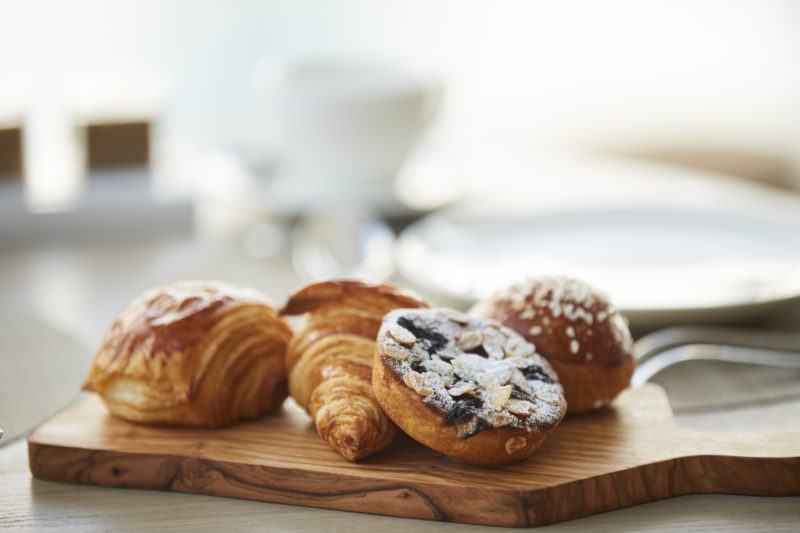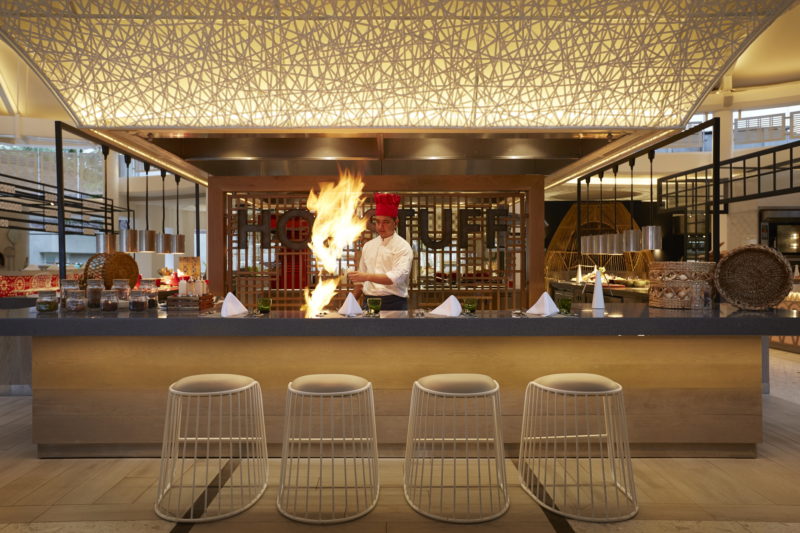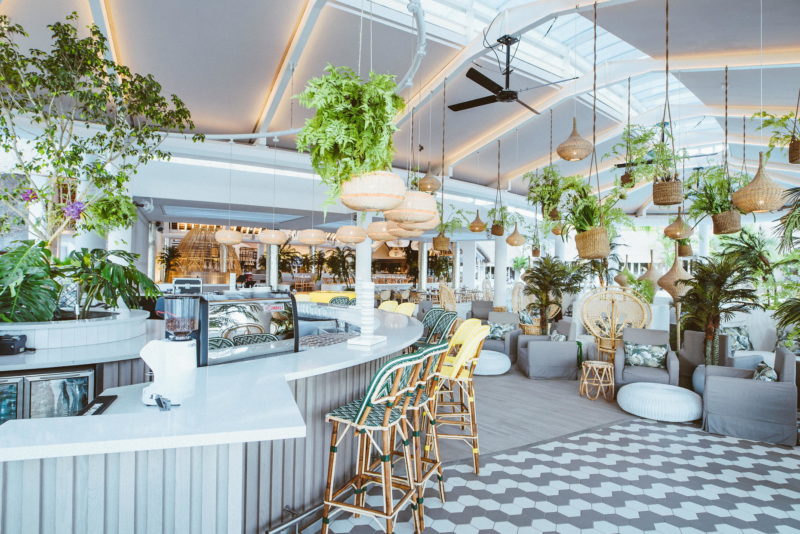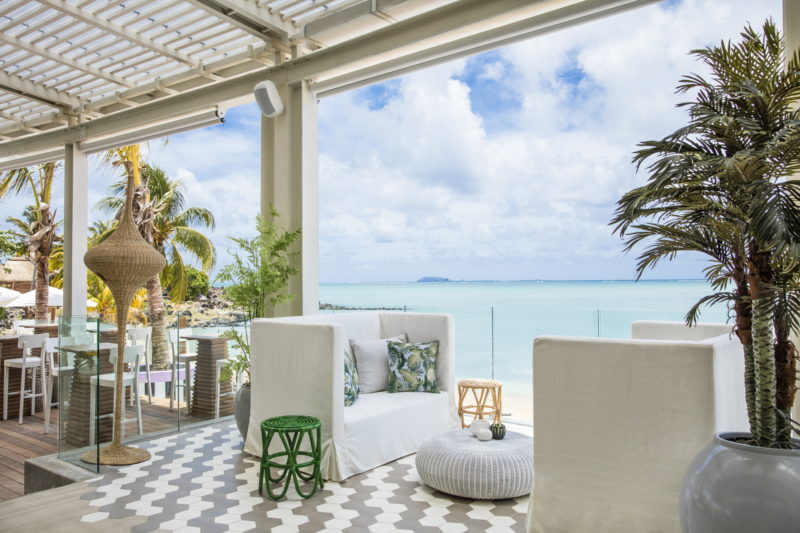 Palm Court Restaurant
A breath of fresh air in a tropical setting imbued with nature – where everyone has an ocean-view table. From dawn till after dusk it showcases around-the-world cuisines and features a walk-in refrigerated Glass Box packed with the freshest of produce, a Mediterranean Tapas Bar showcasing classic Italian and Spanish delicacies, a Southeast Asian Kitchen with live cooking stations, giant spice wall and teppanyaki table plus a rotisserie-flaunting Comfort Kitchen for the best of British. Add to the mix a Bakery and Dessert Bar with just-baked pastries, flatbreads, focaccia and sourdoughs plus unmissable bespoke sweat treats and an ice-cream and sorbet counter – and the world is your oyster.
The Wine Experience celebrates the art of the noble grape where our head sommelier will present wine masterclasses of champagnes, reds, whites and rosés from a decorative wooden table with a walk-in cellar as a spectacular backdrop. A tasting station will also afford the opportunity to select your personal choice of red or white wines via an Enomatic dispensing system. The Palm Court Bar provides a convivial setting to meet the mixologists and work your way through our extravagant cocktail list and menu of no less than 18 different proseccos. With the main resort swimming pool, beach and lagoon as your backdrop and a see-through roof for sun drenched dining and star lit evenings – the Palm Court Restaurant and Bar is the beating heart of LUX* Grand Gaube.
Main restaurant: 213 seats
Open for Breakfast: 7:00 – 10:30
Open for Dinner: 19:00 – 22:30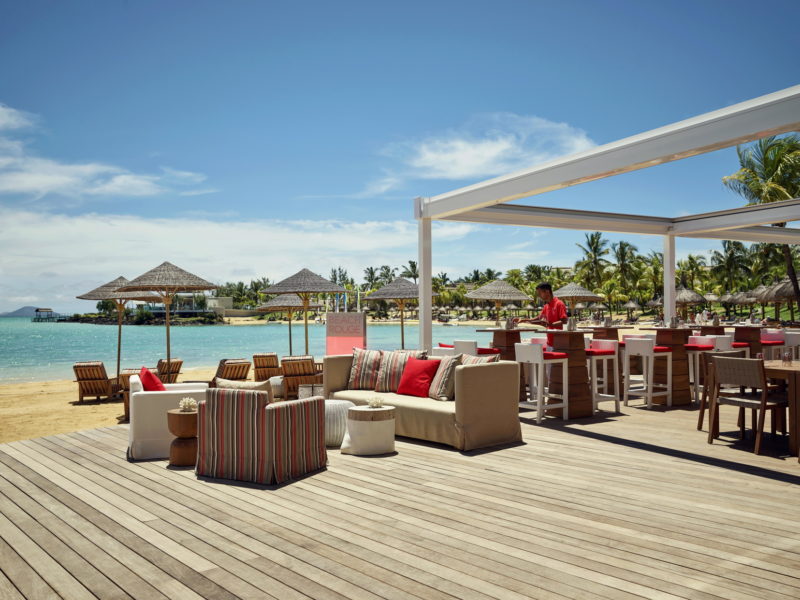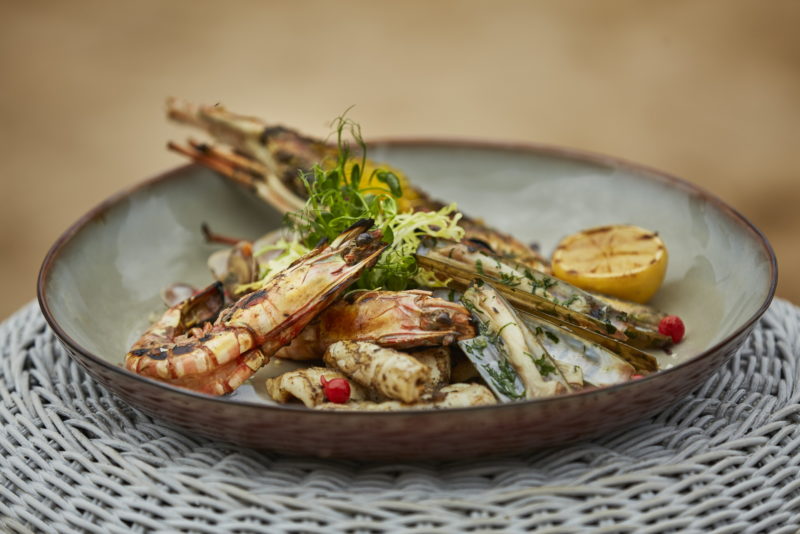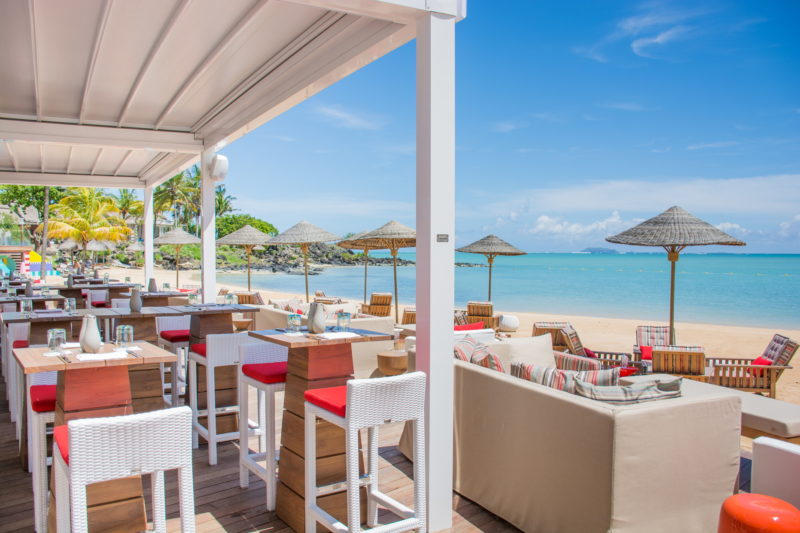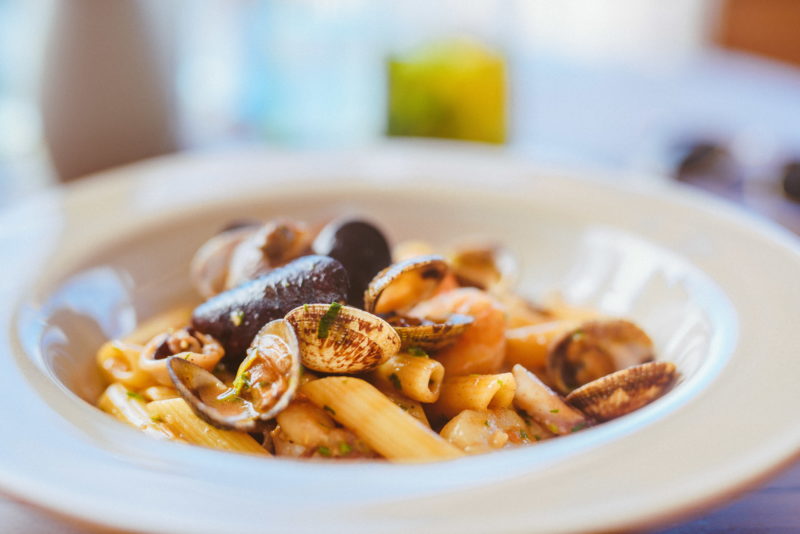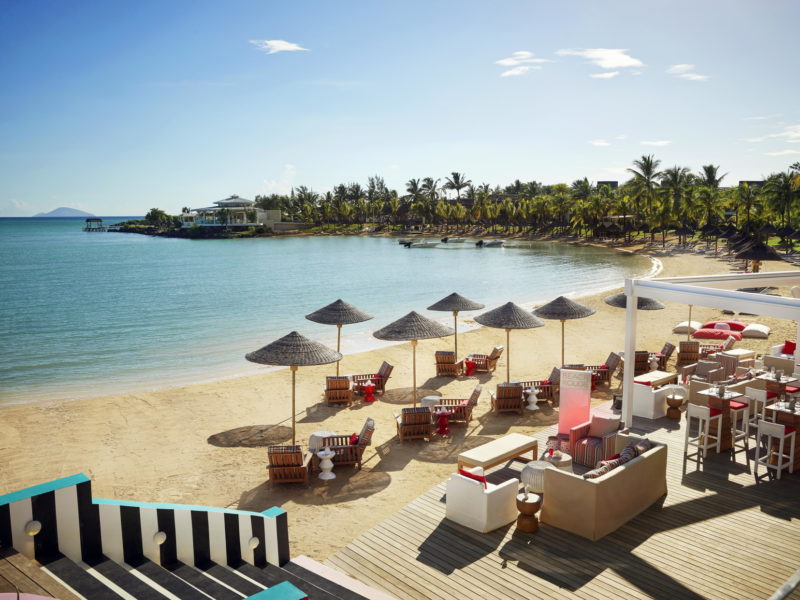 Beach Rouge
Occupying a prime location right on the beach with spectacular views across the lagoon and Indian Ocean beyond, Beach Rouge invites you to pause for relaxed lunches or romantic dinners at the water's edge or settle under the shade for a long, lazy brunch of seafood through to sirloin and pizzas to rival Italy's finest. Sunsets are toasted with mixologist-made concoctions while a DJ fine-tunes the soundscape. Beach Rouge provides a feet-in-the-sand, sea breezy scenario to take you from day to night – and into the early hours.
Restaurant & Bar A la Carte: 64 Seats
Open 12:30 – 15:00 & 19:00 – 22:30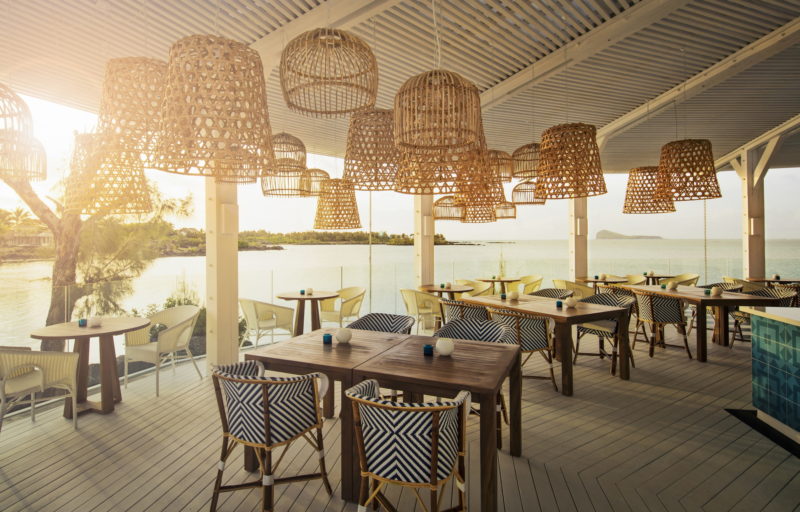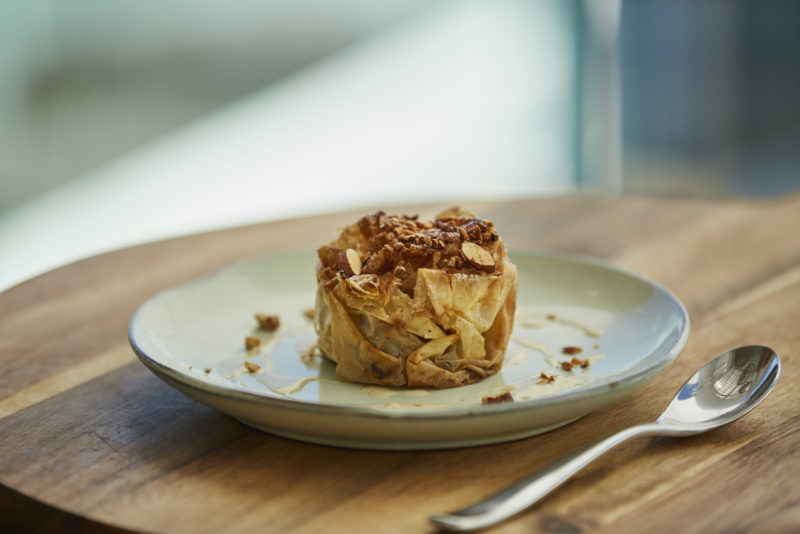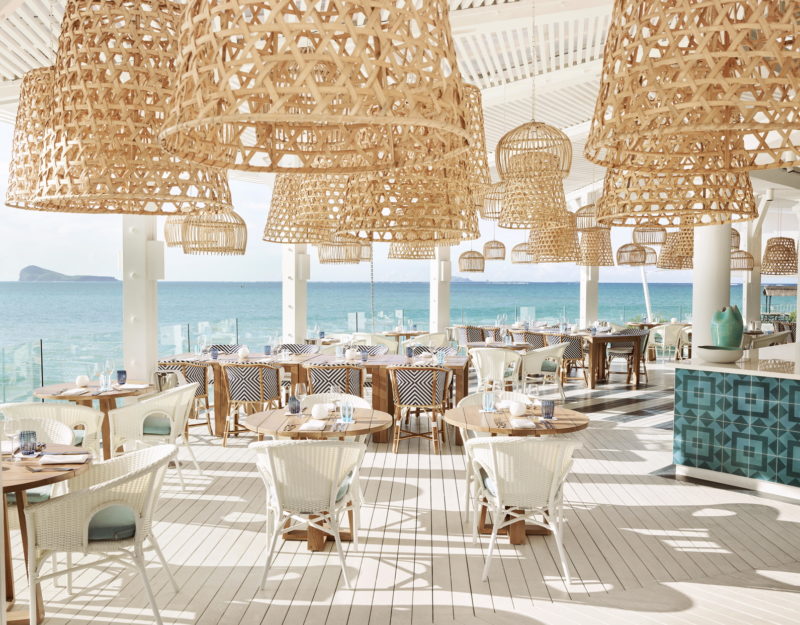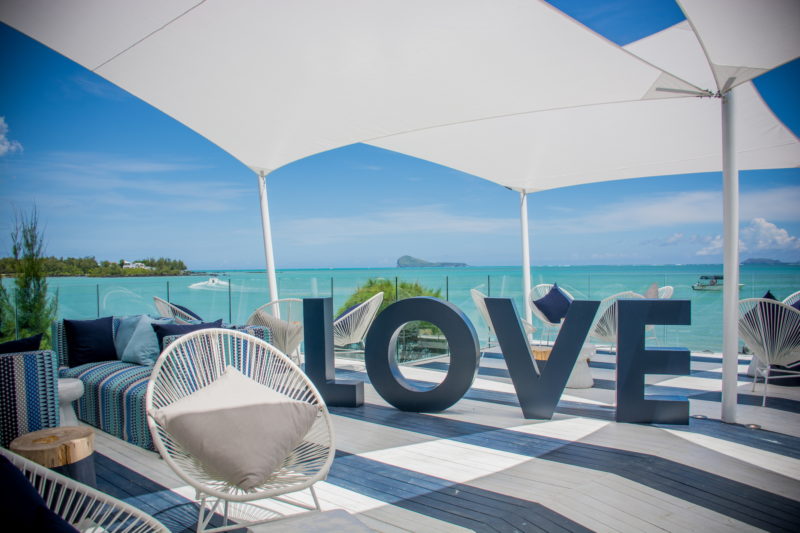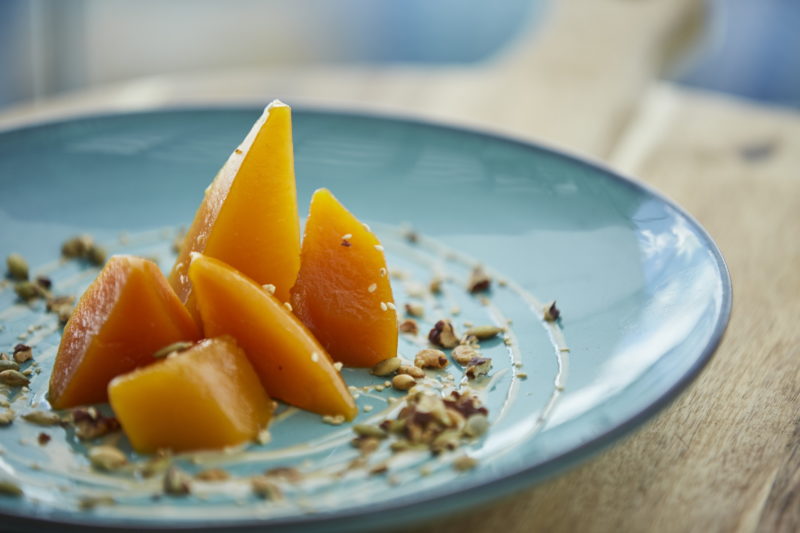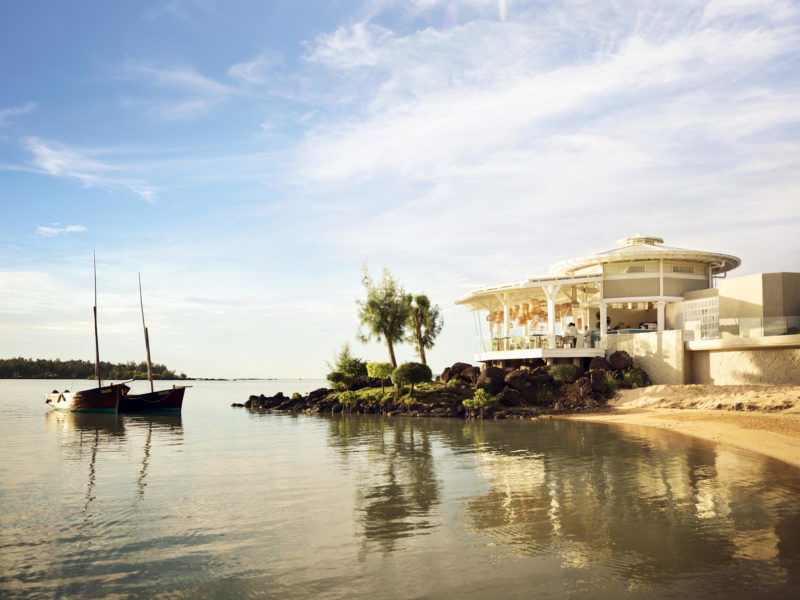 Bodrum Blue
This Authentic Turkish restaurant on its own mini peninsula creates Levantine mezzes and succulent kebabs with authentic cuisine inspired by Bodrum's convivial coastline and Turkey's vibrant capital. Evenings are spent dining surrounded on all sides by the lapping waters of the lagoon and cooling sea breezes of the Indian Ocean. Expect fresh flavours from our Turkish chefs and the freshest weekly ingredients from Istanbul – plus five Turkish wines exclusive to the LUX* Scrucap collection. The accompanying lounge and shisha corner provides a decadent space to round off your night whilst showcasing the best sunsets at the resort.
Restaurant & Bar A la Carte: 60 Seats
Open 12:30 – 15:00 & 19:00 – 22:30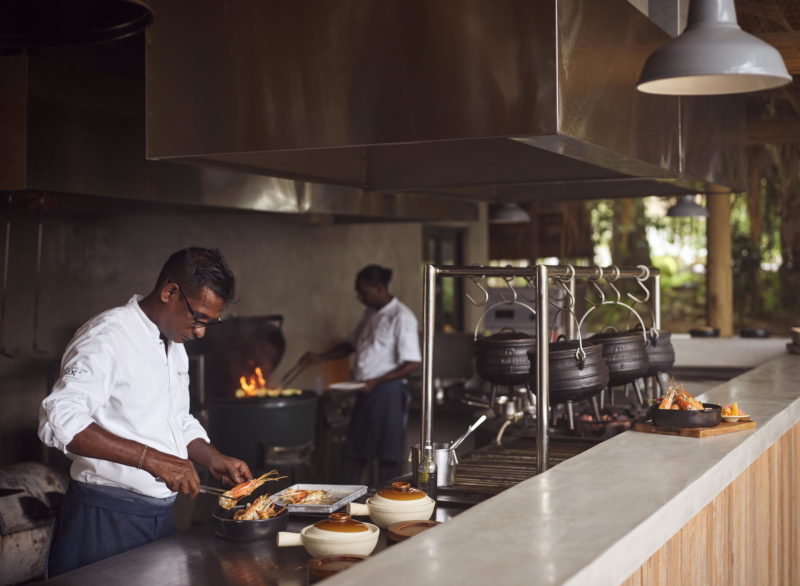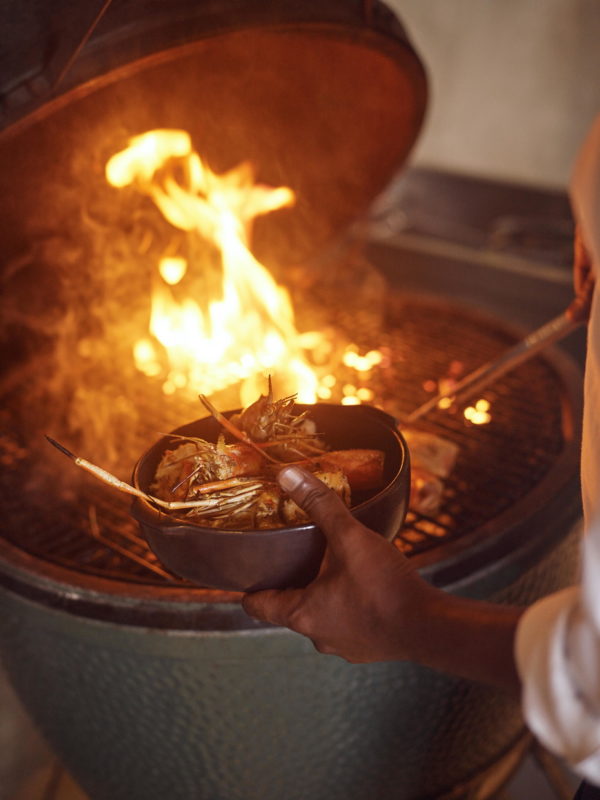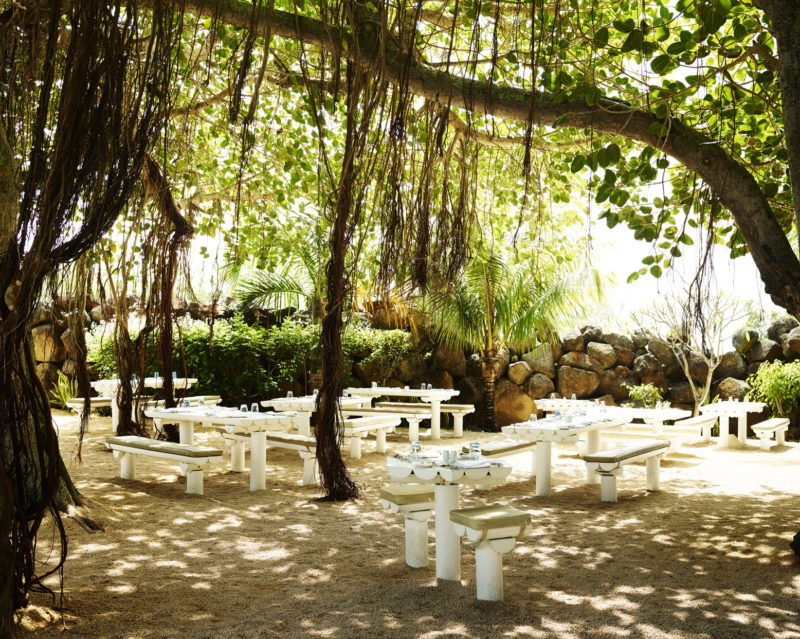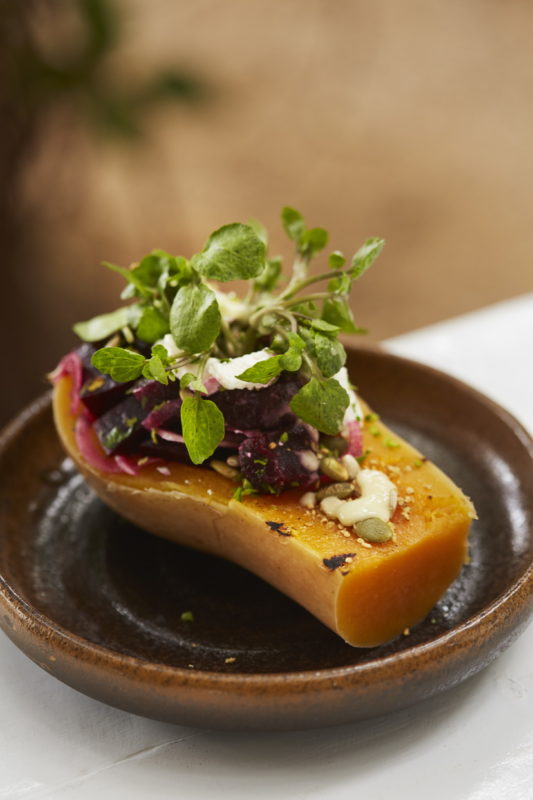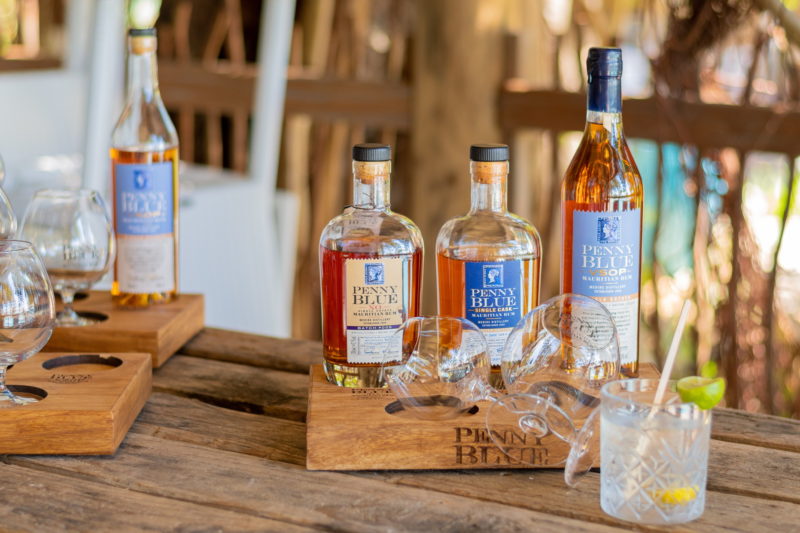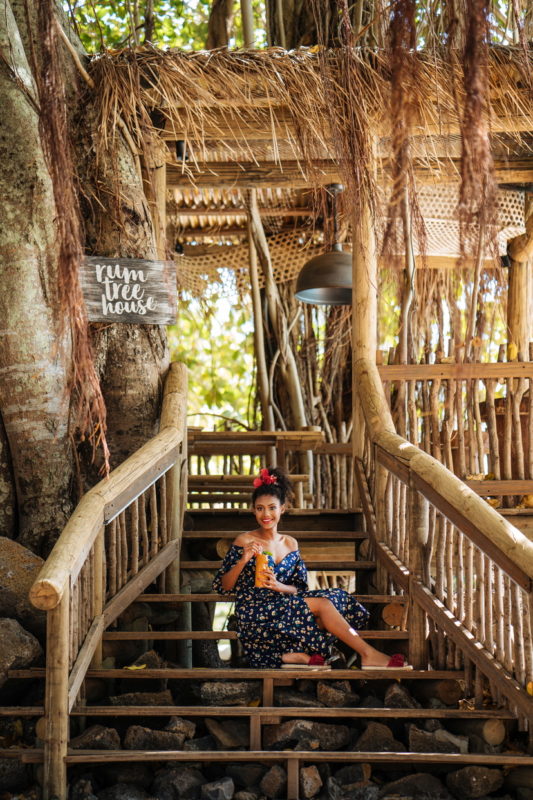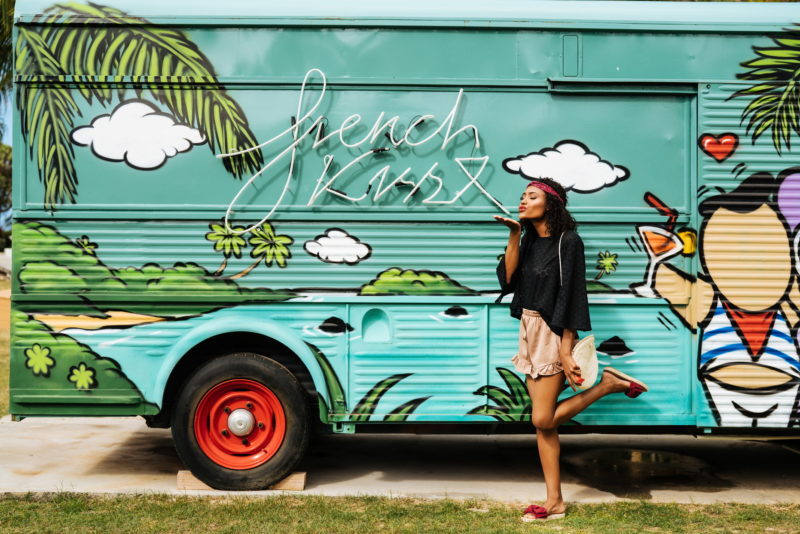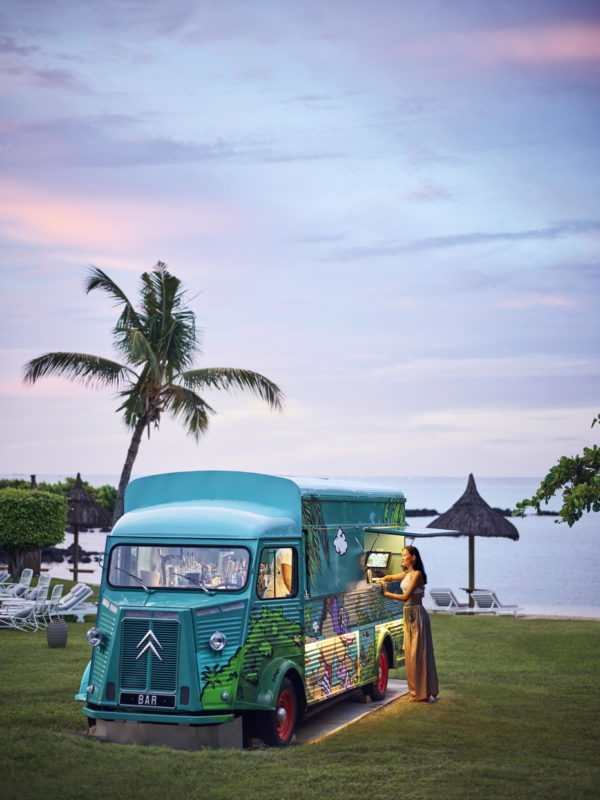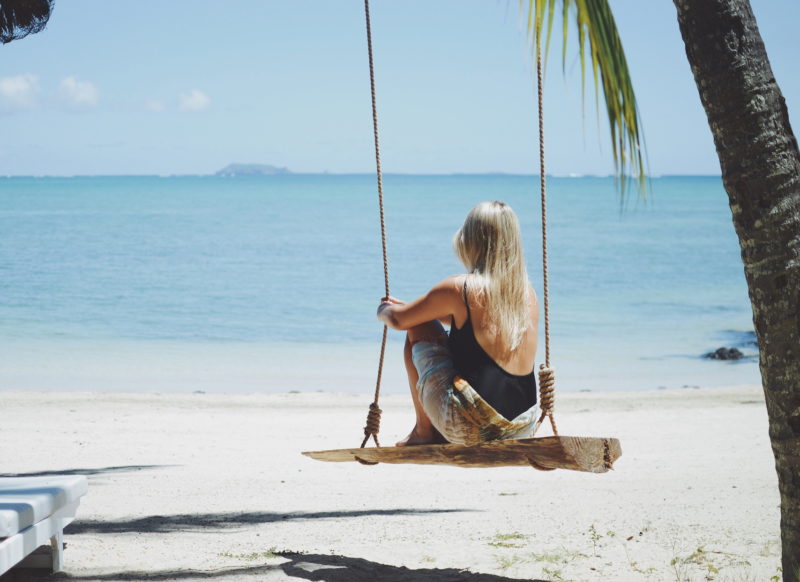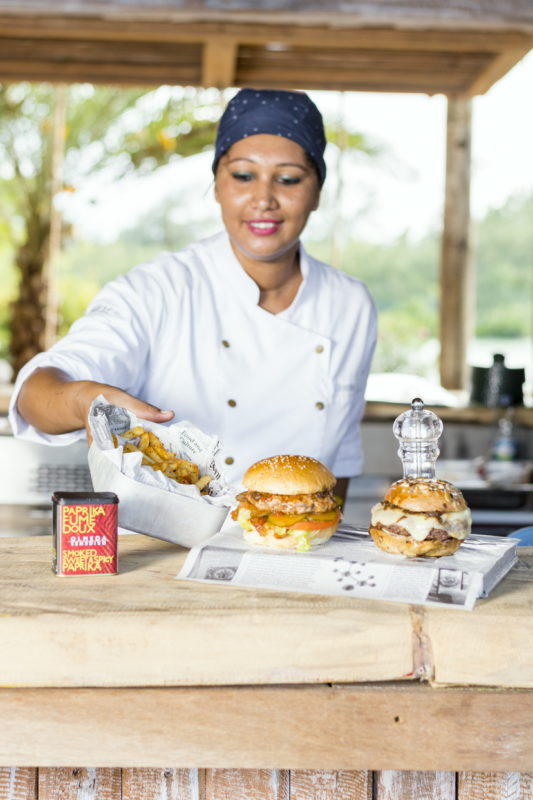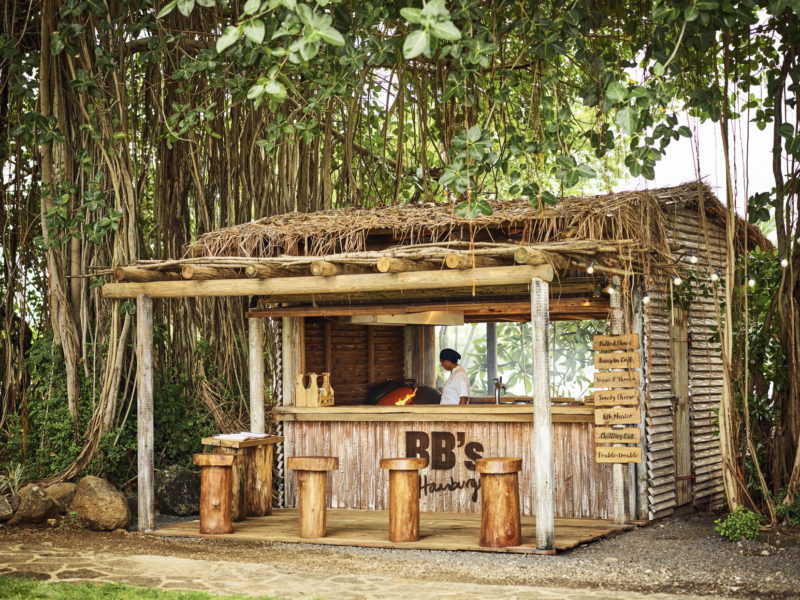 Under The Banyan Experience
Under the inspirational setting and shade of an ancient banyan tree, discover four distinct dining and drinking experiences unlike anything else on the island of Mauritius. Order inventive cocktails at the Rum Treehouse by tugging on the cabana-style rope or feast on authentic dishes at the Creole Smokehouse cooked over wood and charcoal in a time-honoured fashion. The art of the noble burger is perfected  and flame grilled at BB's, whilst the French Kiss Bar quenches your thirst at a quirky, restored classic Citroën H van. Set at the edge of the resort, this is a destination venue in its own right and provides a fun, immersive experience exclusive to LUX* Grand Gaube.
Creole Smoke House
Restaurant A la Carte: 54 Seats
Open 12:30 – 15:00 & 19:00 – 22:30
BB'S
Our Banyan Burger Shack, with one side catering for families.
Open 12:30 – 17:00
Rum Treehouse
Our cabana featuring 88 different types of rum.
Open 18:00 – 23:00
French Kiss Bar
Quirky, restored classic Citroen H van to quench your thirst.
Open 10:30 – 18:00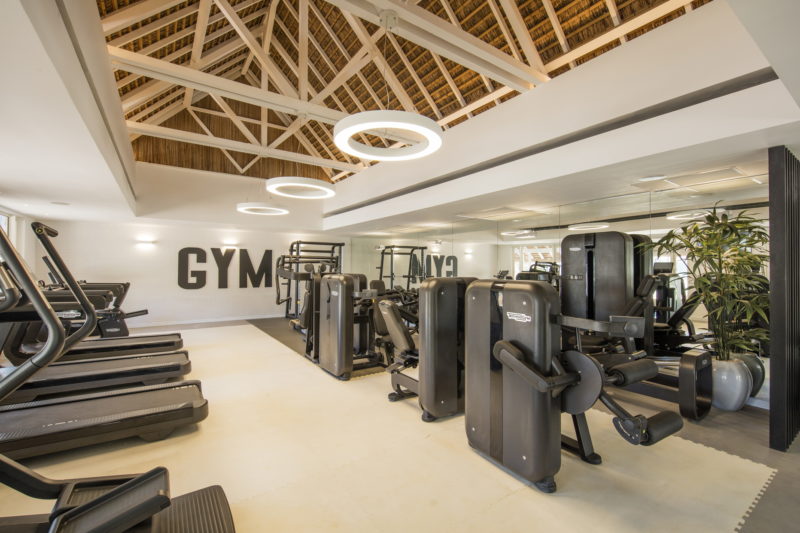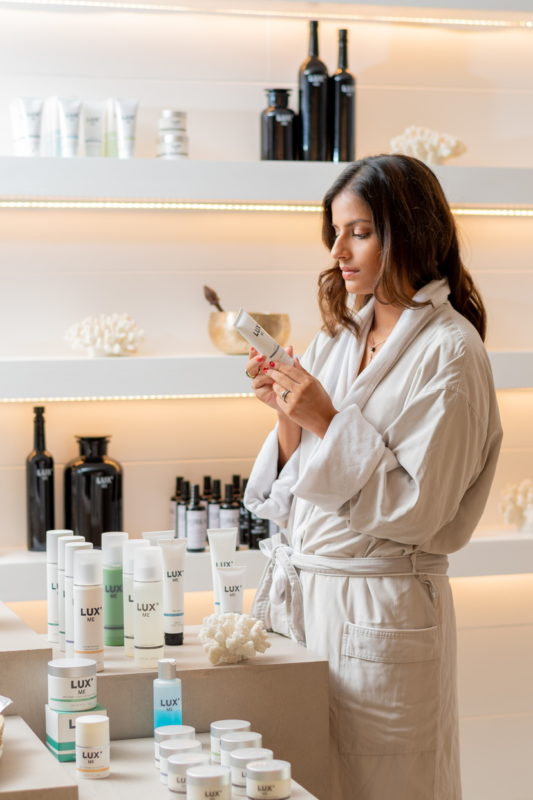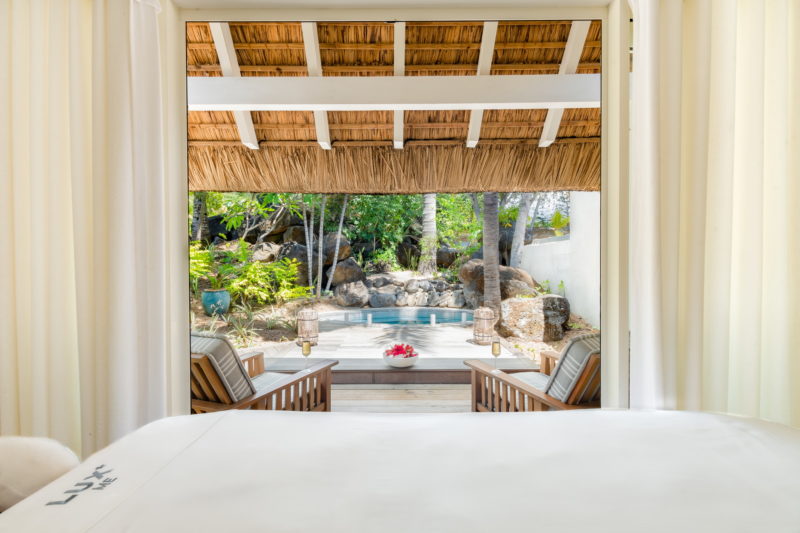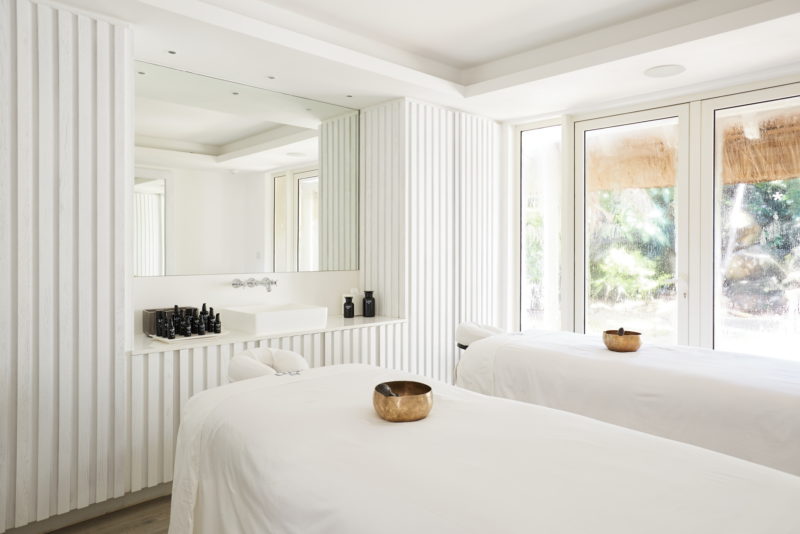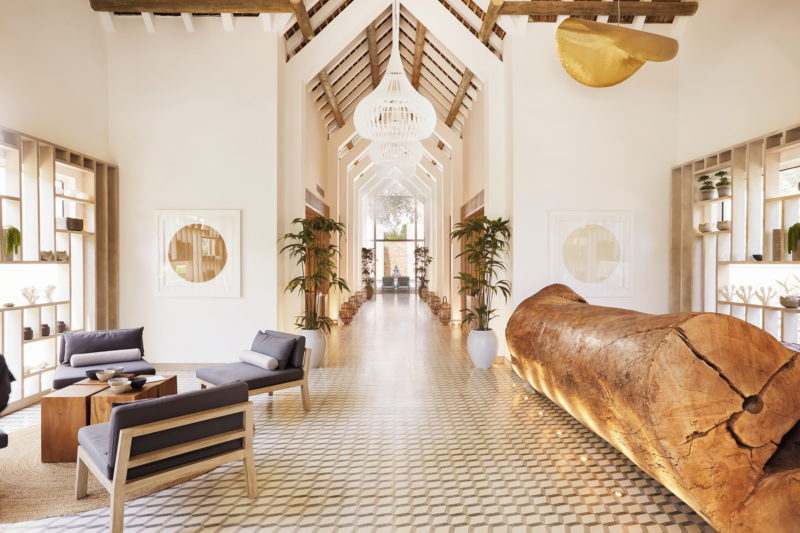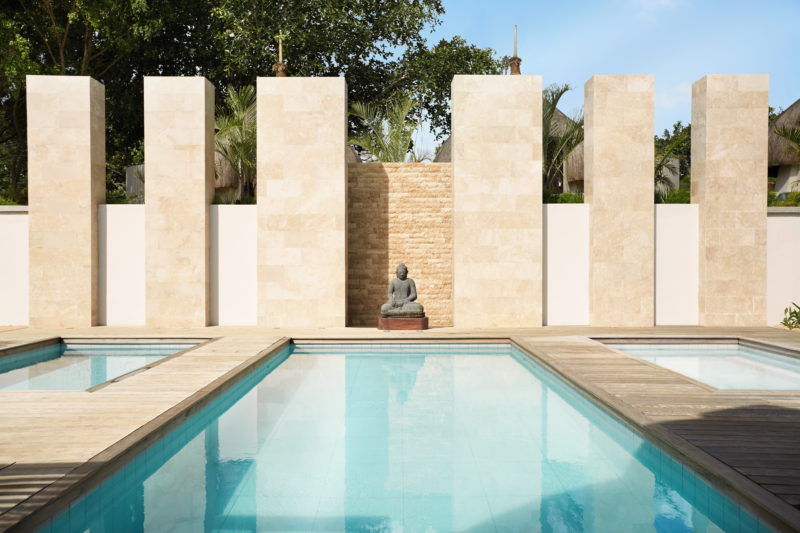 LUX Me Spa & Wellness
Guests can enjoy a relaxing massage LUX* Me Spa or watch a movie at the on-site cinema. Pilates, Tai Chi and yoga classes are available. The property also features an adult-only swimming pool.
Open 09:00 – 20:00
12 treatment rooms
Sauna & Steam room
Posh Nails by Essie
Murdock Barber Shop
Hair Salon by Kerastase
3 Pools (Cold, ambient, heated whirlpool)
Bridal studio
3 Exclusives retail area featuring
LUX* Me, Kerastase and Carita products
Ladies and Gentlemen changing room
LUX* Fitness
World-class gym featuring Technogym equipment unity 3.0, stretching and meditation area. Personal advice and tailored training sessions available with our Wellness concierge. Children 8 years of age and older must be accompanied by their parents. Space dedicated to medication, yoga and stretching exercises.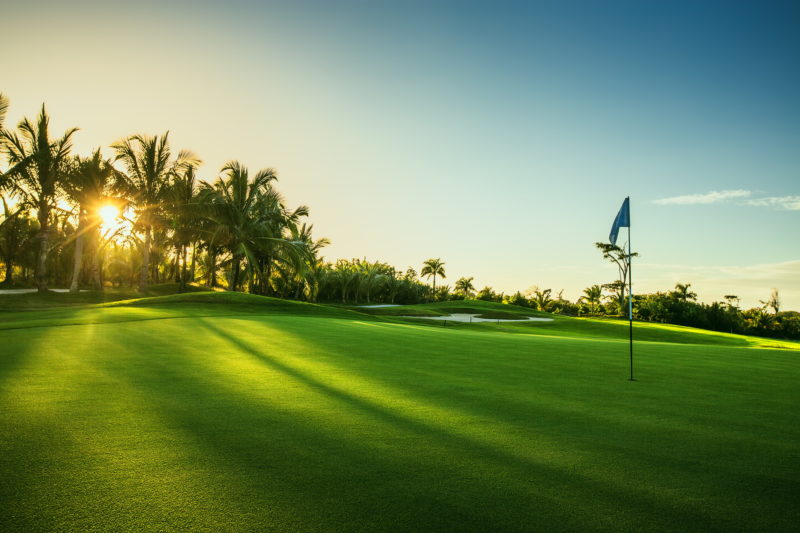 Mont Choisy Golf Club
LUX* Grand Gaube have an exclusive agreement with the Mont Choisy Golf Club, an 18-hole championship golf course designed by Peter Matkovich.
Services available at the resort:
Experienced golf concierge
Golf driving range
Transfer to Mont Choisy Golf Club (15 mins)
Golf shop & store facilities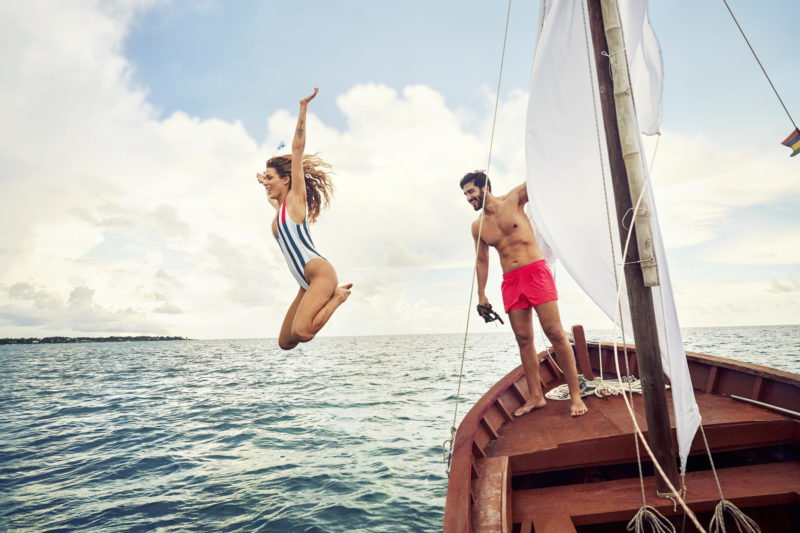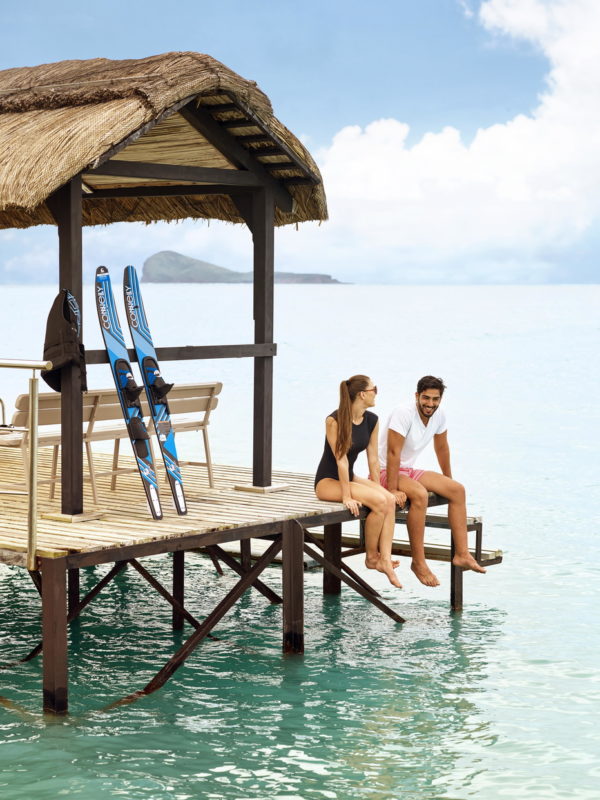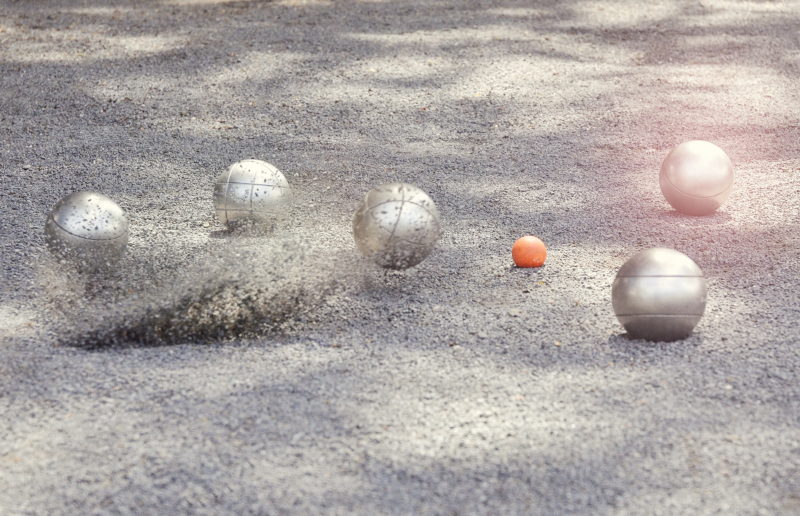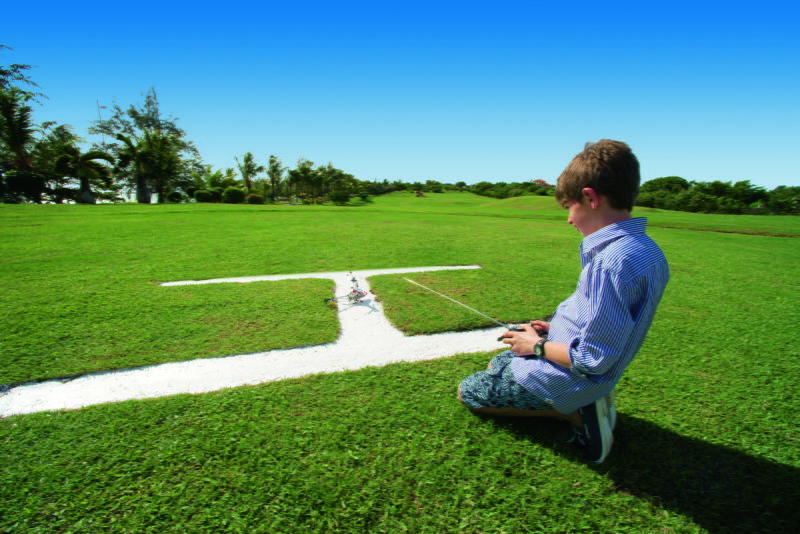 Sports & Activities
Tennis Academy
4 synthetic grass, floodlit tennis courts, and private training sessions available with our certified ITF personal trainer. A Padel Tennis Court
Tennis Policy: Guests are recommended to wear appropriate sportswear & shoes. Tennis balls are on sale at the tennis shop.
Water Sports
Complimentary: water skiing, windsurfing, pedal boats, kayaking, aqua gym, mini sails, snorkelling, glass–bottom boat trips, stand up paddle boarding, and Sport Catamaran sailing (KL & hobie cat). Additional fees apply for: speedboat rides, scuba–diving, big–game fishing, kite surfing nearby, tube rides, catamaran trips, and private waterskiing.
Land Activities
Complimentary: gym, beach volley, table tennis, soccer balls, yoga, bocciball, Aquagym, Croquet and Tai Chi.
Additional fees apply for: bike rental & golf at a nearby course.
Tread Lightly Initiatives
Tread Lightly by LUX* initiatives include renewable energy projects, water saving devices, Energy Management Systems, LED light retrofits, locally sourced Earth & Dance waters, in house bottling, towel and linen reuse program LUX* Laundry Asterix, paper reducing technology LUX* Valet, Scrucap wines, Mamma Aroma organic spa treatments, among others.
Ray of Light Project Support Initiatives
"Ray of Light engages the community & other stakeholders in multiple projects aimed at uplifting those suffering from various types of marginalisation. Ray of Light covers the following SDGs: 1 No Poverty; 2 Zero Hunger; 3 Good Health & Well-Being; 4 Quality Education; 5 Gender Equality; 6 Clean Water and Sanitation; 8 Decent Work and Economic Growth; 10 Reduced Inequalities; 16 Peace, Justice & Strong Institutions. We collaborate with NGOs dedicated to offering quality education to children coming from disadvantaged households, healthcare to the needy, support for gender equality through women and girls' empowerment, advising and guiding the disabled towards self-reliance, through sports or IT projects."
Here are just are just some of the projects LUX* Collective support and collaborate with:
1000 Sourires Association
"Created in 2006, Association 1000 Sourires is LUX* St Gilles's affiliate NGO. It has been attending to the development of children from disadvantaged backgrounds or suffering from handicaps and illnesses through classes and workshops. The association also creates activities for the children, also known as Very Important Marmaille (VIM), to live happy, dreamy moments which help to inculcate values in them and most importantly, to put a smile of their faces."
Ecole de la Vie in Tombeau Bay
Much of LUX* Resorts& Hotels' corporate social support is linked to the advancement of children that have been disadvantaged early in life by hardship and an educational system unable to meet their needs. It is an uphill fight at times, but a worthwhile one, which is why LUX* continues to supports Ecole de la Vie in Tombeau Bay, north of Port Louis. The school helps children who've dropped out of school in the region around Tombeau Bay. It is part of ANFEN, nowadays a network of 20 NGOs in Mauritius and Rodrigues providing non-formal education around the country to more than 1,000 teenagers from disadvantaged backgrounds.
Mahebourg Espoir
The association, Mahebourg Espoir, runs an educational centre which is far more than just an alternative form of school.  It was set up in 2009, after another centre closed down and several young girls had nothing else to do – apart from roam the streets. It organises a whole range of activities for the youngsters beyond just preparing them to gain qualifications or learn a trade, so that they can end up in work, develop as individuals and lead useful lives. Most of them end up so enthusiastic that they're disappointed when there's a public holiday and the centre's closed. One of the reasons for Mahebourg Espoir's success is that, in parallel, it provides support to the youngsters' families, families often with a single mother at the head. Ambitious projects include an Early Learning Corner, now set up in Mahebourg, targeting youngsters from Cité-La-Chaux. There are plans to build 32 small houses in Cité-Tole, where the unemployment rate stands at 70%, as well as a crèche to enable more mothers to go out to work.
Environmental preservation is one of the many facets of life integrated into the centre's activities. The youngsters were recently involved in supporting an Eco-Sud project, planting mangrove trees all along the coast road at Pointe Jerome. One day, perhaps, one or two of them will end up working for LUX* Resorts & Hotels. Given the drive and enthusiasm of the Centre's volunteers, and their determination to draw these children out of poverty.
LUX* Collective 1.5C Campaign
"We have never limited ourselves to our sector when it comes to sustainability and we continue to inspire by being the only group with a notable presence in Mauritius, Maldives and Reunion Island (SIDS) to have committed to the 1.5°C campaign of the science-based targets initiative. Climate Action is crucial for the health of populations and destinations. This has always been a priority for our business, we have for years involved the group in carbon footprint calculation and offsetting with the highest available international standards. In a message unveiled by the UN Global Compact in May 2020 for its #BuildBackBetter campaign, Paul Jones, the CEO of The Lux Collective, joined 154 other global business leaders to encourage synchronicity between public and private sector to unite for a sustainable recovery from the pandemic's economic impact."
National Electric Solar Power Initiative
LUX* Collective implemented an initial pilot Solar PV project in Mauritius at Ile Des Deux Cocos, which is contributing towards diesel use reduction and emissions. A comprehensive strategy to focus on renewable energy sources.
Age Categories
Infant: under 6 years old
Child: From 6 to 11 years old
Teen: As from 12 to 17 years old
Play
Daily programme on offer including cinema, pool and beach games, crab hunting, Indian and Creole fashion shows with parents, cake decorating, fishing lessons, treasure hunting, dance parties, painting and face painting.
Open 09:00- 22:00, for children aged between 3 and 11 years old
Facilities: Fun, colourful and educational settings with a garden offering outdoor facilities.
Special spa treatments can be organised.
For teens aged between 12 and 17 years old, fun-packed activities and excursions organised. Programme on offer including tennis lessons, yoga initiations, fishing, pedalo competitions, water polo and bike excursions.
Room Facilities
Free WiFi, Air conditioning, Fan, Flat-screen TV, Bath or Shower, Outdoor Bath/Shower, Toilet, Ensuite, Safety deposit box, Sofa / Lounge Area, Desk, Telephone, Free Tea & Coffee / Maker, Mini Fridge / Mini Bar, Hairdryer, Wake Up Service/Alarm Clock, Decking / Veranda, Balcony, Plunge Pool, Wheel Chair Friendly
General Facilities
Non-smoking rooms, Facilities for disabled guests, Indoor restaurant, Outdoor restaurant, WiFi Available, Free parking, Indoor bar, Outside bar, Outside swimming pool, Air conditioning, Spa and wellness centre, Gym, Gift shop, 24 hour security, 24 hour concierge, 24 hour doctor on call, Complimentary use of bicycle, Laundry service, Tours and excursions, Kids Club, Airport transfers
Board Basis
Bed and Breakfast, Half Board + = Bed, Breakfast, Lunch and Activities, Full Board + = Dinner, Bed, Breakfast, Lunch and Activities, All Inclusive = Bed, All Meals, Snacks and Drinks, Fully Inclusive = Bed, All Meals, Snacks, Drinks and Activities
Room Types
Single, Twin, Double, Triple, Family (2A 1C), Family (2A 2C), Family (2A 3C), Family Interleading