Mauritius | all-inclusive, beach, eco-friendly, family, group, honeymoon, sustainable, tailor-made | hotel, resort | beach, coastal, island | comfort
Situated on the unspoilt south coast of Mauritius, Shandrani Beachcomber Resort & Spa is a welcoming four-star resort with an energetic vibe. Its location on a private peninsula is surrounded by the Blue Bay Marine Park, which is teeming with life, and on top of that, Shandrani Beachcomber has three different beaches to discover. With a wide variety of rooms and restaurants to choose from, the fully-inclusive Shandrani is a haven for those looking to rest and recuperate away from the stress of daily life.
Shandrani Beachcomber
Blue Bay
Le Chaland 51510
Mauritius
Located on the shorelines of Blue Bay Marine Park, Shandrani Beachcomber has access to three different beaches and is ideally situated near to a range of places to explore. The historic battleground of Grand Port, the luscious endemic forest of the Black River Gorges National Park and the peaks that inhabit the mountain range are all close by to the hotel. The international airport is also just ten minutes away, ensuring that you arrive quickly after your landing in Mauritius.
Fully inclusive resort
Four restaurants and two bars
Marine Park, full of life to discover
Spa & Wellness to soothe the mind and body
Range of free land and water activities, including a Fitness Centre
Diving Centre
Free WiFi
Kids Club
Shandrani Beachcomber Resort & Spa is located at the heart of South-East Mauritius, nestled in a private peninsula facing the marine park at the end of which lies Ile aux Aigrettes, a symbol of the conservation of the endemic fauna and flora of Mauritius. Much of this endemic nature can be spotted during a visit to the nearby Black Gorges River National Park, which is a must during your stay on the island.
Other nearby attractions include the town of Mahébourg, which was the capital for a short period of time and features a naval museum, and the Vallée de Ferney, an endemic forest north of Mahébourg that is a sanctuary of Mauritian biodiversity.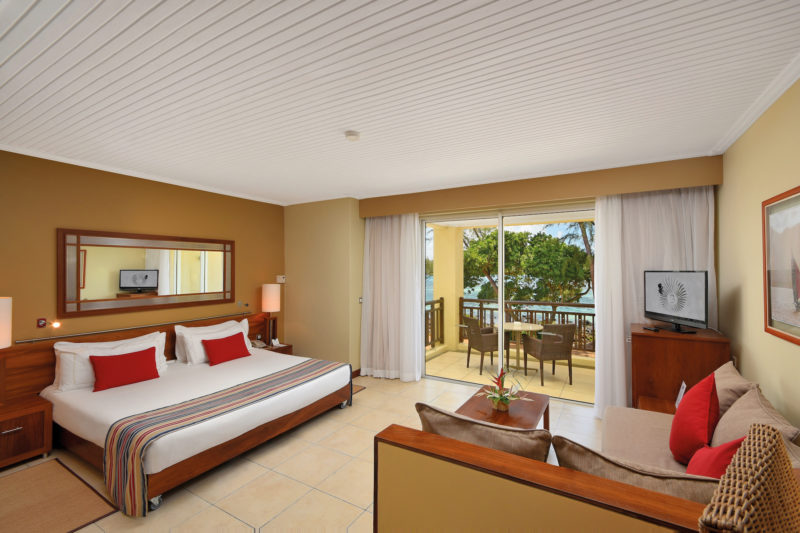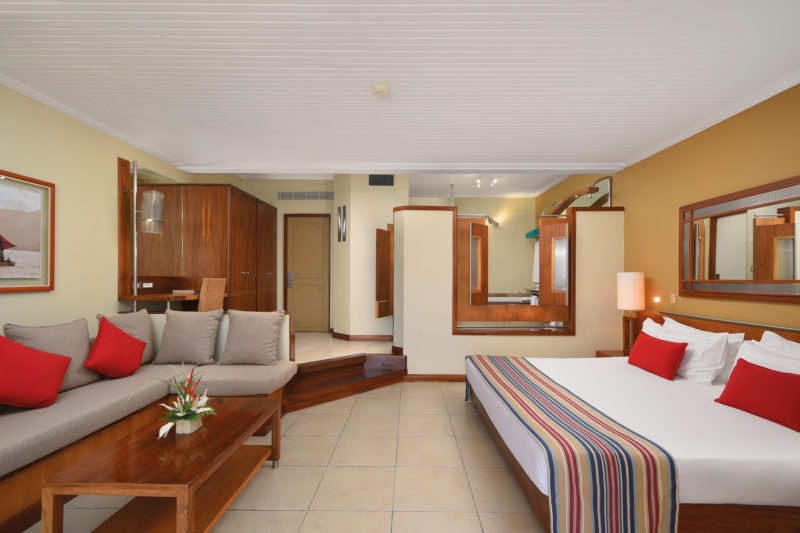 Superior Room
This chic and spacious room is well-placed to bathe in the natural light of the sun. The combination of creams and reds ensure that this has a soft and neutral setting, with a dash of modernity added in. This room offers freedom, comfort and tranquility, as well as a view from the terrace onto the gorgeous lush gardens that are found in the property.
Room Specifications:
Max capacity:

2 adults, 1 child

Television (Satellite channels)

Complimentary WIFI access

Telephone with international direct dialling

Individual safe

Electricity: 220 volts

Private bathroom with bathtub, shower and separate toilets

Hairdryer

Individually controlled air-conditioning

King-size bed or two single beds
Deluxe Room
The Deluxe room offers a warm and cosy place to stay, with a sleek and bright style to perfectly accompany the décor. The touch of orange gives it a fresh feel which guarantees brightness and cheerfulness. Spacious and contemporary, the Deluxe room is ideally suited for couples either travelling alone or with a child (up to 17 years).
Room Specifications:
Surface area:

60m2

Max capacity:

3 adults
Television (Satellite channels)
Complimentary WIFI access
Telephone with international direct dialling
Individual safe
Electricity: 220 volts
Hairdryer
Private bathroom with bathtub, shower and separate toilets
Individually controlled air-conditioning
King-size bed or two single beds
Deluxe Ground Floor
Contemporary and airy, the Deluxe Ground Floor rooms are sleek and stylish, bathing in natural light which combines with the warm tones to create a cosy atmosphere. Featuring a shaded terrace and a semi-private garden, the room offers a haven to any couple visiting Mauritius.
Room Specifications:
Individually controlled air-conditioning

Private bathroom with bathtub, shower and separate toilets

Hairdryer

Individual safe

King-size bed or two single beds

Telephone with international direct dialling

Complimentary WIFI access

Television (Satellite channels)

Electricity: 220 volts
Senior Suite
This suite is the epitome of romantic and offers a perfect choice for couples celebrating their honeymoon. Large rooms and a private staircase with direct access to the beach ensure that the couple have as much privacy as possible, and that's not to mention the luxurious lounge area.
The classical scheme is accented by shades of red and purple, which give the room a modern touch. With a plush king-size bed and balcony offering breathtaking views, the Senior Suite is a stylish combination of modernity and luxury, and everything a couple needs to enjoy the perfect holiday.
Room Specifications:
Television (Satellite channels)

DVD player

Complimentary WIFI access

Telephone with international direct dialling

Individual safe

Electricity: 220 volts

Hairdryer

Private bathroom with bathtub, shower and separate toilets

Individually controlled air-conditioning

King-size bed or two single beds
2 Bedroom Family Apartment
The 2 Bedroom Family Apartment is located either on the ground or first floor and features a modern and airy theme. With two bedrooms and two bathrooms specifically dedicated to parents and children, the functional design recognises the desire for privacy at times and family moments at others. The sense of space and serenity is aided by natural light and the orange and green tones give the apartment a warm feel.
The main bedroom opens into a spacious en-suite bathroom in one direction and a lounge area in the other, which in turn either leads to a balcony or terrace. A discreet corridor leads to the comfortable children's bedroom and its en-suite bathroom. Altogether, this room provides a sweet holiday haven for families.
Room Specifications:
Surface area: 75m2
Max capacity: 2 adults, 3 children
Television (Satellite channels)
Complimentary WIFI access
Telephone with international direct dialling
Individual safe
Electricity: 220 volts
Hairdryer
Private bathroom with bathtub, shower and separate toilets
Individually controlled air-conditioning
King-size bed or two single beds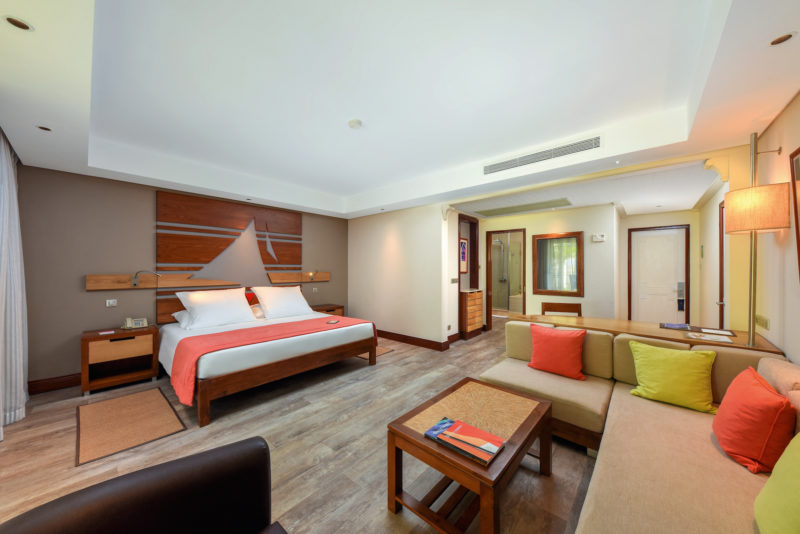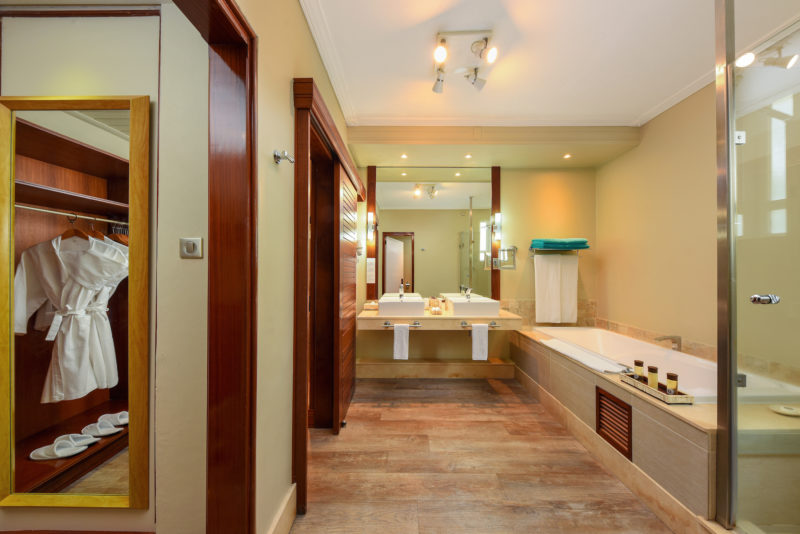 2 Bedroom Deluxe Family Apartment
The 2 Bedroom Deluxe Family Apartment is designed to accommodate large families who wish to spend their holidays together and create new memories. The large 120 m² area is made up of two bedrooms and two bathrooms, each dedicated specifically to parents and children. Overall, the apartment can accommodate a maximum of two adults, two children and a toddler. The Deluxe Family Apartments are located on the first floor and provide the ideal choice for families who are looking for comfort, warmth and simplicity in the tropical setting of Mauritius.
Room Specifications:
Surface area:

120m2

Max capacity:

2 adults, 3 children
Individually controlled air-conditioning
Private bathroom with bathtub, shower and separate toilets
Hairdryer
Individual safe
King-size bed or two single beds
Telephone with international direct dialling
Complimentary WIFI access
Television (Satellite channels)
Electricity: 220 volts
2 Bedroom Family Suite
Found right at the tip of the peninsula between two of the resort's three private beaches, the Family Suite enjoys an exclusive beachfront location. Guests are guaranteed no less than the ultimate in intimacy and luxury, with the generous living area featuring chic yet comfy furniture. The fabulous décor creates a homely feel, ensuring guests always feel welcome.
Furthermore, guests can experience beautiful al-fresco living with a private terrace and secured garden which additionally features a play area for children. An outdoor lounge area is protected from the hot sun by the shade of tropical trees and this part of the suite offers parents an exclusive haven of intimacy. The 2 Bedroom Family Suite is nothing less than a dream holiday home for any family.
Room Specifications:
Max capacity:

2 adults, 3 children

Television (Satellite channels)

DVD player

Complimentary WIFI access

Telephone with international direct dialling

Individual safe

Electricity: 220 volts

Hairdryer

Private bathroom with bathtub, shower and separate toilets

Individually controlled air-conditioning

King-size bed or two single beds
Blue Bay Bar
The resort's main bar, Blue Bay Bar, overlooks the main swimming pool and is a venue that radiates warmth and friendliness. It serves as a popular place to relax, socialise and mingle with other guests of the resort, with new friends to be made every day. With live entertainment held every night, it is a charming place to spend your evenings.
Sirius Bar
The hotel's alternative bar includes a private dance floor and is located at the beautiful tip of the peninsula. With a wide variety of drinks to choose from, it's a great option for those who would like a chance from Blue Bay.
Le Grand Port
Overlooking one of the resort's three beaches as well as the main pool, Le Grand-Port is Shandrani Beachcomber's main restaurant. Open for all meals, it serves a range of international dishes to satisfy any mood at any meal. Featuring a buffet to provide flexibility, guests can enjoy as many refills as they could ask for. In addition, guests are welcome to pick their own wine from the restaurant's own walk-in cellar.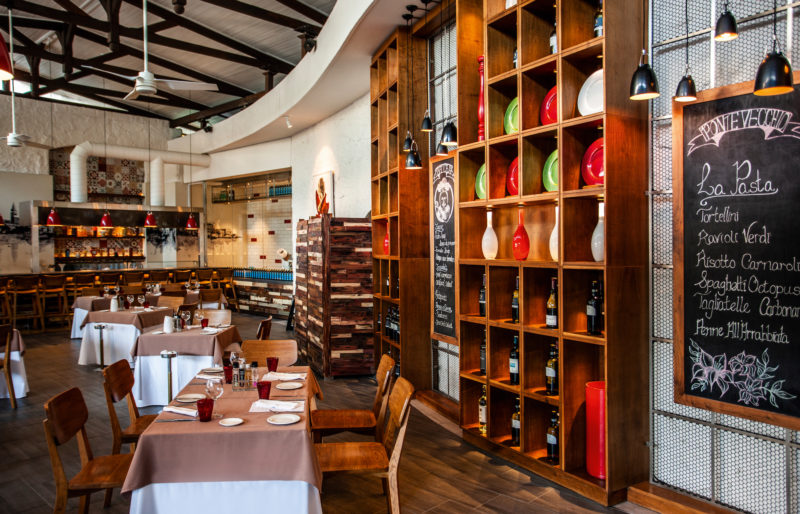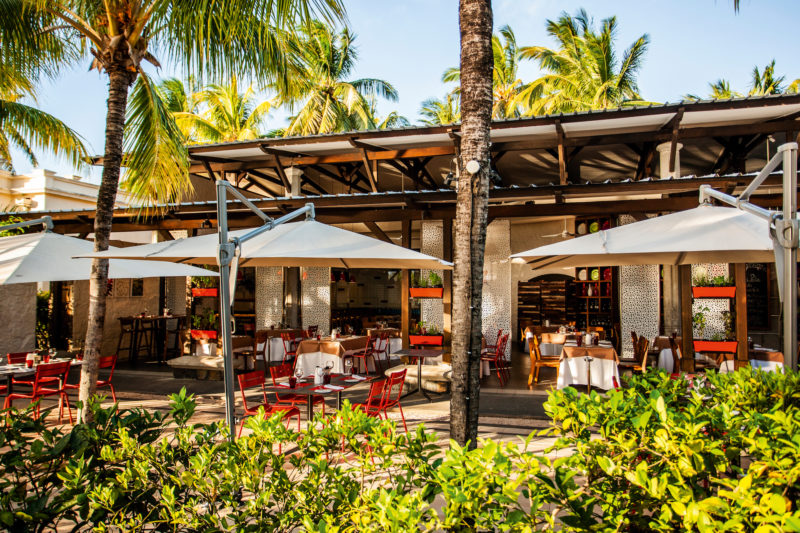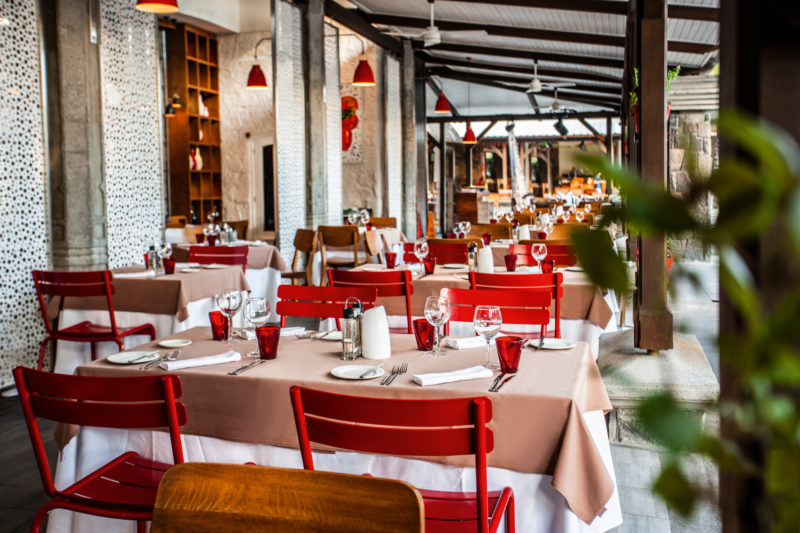 Ponte Vecchio
The Ponte Vecchio restaurant is the resort's home of Italian and Mediterranean-style dishes, with the dishes made by an Italian chef. The restaurant's authentic interior helps guests to feel they have walked into a genuine Italian restaurant, only with added palm trees with twinkling lights around them for a romantic touch. Located at the heart of the hotel and backing onto the entertainment area, local artists perform live at the restaurant every night!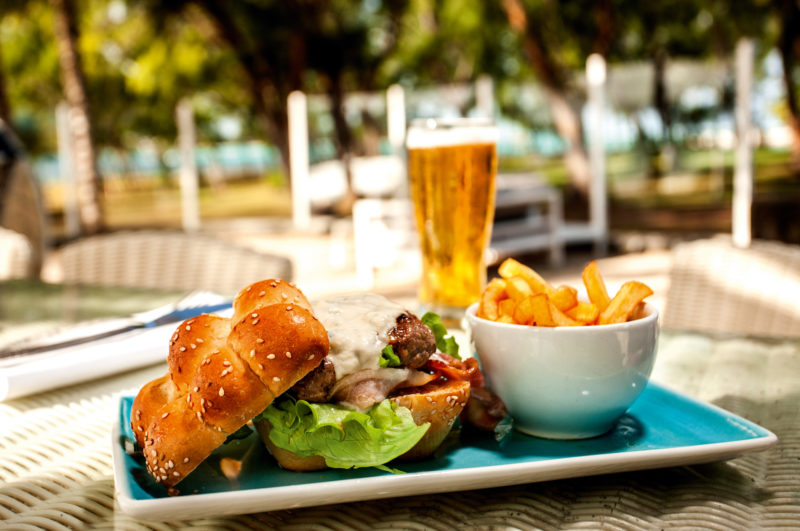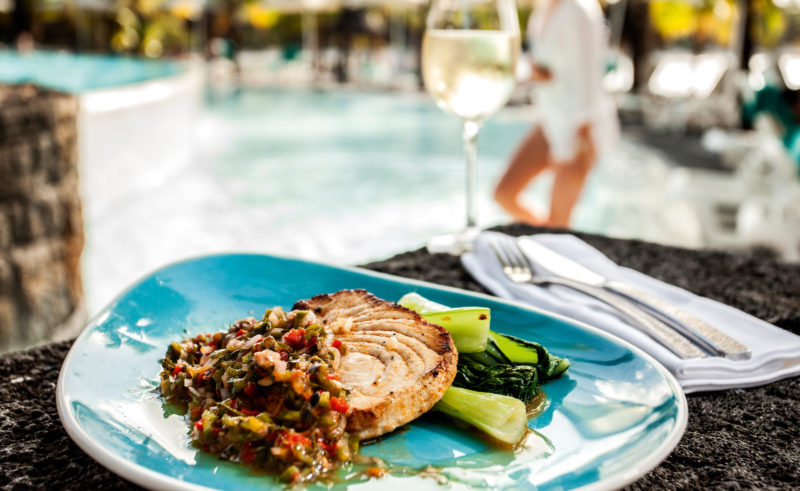 Le Sirius
Le Sirius serves local Mauritian gourmet and is located between two Shandrani's popular beaches. Like Le Grand Port, Le Sirius restaurant is open for all meals. Also featuring a large circular bar, the "à la carte" menu at Le Sirius is comprised of snacks, sandwiches and salads for lunch and delicious international fare at night.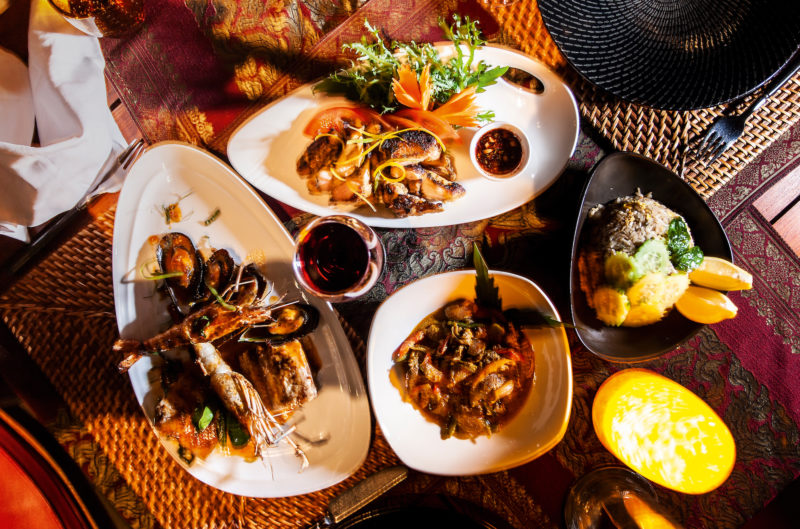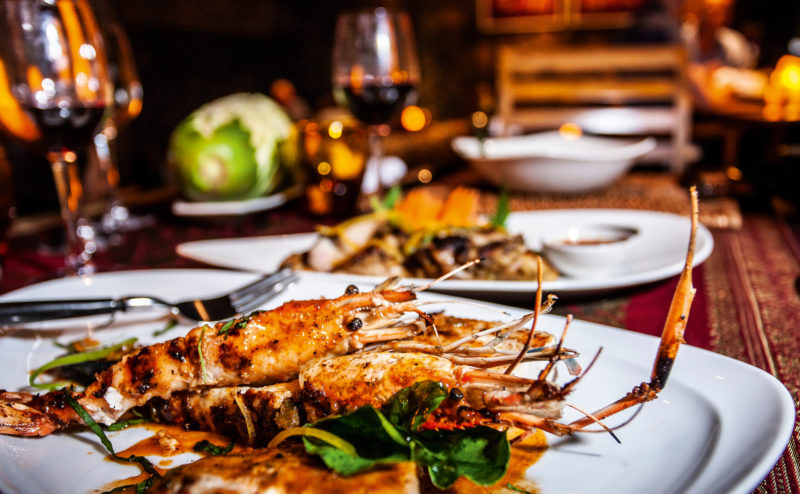 Teak Elephant
The Teak Elephant is Shandrani's Thai restaurant, located across from Le Grant Port and presided over by a skilled Thai chef. The small venue caters for guests from 12 years old and above only, making it one of the most exclusive venues for dinner at the resort. Guests here will enjoy the many treasures of Thai cuisine, with vegetables dipped in delicious sauces, spicy condiments, delicious noodles and curries all made with natural herbs and spices – often picked frest from the restaurant's onsite herb garden.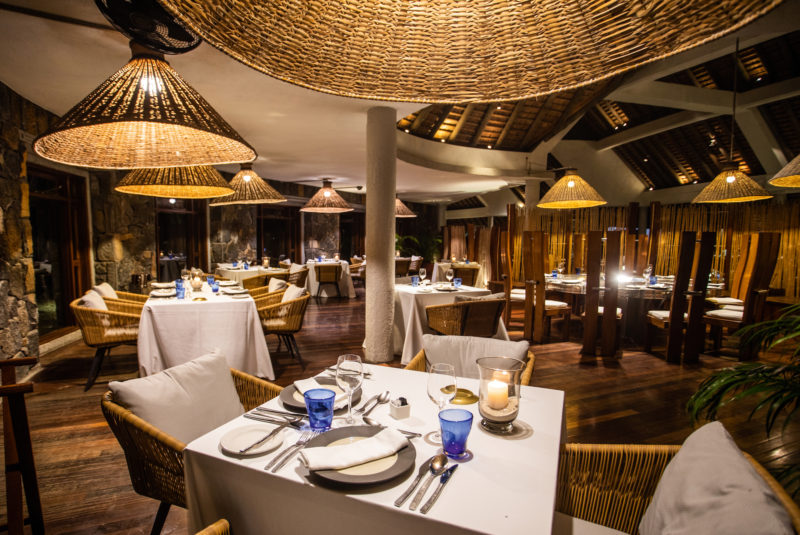 Natura
Natura restaurant is a must-try while on holiday in Mauritiu. The restaurant, paired with the Spa and specialising in healthy dining, is only open for dinner and situated in a tranquil tropical garden.Immerse yourself into the ocean view while tasting a delightful local cuisine that follows the principles of dietetics in order to help your body maintain its healthy state. The chef's dishes blend perfectly with the relaxing, intimate atmosphere to provide a truly authentic experience for both foreign nationals and locals in search of exoticism, good health and discovery in a sophisticated and elegant setting.
Le Boucanier
Le Boucanier is a seafood gourmet restaurant open only to guests booked onto the Serenity Plus (All Inclusive Plus) package. Enjoy the best flavours of the sea at this exclusive restaurant, located in the heart of Shandrani Beachcomber Resort & Spa. The mouth-watering menu features a wide selection of meals with fish, lobster, crayfish, prawns and more.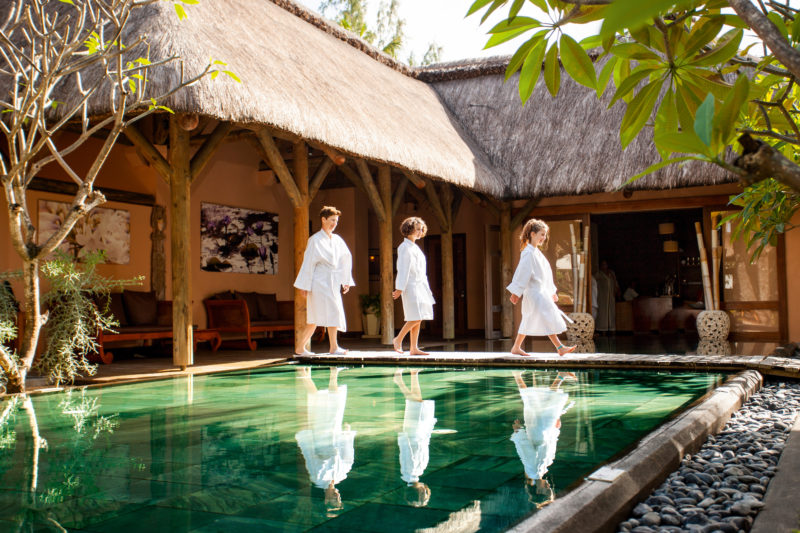 Spa
Set in amongst lush tropical surroundings, the Spa provides guests with the ideal setting in which to unwind and destress. The luxurious design of the Spa is inspired by the local beauty of Mauritius, with a natural stone path leading guests to the entrance. Stretching along most of the facility, a reflective pool captures the natural light and creates a delicate sense of space.
With a large selection of treatments to choose from, guests will find no better place to release the tension, both physically and mentally
Land Sports
A variety of outdoor activities are available to guests of all ages. Tennis lovers will be delighted to play a match on one of the six floodlit courts, or play its smaller version using one of the tables. Amateur golfers can enjoy a round of golf on the 9-hole pitch & putt golf course located on the grounds the resort
Alternatively, for an extra cost, guests can take a traditional excursion or rent a bicycle to explore the local area at their own pace. Furthermore, guests can upgrade their 9-hole experience to a full round at the nearby Avalon Golf Estate, to which they will have privileged access.
Activities include:
Fitness Centre
Table tennis
Beach volley
Power walk
9-hole Pitch & Putt golf course
Tennis (6 floodlit courts)
Bocciball
Water Activities
Perched by the clear waters of the Blue Bay Marine Park, Shandrani has a privileged location that makes it ideal for those with a love of water and water sports. For guests looking to relax and enjoy the beauty of the fine lagoon, pedal boats, kayaks and hobie cats are available. Alternatively, a glass-bottom boat trip or a snorkelling outing can allow guests to get a closer look at the bountiful underwater world. A diving centre, officially affiliated to PADI, offers initiation and classes to beginners and regulars. Every activity offered at the boathouse, sailing club and diving centre is supervised by professional and experienced instructors.
Free Activities:
Water Skiing
Windsurfing
Sailing
Kayaks
Pedal boats
Snorkelling
Glass bottom boats
Aquagym
Hobie Cat Wave
Wakeboarding
Activites at extra cost:
Excursions at sea with 'Shandrani', the hotel speedboat
Scuba Diving
Private coaching
Fondation Espoir Développement
"A Board of Directors composed of Beachcomber officials oversees the activities of FED, which is managed by an Administrator backed by a team of 4 employees in charge of implementing the projects of the Foundation. There are also a number of regional committees run on a volunteer basis since 2003 by Group staff members with an interest in social matters. Having them on board provides a clear understanding of the needs of regions surrounding our hotels. The regional committees work with NGOs, stakeholders, local authorities and other government bodies for the implementation of social projects in their respective regions.
For the period from 1999 through 2015, Beachcomber has contributed total funding worth Rs 150 million to support the activities of FED. The Foundation's priority areas are:
Education and training;
Health, including the fight against drug abuse and disability;
Socio-economic development; and
Conservation and promotion of the natural and cultural heritage of the country.
FED's Specific Position in the Corporate Social Responsibility (CSR) Landscape of Mauritius
Beachcomber was among the first companies in Mauritius to set up in 1999 an autonomous entity, FED to implement its CSR policy.
FED broke new ground by making a commitment to the long-term funding of NGOs (over a 3-year period) to help improve the quality of services to their beneficiaries and allow them to offer adequate employment conditions to qualified professionals. FED has also organised ongoing training for NGOs supporting children jointly with UNICEF.
From 2003, FED has increasingly integrated its activities with the hotel operations of Beachcomber. PEJ trainees are thus offered work placement opportunity in our hotels, which are also significant clients for Beautiful LocalHands.
The involvement of our hotels and employees in FED's regional committees gives us insight into the social issues affecting their regions while maintaining contact with the local associations and authorities. They also provide FED with a better understanding of the needs of the hotels and help the Foundation find ways to contribute to their operations. For instance, contacts made with associations or colleges in the West of Mauritius have facilitated the hiring of apprentices at Paradis/Dinarobin, and the implementation of environmental projects such as the use of recycled glass for water filtration systems. The regional committees in the South-East and South-West have also assisted with the logistics of the Beachcomber UTRB 2016 trail running event through arranging volunteers to guide runners along the course."
Projet Employabilité Jeunes
"FED launched the Projet Employabilité Jeunes (Youth Employability Project, PEJ) in 2004 to improve the employability of beneficiaries. We prepare them for workplace realities through training in the social and academic skills required for a rewarding personal and work life as well as work placements, mainly in Beachcomber hotels.
PEJ follows up on a joint pilot project in 2001 by FED, the Beachcomber Training Academy, Dinarobin Hotel Golf & Spa and an NGO in Tamarin; out of the 8 young people from this village involved in the project, 4 have secured long-term employment with the hotel following the training. PEJ has subsequently been implemented in all regions of operation of Beachcomber hotels. Since 2015, PEJ trainees receive training leading to a vocational qualification in hotel techniques along with work placements, which allows them to return to education through continuous learning.
More than 1,900 young people have benefited from PEJ, and half of them have secured stable employment; some of them are even pursuing an international career in tourism while others have successfully moved into other fields. These young people who were faced with a challenging future are now responsible adults who make a living for themselves and their family. In addition, former PEJ trainees are role models for their peers as they are living examples that hard work and willpower can lift someone out of marginalisation and into the socio-economic mainstream.
PEJ allows Beachcomber hotels to thrive in their surroundings by offering support and real career opportunities for young people. Additionally, many members of regional committees and employees in general recommend to young people, whom they know are in difficulty, to join PEJ. The project has also become a way for FED to strengthen links with civil society organisations and various government authorities. The Foundation is working with associations in the surrounding communities of our hotels to promote PEJ, attract young people and support those with particular difficulties. FED also calls upon resource persons from NGOs to provide training on specific themes such as drug addiction, AIDS and labour law."
Handicrafts Project - Local Hands
"Since 2013, the 55 artisans working regularly with FED founded the Local Hands association. Thirty-five of them use the workshops provided by the project at Phoenix (textiles), La Gaulette (pottery, textiles) and Bambous (coco fibre, paper and other recycled materials). The 20 other craftworkers are self-employed small entrepreneurs who sell part of their products through Beautiful Local Hands.
Most of these craftworkers also have their own clientele that Local Hands has helped them expand. This project has indeed enabled them to produce work of a higher quality, which attracts more clients and allows them to raise their prices.
Local Hands has a flexible structure which enables the craftworkers to work from home or in the workshops and set their own work schedules. It also allows people who are not able to cope with the demands of a conventional business enterprise, such as elderly women and the disabled, to earn an income, thus helping improve their self-esteem. The project additionally allows them to escape from their isolation and meet with other craftworkers: this changes their self-perception and gives them new perspectives on their lives while giving them new resources to address the difficulties they are facing.
These 55 craftworkers are mainly women who use their earnings to improve the quality of life for their families or give their children a better education, thereby improving the latter's chances of success in the labour market and breaking the intergenerational cycle of poverty. Some craftworkers who receive large orders also seek help from their relatives and entourage, which means that in practice there are more people than the 55 craftworkers registered with FED who earn money from the project.
By allowing these craftworkers to derive an income from traditional Mauritian handicraft techniques using vacoas (screwpine) and coco fibre, Local Hands promotes these techniques and helps maintain this cultural heritage. The project also helps keep these plants growing, and therefore preserve the environment and biodiversity."
Community Development and Collaboration with NGOs
"In collaboration with FED, the regional committees have also set up their own social development projects in their respective regions:
Alcohol and drug abuse prevention in the North jointly with regional associations and specialist NGOs at national level
Computer literacy programmes in the South-East and South-West in conjunction with the National Computer Board
Mentoring for the youth in the South-West in conjunction with the Duke of Edinburgh's International Award programme (Ministry of Youth and Sports)
Occupational integration project aimed at upper secondary level students from a college in the South-West
The regional committees also manage their own budget for the financing of NGOs and associations in their region in line with the philosophy and priorities of FED while adapting them to the specific characteristics of their regions. This allows the Foundation to develop links with local associations and authorities as well as specialist NGOs at national level in specific fields such as drug addiction and AIDS, which contribute their expertise to projects implemented by FED."
Top FED Initiative
"We have launched the Top FED initiative which allows our guests to contribute to the programmes of our social foundation, Fondation Espoir Developpement Beachcomber, through their hotel bill. A friendship bracelet of 1 euro is also proposed in Beachcomber Boutiques and to All-Inclusive guests. Through this show of solidarity, the guests take part in supporting young people from disadvantaged backgrounds in Mauritius. All money raised will be donated to the Foundation for its Youth Employability Programme."
Environmental Project
For more than 25 years, Beachcomber has pursued a corporate citizenship policy focused on protecting and developing its natural and social environment. The main themes in regards to the environment are energy, water, waste management, and biodiversity.
Earthcheck Certification
Beachcomber Resorts & Hotels has a long-standing commitment to eco-friendly development. Through the installation of wastewater treatment plants, as well as systems and technologies for improving energy efficiency and reducing CO₂ emissions, Beachcomber continues to adhere to this commitment.
They recognise that the activities of the Beachcomber hotels have the potential for negative impacts on the environment and community if not properly managed, and therefore we make every possible effort to adhere to our commitment of environmental sustainability.
Since 2015, the group has embarked on the journey towards achieving accreditation from EarthCheck. Earthcheck is the first global programme of environmental and social certification developed specifically for the tourism industry. Right now, all of the holiday properties, as well as Beachcomber House, the Group's Head Office, have achieved the EarthCheck Benchmarked Silver status.
Founded in Australia in 1987, the EarthCheck certification covers the following areas: the implementation of a sustainable development policy, consumption of water, paper and energy, waste management, the use of pesticides, the use of maintenance and hygiene products as well as involvement with local communities.
Prior to achieving the certification, phase one sees an organisation undergo an initial consulting stage to define and review its environmental policy. Following an assessment, areas needing improvement are earmarked and it's only after this that the organisation may avail itself of the EarthCheck Benchmarked Bronze certification. In phase two, an on-site audit is conducted by a team from Earthcheck before being granted the EarthCheck Silver certification, if deemed worthy. The EarthCheck Gold status comes after five years of continuous Silver accreditation and the Platinum certification marks 10 years of eco-friendly tourism.
Zero Single-Use Plastic Goal
In February 2020, Beachcomber Resorts & Hotels outlined another commitment: to completely eradicate the use of single-use plastics from their holiday accommodations by July 2021. To achieve this goal, the Group has launched a major action plan with specific deadlines. The plan consists of:
Identifying all single-use plastic items used in its hotels
Compiling a list of alternatives made from environmentally-friendly materials
Gradually replacing the plastic items with either biodegradable or recyclable products.
This plan is the latest in a series of efforts by Beachcomber to lower its consumption of single-use plastic. Since 2017, we have initiated a ban on straws and phased out the use of plastic water bottles in each of our hotels. They have been replaced by biodegradable paper straws and glass bottles respectively. In addition, plastic stirrers have also been removed from all Beachcomber hotels. As a result of these initiatives, the Group has reduced its plastic bottle usage by 40 tonnes per year and stopped handing out 350,000 plastic straws as well as 525,500 plastic stirrers per year.
Furthermore, plastic laundry bags have been replaced with cloth bags made from used bed sheets at housekeeping level. In the near future, miniature toiletries (shampoo, shower gel, etc.) made of plastic will be replaced with refillable dispensers. Beachcomber Resorts & Hotels also aims to eliminate all single-use plastic food containers from its restaurants.
The resort welcomes children of all ages
Room Facilities
Free WiFi, Air conditioning, Fan, Flat-screen TV, Bath or Shower, Toilet, Ensuite, Safety deposit box, Sofa / Lounge Area, Telephone, Hairdryer, Decking / Veranda, Balcony
General Facilities
Indoor restaurant, Outdoor restaurant, WiFi Available, Outside bar, Outside swimming pool, Air conditioning, Spa and wellness centre, Gym, Bicycle rental
Board Basis
Half Board + = Dinner, Bed and Breakfast and Activities, All Inclusive = Bed, All Meals, Snacks and Drinks
Room Types
Double, Triple, Family (2A 1C), Family (2A 2C), Family (2A 3C)