Africa, Southern Africa | Mauritius, South Africa | Activity and Adventure, Cultural Experiences, Environment Conservation, Expeditions, Luxury Breaks, Outdoor Adventure, Short Break Tours, Sports and Adventure, Tours, Walking and Trekking, Waters Sports Adventure, Wildlife Safari Tours | Private Touring
Arrival:
O.R. Tambo International Airport (JNB)
Seasonal Information
10th Jan - 30th Apr
Shoulder
1st Dec - 25th Dec
Shoulder
Get a taste for southern Africa in an adventure like no other, combining the urban excitement of Johannesburg, the heart-pumping thrill of safari and the perfect island beauty of Mauritius. This voyage will take you from a buzzing melting pot of culture into the heart of nature. Hunt for the Big Five in andBeyond Phinda Game Reserve's seven distinct habitats before touching down on the white sands of Mauritius for a taste of idyllic ocean life.
Example Itinerary

(B) Breakfast, (L) Lunch, (D) Dinner

Arrive at O.R. Tambo International Airport to a warm welcome from a member of the andBeyond team. From here you will be transferred to Four Seasons Hotel, The Westcliff to begin your holiday. Your Garden View Deluxe Suite looks out onto the vibrant expanse of the city. Head off into Johannesburg's markets for a taste of fresh, local delicacies or take in the art scene at one of the many galleries. The hotel has stunning gardens, a spa, two heated swimming pools and if you listen carefully, you might just hear the trumpet of an elephant or the roar of a lion from the neighbouring city zoo.

After a delightful breakfast, embark on your second day in South Africa's metropolitan heart. The city is your oyster! Johannesburg is rich in political history, and touring Soweto is considered a must by many. The Hector Pieterson Museum is found here, and the Apartheid Museum is authoritative for 20th century African history. If Johannesburg is one thing, it is diverse, and you can choose to fill the day with unique experiences that range from wandering indigenous gardens, perusing eclectic street art, and sampling the international fare on offer in the buzzing Maboneng district. Or take the short drive to nearby UNESCO-protected Cradle of Humankind and Sterkfontein Caves.

Additional Recommended Activities (at extra cost):

Prepare to head into the bush! After breakfast, you'll take a private transfer from your hotel to OR Tambo International Airport for a flight to Phinda Airstrip via Nelspruit – with assistance from the andBeyond team all the way, of course. Arrive in the andBeyond Phinda Private Game Reserve and let the sights and sounds of the South African bush wash over you. Settle into your comfortable suite, reawaken your soul and get ready for adventure.

Set off into the wild with a one-hour nature expedition with seasoned guides. Explore the different, rich ecosystems of the park and take in its rare and beautiful flora and fauna. There are plenty of ways to get close to wildlife here to choose from, even including scuba diving, fishing and turtle viewing.

Additional Recommended Activities (at extra cost):

Zulu village tour
Night turtle drives
Black rhino tracking on foot
Scuba diving
Fishing

Get your safari on! Morning and afternoon game drives at Phinda are once-in-a-lifetime opportunities to truly get up close and personal with the Big Five and countless other animals, including excellent chances of cheetah and black rhino encounters. There are only a handful of lodges sharing Phinda's 23 000 hectares, and with expert rangers and trackers you are guaranteed an exclusive and special game viewing experience.

Additional Recommended Activities (at extra cost):

Zulu village tour
Night turtle drives
Black rhino tracking on foot
Scuba diving
Fishing

Your last full day in the beauty of the Phinda Reserve is yours to make special. Take a tour of a fascinating local Zulu village, or make the most of the wildlife around you with a specialist walking safari or black rhino tracking experience. If the seas are calling, take advantage of the park's location by Sodwana bay to familiarise yourself with the marine life by going snorkelling or on a scuba dive. And don't forget to soak up the natural beauty of andBeyond Phinda Forest Lodge, relaxing in the pool or hearing intriguing stories from your experienced hosts.

Additional Recommended Activities (at extra cost):

Zulu village tour
Night turtle drives
Black rhino tracking on foot
Scuba diving
Fishing

After a sumptuous breakfast, you'll board a charter flight from Phinda Airstrip to King Shaka International Airport and fly on from there to Sir Seewoosagur Ramgoolam International Airport. A short road transfer to The Oberoi Mauritius and you've reached the gorgeous beach destination where you'll spend the rest of your holiday. You'll quickly fall in love with the uniqueness of island life and its easy sway between excitement and pure relaxation. Grab your beach towel and settle in for four nights in a Luxury Pavilion.

Wake up to an ocean view and prepare for a day on the water! Scheduled activities include marvelling at the sea-life on a glass bottom boat ride, kayaking up the Citron river and stand up paddle-boarding. Day 9 offers windsurfing, glass bottom kayaking, hobie cat sailing and pedalo. If you haven't already considered giving everything up to become an islander, today you will.

But the excitement doesn't end there. Venture to the nearby Port Louis and explore the profusion of culture that fills the streets. Mauritius' capital is considered one of the world's best cities for street food, with influences from Africa, India, China, Europe and the Middle East. Chinatown has a long history and buzzing atmosphere, with a food and cultural festival happening between April and May each year. For the inquisitively minded, both the Blue Penny Museum and Natural History Museum offer fascinating experiences getting to know the country's art and history and wildlife respectively.

As the sun sets, head to Port Louis Theatre to take in some jazz or a Mauritian drama. The Jardin de la Compagnie is the beautiful central garden and offers cooling strolls beneath the broad beams of banyan trees. Meanwhile, the UNESCO World Heritage Site Aapravasi Ghat, is the remains of the immigration depot where the world's first indentured labourers arrived from India, East Africa, Madagascar, China and South East Asia arrived to work in the British Empire. Over half a million people migrated to this important site, shaping Mauritius' modern day culture.

Day 10 is yours to do whatever you haven't done yet – or more of the same! Mauritius is an island begging to be explored, featuring Indian temples, botanical gardens and colonial houses. The hustle and bustle of the Flacq open-air market makes for a thrilling day out, while the gorgeous rare birds and dolphins that make Mauritius home provide plenty to occupy nature-lovers. There are also endless action sports available for the adrenaline-inclined and beautiful walks for those wanting to explore the island on foot. The Oberoi Mauritius provides a taste of history itself, housing a defence battery that dates back to the French colonial period.

Following one final, delectable breakfast, you will take a private transfer from your hotel to Sir Seewoosagur Ramgoolam International Airport. From here you'll fly to O.R. Tambo International Airport where we'll bid you a fond farewell before your onward travel arrangements.
Seasonal Information
10th Jan - 30th Apr
Shoulder
1st Dec - 25th Dec
Shoulder
Related trips...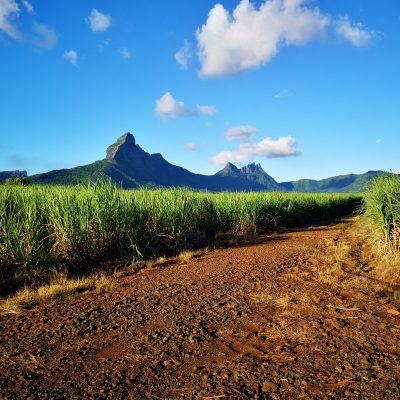 durations start from
9 days