Tailor Made
We will have to check a few things first before we can confirm but please do make contact so we can discuss your requirements.
Arrival:
Entebbe International Airport (EBB)
Seasonal Information
11th Jan - 28th Feb
Shoulder
1st Jun - 30th Jun
Shoulder
1st Sep - 30th Sep
Shoulder
1st Dec - 14th Dec
Shoulder
Embark on a once in a lifetime adventure through the magnificent country of Uganda. During an incredible 16-day tour you will experience everything the country has to offer. Witness majestic African primates, fascinating bodies of water and beautiful lush conservation areas. Expect nothing less than an adventure filled with unforgettable moments of iconic wildlife, rich culture and stunning luxury accommodation.
Example Itinerary

(B) Breakfast, (L) Lunch, (D) Dinner

Upon arrival at Entebbe International Airport you will be met by an andBeyond representative and driven to the Boma Hotel. Spend a night in one of Entebbe's most exclusive hotels. Just a few minutes from Entebbe International Airport situated in a verdant suburb, the hotel offers a sense of peaceful serenity for all guests. Surrounded by a lush tropical garden, The Boma effortlessly mixes local tradition with the timeless charm of a 1940's colonial home.

With just 15 luxurious ensuite rooms, each fit with a four poster bed, satellite television and internet connectivity. Each room is decorated with stunning African fabrics and colonial furniture, beautifully finished with a private veranda where guests can appreciate the tranquil gardens. The gardens are home to a lovely swimming pool as well as an exquisite restaurant and bar where guests can enjoy food and drink whilst looking out over the picturesque views of Lake Victoria.

The Boma Hotel is very committed to operating in a manner that both helps the environment and local community. By utilising clean energy solutions such as solar water heaters. Sustainable food and drink such as water reusable glass jugs and locally sourced/home grown produce. A huge focus on recycling and the cut down on the use of plastics. Committed to serving you and protecting the environment.

After breakfast you will be picked up and transferred to Entebbe International Airport in time for your flight to Kidepo Airstrip. Once you land in Kidepo an andBeyond representative will take you to Apoka Safari Lodge.

Situated in the remote grassy savannah of Kidepo Valley National Park the Apoka Lodge blends perfectly with its natural surroundings as it features rock, wood and natural hues from the beautiful Kidepo environment. Made up of ten rooms, each featuring hand crafted wooden beds that are draped with soft, white mosquito nets as well as hand-woven woollen carpets that add to the cosy warmth of the rooms. Guests can enjoy a large tropical shower in their rooms ensuite or a deep outdoor bathtub to relax with a view.

Being located in a remote and tranquil location the lodge includes secluded sitting rooms and private verandas. This really gives guests the opportunity to kick their feet up and be at one with their magnificent surroundings. Outside, surrounded by boulders and carved out of rock, is the Lodges sparkling swimming pool, where guests can take a dip to cool off after a long day in the sun. As well as this the Apoka offers a large lounge that provides games and a space for shared memories. After you enjoy a delicious evening meal, sit out on a private veranda and watch as the sun sets over the distant craggy mountains, bathing the entire area in a rich, golden light.

Apoka Safari Lodge is run by 'Wildplaces' who have been hands-on in conservation and protection since the early 1990s. Each of their lodges have on-going programmes that all guests can get involved with if they wish. Working with local communities that sit on the edge of the reserve they communicate the importance of conservation and get them involved in the active push for a sustainable ecosystem.

After an early breakfast you will be picked up from Apoka Safari Lodge and transferred to Kidepo Airstrip. Here you will take a flight to Bugungu Airstrip, then after landing yourself and your fellow guests will be driven to the wonderful Baker's Lodge.

Sat on the southern bank of the world famous Nile River, Baker's Lodge boasts ten luxury safari suites all with views of the serene yet mighty Nile. With a thatched central lounge, dining and bar area all made from local materials the lodge offers guests an 'Africa of Olde' feel. Built far apart, guests can enjoy their own space and privacy during their stay.

Raised off the ground to make the most of the soft breeze and spectacular views, each lodge comes with an ensuite bathroom fit with solar-heated showers and bathtubs. Baker's Lodge really focuses on its sustainable ideology and ensures every measure is taken to follow it. By actively minimising waste, solar energy supply and by supporting local industry through purchasing their goods such as furniture and décor the Lodge is always aiming to give back to the environment through eco-friendly choices.

Guests can relax under the shade of lush trees as they watch the river flow gently by or take a refreshing dip in the swimming pool. During your stay you can enjoy three multiple course meals a day including drinks and bar snacks. As evening approaches, walk over to the dining area where you will be served a delicious three course meal by the Lodges very friendly and attentive staff. Sit back and enjoy your food and drinks as you watch the golden rays of the African sun set on the horizon.

Baker's lodge focuses heavily on responsible travel, by ensuring business activity is run sustainably to ensure the eco-system and local community are not affected, instead benefit from their guest accommodation. As well as this they work alongside Wild Frontiers and Exclusive Camps & Lodges Uganda to take the money from each guest on a bed to contribute towards achieving set goals. These are, Creating a New Generation of Conservationists and Solutions to counter Human/Wildlife Conflict.

Enjoy a lovely breakfast at Baker's Lodge before being transferred to Birungu Airstrip for your scheduled flight to Kasese Airstrip. Upon arrival you will be met by an andBeyond representative and driven to Kyaninga Lodge.

Located in Fort Portal with a backdrop of the stunning Lake Kyaninga the Kyaninga Lodge features eight beautiful cottages that are specially built on platforms so guests can witness the area's spectacular views. Constructed beautifully from a thousand hand carved logs and built with exceptional design and scale, Kyaninga Lodge really brings luxury and style to the otherwise wild heart of Africa.

As you walk through the doors you are met with a comfortable seating area fit with a double sided, open fireplace for a relaxing evening setting for all guests. However during the day, whilst not out witnessing the incredible wildlife of the area, guests can relax by the glistening swimming pool. Each meal is professionally made using locally sourced ingredients giving you a culinary insight into the area's cuisine.

Each cottage is purposely sat apart to give you privacy during your stay. Guests can enjoy their luxury cottage which is each fit with stylishly rustic furniture, an elegant bathroom with a marble countertop basin, a claw-footed freestanding bath and a glass-walled shower. Having such spectacular views it is also important that you make the most of your private deck for a tranquil undisturbed view of the magnificent Fort Portal, Uganda.

The Kyaninga Lodge works alongside the Kyaninga Forest Foundation to work towards future prosperity through preservation of biodiversity and ecological integrity. They do this by planting trees in mass numbers, they specially choose which trees to plant for the location and their benefits. Each tree and plant has its uses to both the ecosystem and humans alike.

In the morning you will be transferred from Kyaninga Lodge to Semliki Safari Lodge.

Semliki Safari Lodge is the perfect stay for anyone looking to experience a truly private game viewing experience. Made up of eight canvas tents that sit under thatched roofs the Lodge perfectly mixes the sense of camping in the wild with the safety and comfort of luxury accommodation. This is done through the use of hardwood floors, hand-carved four poster beds and soft Persian carpets. This lets all guests know that they are never too remote to enjoy the luxuries. Being located in the wonderful Semliki National Park, each tent features a private veranda to allow you to really witness the stunning panoramic views of the area.

Semliki Safari Lodge works with 'Wildplaces' who have been hands-on in conservation and protection since the early 1990s. Each of their lodges have on-going programmes that all guests can get involved with if they wish. Working with local communities that sit on the edge of the reserve they communicate the importance of conservation and get them involved in the active push for a sustainable ecosystem.

Nestled into a hillside of the Queen Elizabeth National Park, the Kyambura Gorge Lodge is made up of eight rustic-chic cottages that each boast wonderful panoramic views of the National Park all the way to the distant Mountains of the Moon. Perfectly reflecting the local building style the Lodge uses local artefacts and hand-crafted furniture to fit with their stylish contemporary theme. Each guest can enjoy the Kyambura's eco-luxury comforts which include an ensuite bathroom with flushing toilet, double vanity, and a shower with hot and cold running water.

The main lodge is a space for all guests to relax and enjoy delicious meals. By mixing the coffee plantation history of the building with aspects of distinct luxury, guests can feel comfortable whilst still experiencing the roots of their accommodation. Whilst not out on an adventure guests can take a refreshing dip in the sparkling pool or make the most of the complimentary massages that are offered by the lodge.

However Kyambura Gorge is so much more than a brilliant place to stay. The Kyambura Gorge Eco-Tourism Project works tirelessly to protect the area's ecosystem through conservation and incredible initiatives by locals. When visiting you can discover how selflessly the people of Kyambura Gorge have been safeguarding the ecosystem through restoration and protection since 2009.

You will be picked up from Kyambura Gorge Lodge and transferred by road to Ishasha Wilderness Camp.

Situated within the Southern Ishasha sector of Queen Elizabeth National Park, along the Ntungwe River stands the Ishasha Wilderness Camp. The exclusive camp allows guests to be in touch with the Ugandan wilderness whilst experiencing quality accommodation. When staying at the camp keep an eye out for the tree climbing lions that rest on the large branches of trees. As well as this many animals will pass through the camp from magnificent elephants to playful vervet monkeys.

The Clouds Mountain Gorilla Lodge is built from the volcanic stone of the Virunga Volcanoes, Rwanda which can be seen spectacularly from the lodge itself. The breath-taking views also stretch across the border into the Congo where on a clear night, guests can see the glow of the Nyiragongo Volcano. Sat on a forested ridge near the entrance of the enchanting rainforest, the lodge is made up of eight spacious luxury cottages. Each includes a bedroom, ensuite bathroom fit with a walk-in shower and a separate lounge. Outside guests can relax on the comfortable verandas that provide an amazing view of the forest below.

All meals are prepared utilising the fresh ingredients from the local area. Guests can enjoy the delicious Ugandan inspired meals either in the Lodges dining area or in the comfort of their own cottage. Each afternoon fresh homemade cakes are served to you on your veranda by a personal butler. After a long day guests can book themselves in for a well needed relaxing foot massage.

After you enjoy a delicious breakfast you will be collected from Clouds Mountain Lodge and driven to Kisoro Airstrip for your scheduled flight to Entebbe International Airport in time for your outward bound flight.
Seasonal Information
11th Jan - 28th Feb
Shoulder
1st Jun - 30th Jun
Shoulder
1st Sep - 30th Sep
Shoulder
1st Dec - 14th Dec
Shoulder
Related trips...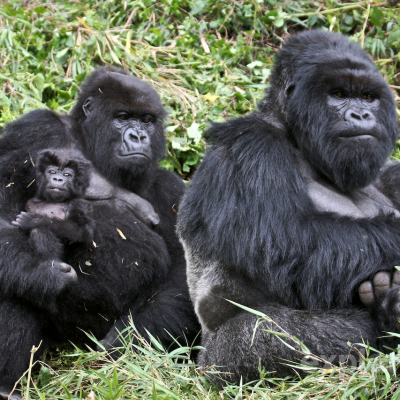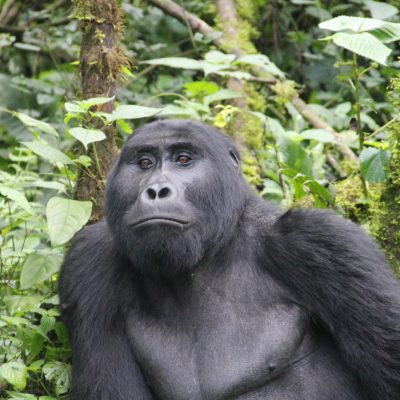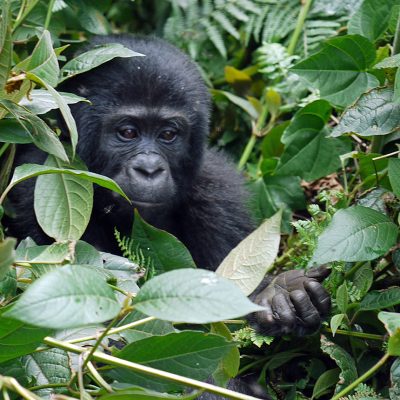 durations start from
6 days